Qatar coach Felix Sanchez rejects bribery rumours: 'Nobody will destabilise us'
Qatar coach Felix Sanchez says he does not like criticism of the country and is excited ahead of the team's World Cup debut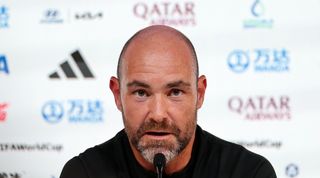 (Image credit: Getty Images)
Qatar coach Felix Sanchez has rejected rumours of bribery ahead of the World Cup and insists his side are focusing on football.
Hosts Qatar kick off the tournament against Ecuador on Sunday in Group A, which also features Netherlands and Senegal.
But the start of the World Cup has been overshadowed by criticism of Qatar for its human rights record, the death of migrant workers and poor treatment of LGBTQ people.
Meanwhile, a rumour that Ecuador's players have been bribed has spread online.
"I think there is a lot of disinformation," Sanchez said at a press conference on Sunday. "The internet is a great tool but it is also very dangerous from my point of view. For many years, we've been preparing, training.
"We are together we are strong and cohesive and nobody will be able to destabilise us with this criticism so we are not affected at all."
Another night's sleep and we'll arrive at a date we've waited for so long - our national team's #FIFAWorldCup debut 🇶🇦💪#Qatar2022 #AlAnnabi#AllForAlAnnabi pic.twitter.com/yWqx5HKtZBNovember 19, 2022
And the Barcelona-born coach, who has been in charge of Qatar since 2017, said: "We are very excited, motivated and happy to be playing our first World Cup.
"We are focusing on how to prepare the game, to control our emotions and we don't take anything else into account.
"The best thing that can happen to a team or a footballer is to keep calm, avoid any sort of rumours and noise around you," Sanchez said.
And on the negative talk from outside, he added: "Obviously we don't like people criticising our country. In terms of football strictly, we had a great preparation ahead of the World Cup.
All the players come here with the highest motivation and emphasis. Tomorrow, we will try to give a good performance and try to be competitive."
Thank you for reading 5 articles this month* Join now for unlimited access
Enjoy your first month for just £1 / $1 / €1
*Read 5 free articles per month without a subscription
Join now for unlimited access
Try first month for just £1 / $1 / €1
Ben Hayward is Weekend Editor for FourFourTwo. A European football writer with over 15 years' experience, he has covered games all over the world - including three World Cups, several Champions League finals, Euros, Copa América - and has spent much of that time in Spain. He currently divides his time between Barcelona and London.