Revealed: Most hated team of 2009
By Gregg Davies published
What do Manchester United defensive duo Nemanja Vidic and Gary Neville, Chelsea pair Ashley Cole and Didier Drogba, Real Madrid forward Cristiano Ronaldo and Barcelona attacker Thierry Henry have in common? They all rank amongst the players who are most despised by football fans as supporters across the country were finally given the chance to pick their most hated starting 11 of 2009.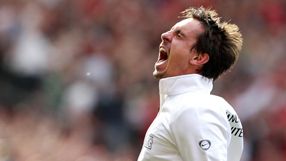 The study, carried out by the UK's leading takeaway website www.Just-Eat.co.uk, surveyed 2,610 UK football fans to discover both the country's Dream XI and Nightmare XI – made up of players from across Europe people love to hate.
Fans were asked to name their most and least favourite players according to position.
Alongside the likes of Cole, Neville, Ronaldo and Drogba, Newcastle hard-man Joey Barton and Blackburn winger El-Hadji Diouf also found their names amongst the most hated footballers on the current European scene.
Barcelona forward Thierry Henry faced a barrage of insults following his part in Ireland's cruel failure to reach the World Cup and the Frenchman was picked alongside Drogba to lead the 'Bodge Squad' front-line.
The Chelsea powerhouse recently served a three-match suspension for his camera rant following the Blues' exit from the Champions League last season and has never been far away from controversy.
Meanwhile, outspoken Manchester United boss Sir Alex Ferguson received the overwhelming majority to be given the manager's role for the loathed 11.
Foul play was noted as the main reason behind why players rile fans (31 percent), followed closely by arrogance (28 percent) and diving (19 percent).
"The bodge squad is made up of players playing in the European leagues that British football fans just don't like!" said Ash Ali, Marketing Director of Just-Eat.co.uk.
"For many of our takeaway-loving users, football is a huge part of their lives.
"This was a perfect opportunity for them to get the frustration or jubilation of the season so far and to come off their chest, and reward or punish European players with inclusion in either of the squads."
At the reverse end of the popularity contest, former Chelsea manager Jose Mourinho was the unanimous choice with 63 percent of fans in favour of the 'Special One' leading the Dream Team.
Manchester United and AC Milan both had two representatives in the elite 11 as French left-back Patrice Evra, Welsh stalwart Ryan Giggs, defender Alessandro Nesta and LA Galaxy midfielder David Beckham were rewarded with a place in the star-studied line-up.
Meanwhile, over half of fans voted in-form Tottenham striker Jermain Defoe as the preferred choice to partner Andrei Shevchenko up front.
Dream Team:
Manager – Jose Mourinho – Inter Milan – 63% majority approval (MA)
Goalkeeper – Shay Given – Man City – 37% MA
Left-back – Patrice Evra – Manchester United – 29% MA
Centre-back – Fabio Cannavaro – Juventus – 48% MA
Centre-back – John Terry – Chelsea – 34% MA
Right-back – Alessandro Nesta – AC Milan – 29% MA
Left-midfield – Ryan Giggs – Manchester United – 53% MA
Centre-midfield – Steven Gerrard – Liverpool – 33% MA
Centre-midfield – David Beckham – AC Milan – 32% MA
Right-midfield – Lionel Messi – Barcelona – 35% MA
Centre forward – Andrei Shevchenko – Dynamo Kiev – 29% MA
Centre forward – Jermain Defoe – Tottenham Hotspur – 56% MA
Subs
Goalkeeper – Iker Casillas – Real Madrid – 26% MA
Centre-midfield – Frank Lampard – Chelsea – 27% MA
Centre-midfield – Cesc Fabregas – Arsenal – 24% MA
Bodge Squad:
Manager – Sir Alex Ferguson – Manchester United – 71% Majority Appr
Thank you for reading 5 articles this month* Join now for unlimited access
Enjoy your first month for just £1 / $1 / €1
*Read 5 free articles per month without a subscription
Join now for unlimited access
Try your first month for just £1 / $1 / €1