Sven's Mexico lose to Sweden
OAKLAND, Calif - Sven-Goran Eriksson's Mexico continued their dismal run by losing 1-0 to the coach's native Sweden in a friendly international on Wednesday.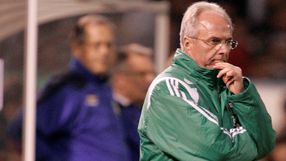 Alexander Farnerud scored the only goal as Sweden pounced on a mistake by the Mexican defence in the 57th minute to leave Eriksson's side with only one win in their last six outings.
Juan Carlos Valenzuela gave the ball away as Mexico tried to play out of defence, Rasmus Elm accepted the gift and found Farnerud who scored with a left-foot shot.
Mexico were close to opening the scoring when Matias Vuoso hit the post in the 17th minute while goalkeeper Oswaldo Sanchez prevented Sweden taking a halftime lead when he turned away Daniel Nannskog's effort.
Carlos Ochoa had a header cleared off the line as Mexico pressed for an equaliser in the second half.
Mexico are away to the United States on February 11 in their first match of the final stage of the CONCACAF region's World Cup qualifiers.
Eriksson's side were nearly eliminated in the previous stage, sneaking through on goal difference from Jamaica and finishing behind Honduras in their group after losing to both teams. They were also held to a draw by Canada.
Eriksson has also been heavily criticised for fielding too many foreign-born players, although the coach says he is only following the rules and does not understand what the fuss is about.
Mexico started with three naturalised players on Wednesday - Argentine-born Lucas Ayala and Matias Vuoso and Brazilian-born Leandro Augusto.
Ayala was replaced in the second half by Antonio Naelson, another player born in Brazil.
ENGLAND FANS! Check FourFourTwo.com's ever-expanding interviews section for more stuff to read:
One on One Kevin Keegan, Sven-Göran Eriksson, David Beckham, Michael Owen, Paul Gascoigne, Ian Wright
Web Exclusives Gary Lineker, Paul Gascoigne, Glenn Hoddle, Wayne Rooney,
Q&A Fabio Capello, Steven Gerrard, Wayne Rooney, Theo Walcott
Perfect XI Ian Wright
Boy's A Bit Special Theo Walcott, Gabriel Agbonlahor, Michael Mancienne, David Wheater
Ask A Silly Question Sir Geoff Hurst, Alan Ball, Bryan Robson, Peter Crouch, John Barnes, Peter Reid,
My Secret Vice Jimmy Bullard
What Happened Next? Carlton Palmer
Perfect XI Sir Bobby Charlton, Graham Taylor, Bryan Robson
(opens in new tab)
CITY FANS! Check FourFourTwo.com's ever-expanding (opens in new tab)interviews archivefor more stuff to read:
One on One Sven Goran Eriksson
Web Exclusives Joe Corrigan
Q&A Robinho
Boy's A Bit Special Michael Johnson
Ask A Silly Question Peter Reid, Alan Ball
What Happened Next? Jim Whitley, Tony Cunningham
Sing When You're Winning David Threlfall
Plus Joe Corrigan on Weekend Wonders and City on Talentspotter (opens in new tab)
Thank you for reading 5 articles this month* Join now for unlimited access
Enjoy your first month for just £1 / $1 / €1
*Read 5 free articles per month without a subscription
Join now for unlimited access
Try first month for just £1 / $1 / €1