VAR mistake in Spurs vs Liverpool 'really bad' but 'not sackable offence' – Neville
The Sky Sports pundit has called for the vitriol to end after a bad error cost the Reds in Saturday's Premier League clash in London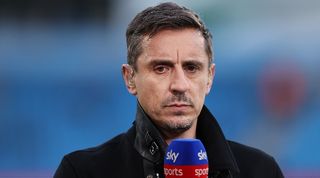 (Image credit: Getty Images)
Manchester United legend Gary Neville has described the VAR error in Saturday's game between Tottenham and Liverpool as 'very bad', but believes a two-match suspension is sufficient for the officials responsible for the error.
Spurs came out on top in an epic encounter in north London after Joel Matip's own goal in the sixth minute of added time, but the Reds were left frustrated after two of their players were sent off and a perfectly good goal was ruled out for offside in the first half at the Tottenham Hotspur Stadium.
Liverpool's Luis Diaz netted with the scores at 0-0, but the flag went up and play resumed quickly after a VAR check appeared to confirm the assistant's initial call had been correct.
But replays suggested the Colombian was onside and after the game, PGMOL admitted that a mistake had been made, with the VAR and his assistant both believing that the goal had been awarded when he confirmed that the check was complete.
Once play restarted, there was no way back and the decision stood, with Spurs scoring shortly afterwards and going on to win deep in added time to inflict a first defeat of the season on Liverpool in extremely harsh circumstances.
VAR Darren England and assistant VAR Dan Cook have been removed from their fixtures following the incident, with PGMOL promising a full investigation.
England had been designated the role of fourth official for Sunday's game between Nottingham Forest and Brentford, with Cook down to be assistant in Chelsea's west London derby clash at Fulham.
Both have been replaced in their roles and they have found an unlikely ally in Neville, who had been very critical of Saturday's decisions in his role as a Sky Sports pundit.
"The VAR mistake was a really bad one," Neville wrote on Twitter. "However we've all been demanding quicker decisions and I think they have tried to enforce speed in decision making. Speed will cause inaccuracy and it's now about a rebalance.
"The two officials have been taken off their next games. Imagine how they feel this morning and let's be human. There should be consequence for such errors but in my opinion a couple of games out is more than enough. Think of it as a player suspension for a sending off. This isn't a sackable offence by any stretch so let's remove that language."
And he added: "Sorry doesn't mean anything. It does. It's an important value all our parents have tried to instill in us. Taking responsibility and owning your mistakes is important and should be valued."
More Tottenham-Liverpool stories
Tottenham vs Liverpool: why was Luis Diaz's goal wrongly disallowed by VAR?
Reds boss Jurgen Klopp blasts 'unfair' and 'crazy' decisions in Saturday's Premier League clash, while Spurs boss Ange Postecoglou admits he is not a fan of VAR.
EXCLUSIVE: Tottenham defender Micky van de Ven on Saturday's epic win over Liverpool and life in north London so far.
Thank you for reading 5 articles this month* Join now for unlimited access
Enjoy your first month for just £1 / $1 / €1
*Read 5 free articles per month without a subscription
Join now for unlimited access
Try first month for just £1 / $1 / €1