Wayne Rooney: How I prepare for a game
Everton striker Wayne Rooney reveals his routine before a game: visualisation, sleep and Patrice Evra's tunes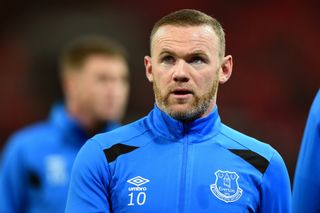 Sleep
"I try to get at least eight hours of sleep a night, plus an hour or two in the afternoon. To do your best in training, eight hours is fine. I'm not regimented about it. I can't lie in bed and force myself to sleep. I'll wait until I'm tired, normally about 11 or 12, then get up around eight. You do notice the difference if you can't sleep for that long, which is normally after a night game. You don't get home until 12 and can't sleep until about four. Then you're tired the next day and you can feel it in your performance."
Visualisation
"I always like to picture the game the night before: I'll ask the kitman what kit we're wearing, so I can visualise it. It's something I've always done, from when I was a young boy. It helps to train your mind to situations that might happen the following day. I think about it as I'm lying in bed. What will I do if the ball gets crossed in the box this way? What movement will I have to make to get on the end of it? Just different things that might make you one per cent sharper."
Meals
"The night before games I'll have chicken, pasta, fish: all the normal stuff you would expect us to eat. If it's an early kick-off, you try and stock up the night before as much as you can, because you obviously can't eat too much in the morning. I'll then have Coco Pops and a banana as a pre-match meal and then when we get to the stadium, there are cereal bars in the dressing room and energy gels which you can take if you feel you need them."
Routine
"Some players always do the same thing in the dressing room, while some like to do different things. I tend to go on the bike for about 15 minutes, then I do some stretching, then relax. You see some players do exactly the same thing every week before every game, but I'm not like that. I'm not superstitious. I just try to stay focused and concentrate. I'm quite relaxed in the dressing room."
Music
"Patrice Evra likes to put the music on in the dressing room. [FFT: French hip-hop?] Something like that! But everyone listens to it together, though some like it and some don't. But it's better that we are all listening together rather than the whole team having their own iPods in."
The final hour
"I'll have an energy drink in the dressing room 40 minutes before kick-off and then go out for the warm-up, which lasts about half an hour. About 10 minutes before the game starts, you're back in the dressing room, you put your shirt on, shinpads on, and then go and kick-off. That hour's all right, but the hour before that is worse, where you're sitting round bored and you want the game to start. I just try and stay as relaxed as possible by doing something to take my mind off the game, like play a computer game – whatever works for you."
Rooney wears Nike Pro Combat baselayer, which provides compression technology, protection against cold weather and reduces the risk of impact injures.
Recommended for you:
Sergio Aguero: Shake off your marker
Radamel Falcao: How to be a penalty-box predator
Thierry Henry: Finishing at speed
Wayne Rooney's shooting drill
Olivier Giroud: How to create and conquer
Ibrahimovic: How to play as a targetman
Thank you for reading 5 articles this month* Join now for unlimited access
Enjoy your first month for just £1 / $1 / €1
*Read 5 free articles per month without a subscription
Join now for unlimited access
Try first month for just £1 / $1 / €1
Get FourFourTwo Newsletter
The best features, fun and footballing quizzes, straight to your inbox every week.
Leo Moynihan has been a freelance football writer and author for over 20 years. As well as contributing to FourFourTwo for all of that time, his words have also appeared in The Times, the Sunday Telegraph, the Guardian, Esquire, FHM and the Radio Times. He has written a number of books on football, including ghost projects with the likes of David Beckham and Andrew Cole, while his last two books, The Three Kings and Thou Shall Not Pass have both been recognised by the Sunday Times Sports Book of the Year awards.