82: The original and harshest Group of Death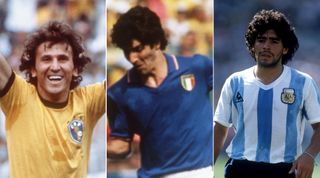 The holders, the three-times champions and the eventual winners - and only one can survive: now that, says Paul Simpson (opens in new tab), is a proper Group of Death...
"It smells of sh*t in here," said some of the Italian players as they opened a window in their dressing room after defeating Brazil 3-2 in one of the greatest World Cup games ever. It was an unusual way to celebrate but then, for the Azurri, it had been an unusual World Cup.
The media coverage had been so unremittingly awful - one Italian paper even accused Paolo Rossi and Antonio Cabrini of "living like man and wife" - they banned the press. After they had drawn their second game with Peru 1-1, Antonio Matarrese, president of the Italian league, had declared: "This team is a disgrace. I wanted to go down to the dressing room and kick them in the backside."
Seventeen days later, after Italy had stunned the tournament's glory-boys, Matarrese did go down to the dressing room - not to kick backsides, but in search of a photo opportunities. Midfielder Marco Tardelli recalled: "Several of the less urbane members of the squad opened a window, shouting 'It really smells of sh*t in here'."
Matarrese was lucky. As Italy coach Enzo Bearzot later told FFT: "One journalist came down to congratulate us and some of the players actually went for him, they were so furious."
Group C in the second round of the 1982 World Cup was the definitive Group of Death. It contained just three teams: Argentina, the reigning world champions; Brazil, the country that had won the World Cup most often; and Italy, who would win their third World Cup that summer.
Unlike modern first-round groups, only one team would go through, and there were no easy opponents. At all. Compared to this fatal combination of teams, every other so-called Group of Death looks, at worst, like a Group of Mild Discomfort.
The flairy godfathers
With Italy stumbling into Group C on goal difference after three draws, the two in-form teams from South America were expected to fight for the place in the semi-finals. Brazil were almost ludicrously gifted, especially in midfield where Cerezo, Elder, Falcao, Socrates and Zico were sublime.
Under coach Tele Santana, they had abandoned Claudio Coutinho's disastrous attempt to combine Brazilian flair and European defensive rigour and reverted to jogo bonito (Portuguese for 'beautiful play'), scoring 10 goals in their opening group games.
As for Argentina, they had won the tournament in 1978 and added the world's best player, Diego Maradona, to their squad - so how could they fail? Yet Cesar Luis Menotti's men had lost their opening match to Belgium.
The day after that 1-0 defeat, the Falklands War ended and Ossie Ardiles, whose cousin was killed during the conflict, believes the shock of realising the junta's talk of glorious victory was all lies demoralised the squad. Jorge Valdano, one of the younger players, called the Falklands effect 'b*ll*cks'. The real problem, he said, was that the squad never gelled, fracturing into two camps: the veterans of 1978 and the youngsters.
Worse still, neither Menotti or his players had any conception of how much ruthless effort opponents would dedicate to neutralising Maradona - or the vaguest idea about how to overcome this. When Argentina and Italy kicked off Group C on June 29 in the compact Siarra stadium in Barcelona, Claudio Gentile's suffocation of Maradona probably decided the match.
Grinding to victory
Bearzot's Italy are often dismissed as a team that ground their way to victory in 1982. Sergio di Cesare, the head of the Italian FA's international relations and a former Gazzetta Dello Sport chief, begs to differ. "Bearzot was impressed by the way Bobby Moore and Franz Beckenbauer interpreted the role of libero, quickly becoming midfielders when their teams had the ball. And he made Gaetano Scirea Italy's Beckenbauer."
In Bearzot's 3-5-2, it was much easier for Scirea and left-back Antonio Cabrini to attack. The key, Di Cesare says, was "the energy Italy saved by making the ball do the running, moving it accurately and vertically."
Solid in defence, especially with Dino Zoff in goal, Italy looked for creativity to the underrated trequartista Giancarlo Antognoni. "At the start of the 1981/82 season, he'd been in a coma for two days after a clash with a goalkeeper," says Di Cesare, "and he didn't train very well. But he was a pillar of the team, with his intelligence, long vertical passes and understanding of football geometry."
Up front, Bearzot could only rely on Rossi, the Juventus striker rusty after a ban for involvement in a betting scandal. The coach picked Rossi with mixed feelings: "He had been very good alongside Roberto Bettega in 1978, but Bettega wasn't there anymore. Rossi was the only one left.
"I can honestly say that if I'd had another alternative I wouldn't have called him up. It was a huge risk gambling on him being able to get into the rhythm of such a demanding tournament and on his desire to make up for past mistakes. But I needed a goalscorer, someone to poach goals in the box in a way that suited the style of play I wanted. If I didn't take him, I wouldn't have anyone capable of causing trouble in the area."
Argentine surrender
In the second of Italy's three first-round group games, a 1-1 draw against Peru, Rossi had been too sick to carry on: "In my legs, my eyes, there was no rhythm," he admitted. Still smarting from Bearzot's punishing pre-tournament training, he also looked sluggish against Argentina.
He should have scored Italy's second. Clean through, he shot straight at keeper Ubaldo Fillol and was lucky that, after some ineffective defending, the rebound eventually became a chance for Cabrini, whose shot found the far corner.
Italy's fluent first goal had shown how they made the ball do the running. Cabrini cleared to Rossi, just inside the Italian half near the centre-circle. He passed it quickly to Bruno Conti who hit a long diagonal pass which Tardelli left for Antognoni just in front of the penalty area. Looking casual but thinking quickly, Antognoni stroked the ball to his left for Tardelli to score.
With seven minutes left, Daniel Passarella beat Zoff from a free-kick while the Italians were still organising the wall, but it was too little, too late. The reigning world champions had to beat Brazil to survive.
A crude foul on Serginho gave Brazil the lead against Menotti's team after 11 minutes when Eder smacked the ball against the bar from the free-kick and Zico thumped in the rebound. Gradually, the Brazilian midfield began to dominate and two superb Zico passes settled the match.
On 66 minutes, he released Falcao on the right to cross for Serginho to head the second; nine minutes later, he looked as if he was about to be closed down by two Argentines but somehow threaded a precise, diagonal pass to Junior who made it 3-0.
Striker Ramon Diaz grabbed a late consolation but Argentina made their biggest impact with two nasty fouls: one by Passarella (which should have earned a red card) and one by Maradona (which did) on defender Batista. It is a mark of Argentina' impotence that he later admitted he had kicked the wrong player.
The 1970 re-match
With the holders out, the stage was set for a rematch of the 1970 final. The Brazilians were supremely confident, defender Oscar declaring: "We'll win 1-0 and I'll score." But to win 1-0, Santana's team would need to keep a clean sheet, something they had only managed against a New Zealand team more interested in swapping shirts than playing football.
Brazil didn't need to win but didn't have it in them to play for a draw. At times, they lined up as a 2-7-1. That mentality would help pave the way for a result that many Brazilians call 'the disaster of Sarria' - and the rest of the world remembers as the greatest World Cup game ever.
The first hint that disaster and greatness might be on the cards came after five minutes. Conti was allowed to run 40 yards with the ball and release Cabrini who curled a reasonable cross into the area. Rossi didn't have to do anything especially clever to lose his marker; he ran towards the ball and didn't even have to jump to head his first goal of the finals.
The goal stung Zico and Socrates into life. A beautiful pass by Zico (marked, not all that effectively, by Gentile) took out three Italian defenders and Socrates finished superbly with a low shot from a tight angle. But just when Brazil seemed back in control, Cerezo knocked a square pass roughly in Junior's direction. Rossi pounced and hit a screamer past keeper Valdir Peres. Junior looked across, noticed Cerezo was crying and told his bereft teammate: "If you don't stop crying, I'm going to smack you in the face."
Cerezo - along with, rumour has it, full-back Leandro - was distraught at half-time but he made up for his blunder in the 68th minute with a superb dummy run that created the space for Falcao to equalise with a shot that beat the superbly positioned Zoff through sheer power. Falcao celebrated like a man who thought he was already in the semi-final. But seven minutes later, a Tardelli shot from a corner found Rossi, unmarked again six yards from goal, and he completed his hat-trick. At that moment in Rio, a 20-year-old fan shot himself dead.
Rossi dominated the headlines - his comeback was so perfect, Hollywood couldn't have scripted it better - but Antognoni rivalled Zico as the best player on the pitch, engineering many of Italy's counterattacks, creating a chance for Cabrini to score and having a goal disallowed.
The aftermath
For Zico, defeat marked the beginning of an era of 'playing for the win, whatever the cost'. Bearzot has a different take on this match: "The game with Argentina was tranquil. The one with Brazil was exalted. But even then there was some mean-spirited talk. Our third goal was scored after a corner with all the Brazilians in the area. I repeat: all the Brazilians in the area. Yet we were still accused of playing counter-attacking football."
In the Brazil dressing room, many were desolated, some players wept. Santana quietly told them: "We gave it our best shot." Bearzot's Azzurri went on to dispose of Poland and West Germany but, as he told FFT: "I already felt like we were champions of the world after the Brazil game."
Santana's Brazil are routinely described as the greatest team never to win the World Cup. In truth, they were the greatest midfield never to win a World Cup. They had a butter-fingered keeper and a leaky defence that left Rossi free in space for two goals.
Then there was third-choice striker Serginho who, though not the donkey some have claimed, could be so clumsy that even Santana said once, after substituting him in one game: "Now the ball is round again." The idea that Brazil should have won the World Cup because they had the likes of Zico, Falcao, Socrates, Eder in their side smacks of the galacticism that led Real Madrid so spectacularly astray.
People still come up to Rossi in the street. "Often they want to talk about their experiences, where they watched the game," he told FFT. "It's nice to feel you're a small part of people's history, a little reference point."
He certainly became a reference point in Brazil, Santana, pelted with rotting fruit at Rio airport, showed true grace under fire by praising the striker's genius. Later that summer, when a flu epidemic swept through Brazil it was quickly dubbed 'Rossi flu'.
More from World Cup Wonderland

FourFourTwo's interactive 2014 World Cup guide
Thank you for reading 5 articles this month* Join now for unlimited access
Enjoy your first month for just £1 / $1 / €1
*Read 5 free articles per month without a subscription
Join now for unlimited access
Try first month for just £1 / $1 / €1