Chelsea fans' taunts won't bother Jose Mourinho – he's only ever loved himself anyway
Republik of Mancunia's Scott Patterson explains that the Portuguese's relationship with a fan base is usually just a means to an end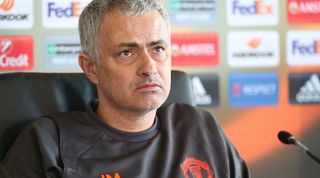 During Manchester United's 1-0 defeat by Chelsea at Stamford Bridge on Monday evening, Jose Mourinho was seen holding three fingers up to the home fans.
After their former boss was seen appealing decisions against United on the touchline, some sections of the Stamford Bridge support began to abuse the Portuguese. He responded by simply reminding them how often he'd won the league while in charge of Chelsea.
The Blues' first title in 50 years came under Mourinho; the west Londoners have won the league five times in their history, the majority of which were under his guidance. While it's understandable that Chelsea fans will be a little irked at Mourinho's decision to join a domestic rival, it's a little difficult to work out where the hatred has come from since.
Double firing
"F**k off Mourinho!" they chanted, the way that opposition fans often do – and the way United fans used to before he became their manager. Some Blues called him "Judas" too, and sang: "It's never your fault."
Mourinho has managed Chelsea on two occasions, winning league titles and other domestic trophies in both stints, but was sacked by Roman Abramovich in 2007 and 2015. He didn't ask to leave or get his head turned by United or another club. There was no betrayal on his part.
Since joining United, he hasn't been critical of his former employers or fans. In fact, he's repeatedly claimed that Chelsea will easily win the league under Antonio Conte this term. Granted, he did brand their style of football "defensive" somewhat mischievously, but the accusations of treachery fired in his direction on Monday seem hard to link to that.
Perhaps, though, the Chelsea supporters' source of pain is another comment Mourinho made recently.
Getting fans on board
"I've managed several clubs and I have never seen such unrivalled passion," he said of United fans earlier this month. "The stadium is full every time we play and the support the players receive is special."
It's worth remembering that only 24,000 fans attended his last game in charge of Chelsea the first time around, and that Mourinho once claimed the lack of noise at Stamford Bridge meant it felt like playing in an "empty stadium".
Chelsea's current boss has been less than impressed with the support too – "there were United fans who kept singing, while ours were in silence after a great performance from my team," he said after the Blues' 4-0 victory in October – it seems unfair for those on the Stamford Bridge terraces to turn their backs on Mourinho for merely hailing the atmosphere at Old Trafford.
Chelsea fans used to display a banner at their home ground dedicated to Mourinho, with the words "One of Us" printed alongside a picture of his face. Perhaps now they're wondering whether he was ever one of them at all.
Similar methods
Mourinho has always been the type of manager that fans adore when he's with their club and hate when he's not – with the possible exception of Real Madrid, where there was never an entirely harmonious relationship between dugout and stands.
Yet at Porto and Inter, much like at Chelsea, he was a hero who was worshipped for the success and silverware he brought. He developed a siege mentality that all three fanbases bought into, which led to supporters defending all sorts of poor behaviour on his behalf.
Chelsea fans thought Mourinho was their Special One, but he's never really held them in the same regard. That's probably the case whereever he's been, although it's interesting to note that Inter is the club he's always spoken most fondly of after leaving.
"Inter is the club I have enjoyed the most, no one else has given me the same happiness," he said in 2013. "It's a family and I will always belong to the Nerazzurri family. When I left I cried more than once."
Engineering a move?
United followers, as much as they disliked him in the past, have always acknowledged the connection between Mourinho and their club. For many, he was seen as the natural successor to Sir Alex Ferguson; when David Moyes was chosen instead, it led to significant head-scratching on the part of several Red Devils.
Chelsea fans used this as further evidence that Mourinho was one of them, spinning the story to suggest that the Portuguese had snubbed an offer from Old Trafford to return to west London, when in fact he'd already agreed a return before Ferguson announced he was retiring.
Yet there was always some sort of link between Mourinho and his current club. It was hard to overlook the fawning interview he gave after Real Madrid's Champions League victory over United in 2013, when he claimed the best team had lost and that Nani didn't deserve to be sent off. It was the most un-Mourinho response to a win of all time.
Suspicions were confirmed when he was finally appointed United manager last summer, and revealed that he had always had a soft spot for the club.
"I always had that good feeling, for sure, and I think the fans feel the same," he said. "I remember playing at Old Trafford and the way to the dugout was always nice. It was never like in other stadiums. There was always a connection. Then can you end up being their manager one day or not? I always felt that what has to happen happens, and it happened."
Out for himself
At the end of Monday's defeat, Mourinho marched onto the pitch to applaud the visiting fans, before tapping and pointing to the United badge on his coat. It wasn't the first time he's expressed such feelings: the 54-year-old has repeatedly spoken of how he's fallen in love with the supporters and the club. United fans aren't unanimously enamoured yet, but they would likely be swept off their feet if he ever wins the league with them.
The truth, though, is that Mourinho will never love any club as much as he loves himself. He has been wholly complimentary of the United fans, but they should take heed from the example Chelsea supporters have set them in order to avoid a subsequent heartbreak.
Mourinho is at United for himself, not for them. There's no denying he gives his all for the team he manages, but he's not dyed in the wool for any outfit. He craves succcess and attention; his employers, whoever they are, are merely a means to the end of achieving both of those things.
Mourinho won't ever be a Sir Matt Busby or a Sir Alex Ferguson to United fans, but if he can bring the title back to Old Trafford that will be more than good enough for them.
For now, then, it's Mourinho's team against the world – just the way the manager likes it.
Quizzes, features and footballing fun
Get the best features, fun and footballing frolics straight to your inbox every week.
Thank you for signing up to Four Four Two. You will receive a verification email shortly.
There was a problem. Please refresh the page and try again.