Goalless without parking the bus: 5 things we learned from Tottenham 0-0 Chelsea
By John Robertson published
John Robertson was in the White Hart Lane press box to analyse the Sunday lunchtime stalemate between Spurs and Chelsea using Stats Zone - FREE on iOS and Android...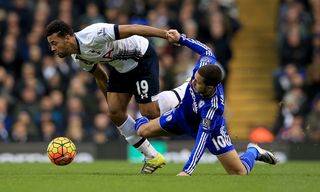 1) Spurs refuse to alter typical style
Chelsea might not have played with what most of us would refer to a 'recognisable striker' at White Hart Lane, but that didn't tempt Mauricio Pochettino into changing his usual approach.
Patient, pass-orientated build-up, combined with aggressive pressing when possession was lost, remained the order of the day. While this highlights a manager that has great confidence in his team's ability to beat anyone and everyone by refusing to abandon his own preferred agenda, as opposed to playing a reactionary game, it allowed Jose Mourinho accurate knowledge of Spurs' intentions before a ball was kicked. In hindsight, then, it's little wonder Chelsea were able to keep their penalty box relatively clean by loading up in midfield – a gameplan allowed for by keeping Diego Costa on the bench.
Comparing the number of passes each team attempted through central areas provides clear focus on how keen Spurs were to keep the ball on the ground and outdo the visitors through intricacy. Only when Spurs ventured far into the opposing half, or tried to exploit the flanks, did Chelsea look firmly towards interceptions and tackles as a means of defence. In all other instances, knowing Pochettino's penchant for possession-based football, Mourinho simply instructed his players to cut off the passing lanes and tempt Spurs into playing it backwards and sideways. The hosts were only too happy to oblige, resulting in long periods in which the pace was muted – an outcome that better suited Chelsea's approach.
2) Chelsea opt for direct approach
In the face of Tottenham's desire to retain possession and play a short passing game, Mourinho set his team out with direct, swift counter-attacks in mind – particularly during the first half as the new look forward line of Oscar, Eden Hazard and Willian looked to cement their understanding.
Coiling up and sitting back before striking with as much speed as they could muster was the name of the game. This looked less like a parked bus, more like a bus eager to get away from the bus stop.
By allowing Spurs to play in front of them, space was created higher up the pitch behind Pochettino's defence. The speed of Chelsea's attackers could exploit that space and remove the advantage of strength and combined experience held by Jan Vertonghen, Toby Alderweireld & Co. That was the plan at least.
Clearly, given the lack of goals, the strategy didn't fulfil its desired function. However, Mourinho can take heart in the fact that his players set about tirelessly executing the gameplan. The connection between Cesar Azpilicueta and Hazard, in particular, led to the working of some very promising positions.
Credit must be bestowed upon Tottenham's defence, given how tirelessly Chelsea kept plugging away, for not conceding much in terms of clear chances. In an impressive example of team cohesion, Spurs' backline didn't once allow a Blues attacker to create a dangerous one-on-one situation – resulting in the visitors seeing incredibly little success in turning threatening positions into goalscoring opportunities.
3) Harry Kane removed from proceedings
Given his recent form, Kane's lack of impact was one of the game's most glaring omissions. While it can't be claimed that the England striker didn't try to get involved, constantly looking to move into new positions in an attempt to make himself available, Chelsea stifled any service designed to land at his feet.
This was achieved partially through marking him tightly in central positions, with Kurt Zouma doing tireless work in this department, but more noticeably by preventing his facilitators from doing their job. Son Heung-min, Christian Eriksen and Ryan Mason, the latter replaced by Erik Lamela due to injury, all failed to find worthwhile channels between the narrow spaces offered by Chelsea's tightly bunched defence.
While technically gifted, Kane is not blessed with outstanding speed or a natural ability to reliably fire off timely and accurate passes from deep positions. By allowing him space to only pick the ball in deeper areas, then, Chelsea removed their opposition's most potent goal threat and allowed themselves the luxury of not getting embroiled in goalmouth battles. Indeed, the manner in which Kane attempted an audacious overhead kick in the dying minutes was perfect indication of the lack of quality chances created for him.
4) Without Alli, Spurs struggle to create overload
There was a telling moment towards the end of the first half that resulted in Kane being awarded a yellow card. Eric Dier, with a rush of blood to the head, burst forward from his usually deeper midfield position to try and create a definitive pass. Not only does this go against Pochettino's tactical vision, it goes against Dier's areas of expertise. Dier was dispossessed and Chelsea sprung the kind of counter-attack they'd been seeking all afternoon. Kane, with little other recourse, opted for the professional foul as a means to prevent danger further up the pitch.
Dier's idea was one more readily associated with the absent Dele Alli, the young Englishman's role filled instead by Mousa Dembele.
It's unfair to criticise Dembele for not being Alli, but the fact remains that the Belgian provided little assistance when it came to putting Chelsea's defensive unit under pressure. With Alli in the team, Dier is less likely to make these kinds of decisions that ultimately harm his team-mates.
His range of passing was effective enough to retain the ball, but not creative enough to work an opening. This would have been acceptable if he had showed more desire to drive forwards frequently – particularly without the ball in an attempt to create attacking options – but this didn't happen. As you can see above, Eriksen used him as a safety net (Dier's job) rather than an attacking link.
5) Chelsea: More inventive without Diego Costa?
They didn't score any goals, but the style in which Mourinho deployed his frontline was the game's most interesting feature. Not only does this show that the manager is confident in his players' ability to adapt, it also highlights that he himself is looking for adaptations that can lift his side out their current slump.
Hazard might have been most active through the middle of the park during the attacking phase, but to describe him as a 'false nine' is inaccurate. Buoyed by the movement from Pedro, Willian and Oscar, Hazard picked up, and delivered, passes right across the width of the pitch.
The majority of his potentially more threatening attempts at threading balls through and getting past the Spur's backline failed, but Mourinho will surely be very happy at the displayed work-rate and lack of selfishness.
In particular, the Hazard/Willian/Oscar combo might, moving forward and after some tweaking, herald a solution to the woes Chelsea have been experiencing this term when it comes to creating high-percentage chances from the midfield.
Drawing teams onto them by dropping deep, before springing the aforementioned speed trap and getting in behind a defence, is an approach that doesn't necessarily work with Costa in the team. Without a 'proper' striker, however, such an option is available when playing against top quality opposition.
Match facts
Tottenham are now unbeaten in 13 league games – their best run in the Premier League and their best run in the top-flight since March 1985 (14 games).
Chelsea have won just 1 of their last 10 Premier League away trips to White Hart Lane (W1 D5 L4).
The Blues attempted just 1 shot on target in this match – their lowest tally in a Premier League game since April (1 vs QPR on April 12, 2015).
Chelsea have now gone 5 successive Premier League away matches without a win (L3 D2); their worst run on the road in the competition since March 2013.
This result means that Chelsea are still yet to win back-to-back Premier League games in 2015/16.
Tottenham have conceded just 3 goals in their last 7 Premier League home games.
Spurs have lost just 2 of their last 21 Premier League home matches (W12 D7 L2).
Spurs have now drawn 0-0 on 3 occasions this season in the Premier League; a joint-high alongside Manchester United.
Analyse Tottenham 0-0 Chelsea yourself with Stats Zone
More features every day on FFT.com • More analysis
STATS ZONE Free on iOS (opens in new tab) • Free on Android (opens in new tab)
Thank you for reading 5 articles this month* Join now for unlimited access
Enjoy your first month for just £1 / $1 / €1
*Read 5 free articles per month without a subscription
Join now for unlimited access
Try first month for just £1 / $1 / €1
Quizzes, features and footballing fun
Get the best features, fun and footballing frolics straight to your inbox every week.
Thank you for signing up to Four Four Two. You will receive a verification email shortly.
There was a problem. Please refresh the page and try again.