Interview, Alexander Hleb: "I also still ask myself why I left Arsenal"
The Belarusian playmaker on Gunners regrets, the joy of playing for Arsene Wenger and why he wishes he'd listened to Pep Guardiola at Barcelona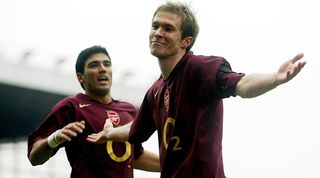 "It was more difficult to settle in my first year at Stuttgart than at any other point in my life," recalls Alexander Hleb on his move to the Bundesliga, aged 19, in 2000. "My brother came with me to play for their youth team and lived with me. If he wasn't with me, I would have gone back to Belarus.
"At times, I cried. Psychologically, it was so hard, but together we made it easier for each other."
When he did settle, he became a fan favourite at Stuttgart as the club finished runners-up in the 2002/03 Bundesliga. After a six-year spell in Germany, during which his fleet-footed skills earned him the nickname the 'Sorcerer's Apprentice', he signed for Arsenal in 2005 and began what he regards as his favourite phase of a life in football.
"Arsenal was the best time in my career. I was absolutely, 100% happy," he tells FourFourTwo. "I had an unbelievable coach, fantastic friends and amazing team-mates. It was a dream come true."
Hleb's admiration for manager Arsene Wenger is clear, despite the questions which frequently arise over the Frenchman's ability to lead Arsenal to Premier League glory once again.
"Wenger always supports his players," says his former player. "He feels what young players think. He doesn't need to come to you and ask, 'What are you thinking?' because he already knows. People criticise him, but he's fantastic. Arsene is Arsenal. Everyone associates the club with Wenger. We all want titles, but every club goes through difficult periods."
Hleb feels that Wenger – whose two-year contract became apparent soon after this interview – deserves at least another full 12 months in the role.
"I would not touch Wenger until next year. Give him until the end of next season. He can create another title-winning team, I am sure of it. It's easy to criticise from the sidelines but I don't see another manager coming to Arsenal and keeping the identity, the beautiful football, which Arsene has brought to the club."
Regretful departure
Hleb spent three seasons at Arsenal where he impressed with his performances, although he had to endure finishing runners-up to Barcelona in the 2006 Champions League Final (becoming the first Belarusian to play in the final of that competition).
Hleb has answered the question about leaving north London many times. Interestingly, he looks back on the situation with as much regret as the Arsenal fans who were sorry to lose him in 2008. "People always ask me why I departed but it's hard to explain," Hleb admits. "I don't know why. I also ask myself why I left."
Probably, the lure of Barcelona was simply too much, as it has been for many players. But what should have been a dream move got off to an unfortunate start from which Hleb never fully recovered. He was impressing in pre-season, until an injury early into the domestic season sidelined him. While he was absent, new manager Pep Guardiola found a winning formula that enabled Barcelona to go on and win a historic treble.
Despite the club's success, Hleb was disillusioned by his lack of opportunities as he played a bit-part role in Barça's triumphs that season. With brutal honesty, however, he now adopts a different outlook on the situation.
"Of course I wanted to play every game," he reflects. "Guardiola tried to speak to me about the lack of chances I was getting, saying that there were so many talented players and that he was trying to give everyone an opportunity. At the time, I had problems in my private life, which affected me badly. I didn't want to listen to him.
"He tried to give me advice on how to integrate, suggesting I should take Spanish lessons so I could properly communicate with the team. At the time, I thought he was the problem and couldn't see it from a different point of view. But now I can say that it was me. I was the problem. If I'd done everything Guardiola asked of me, I would have played more and enjoyed my time at the club."
Mistaken return
Hleb left Barcelona for a season long-loan at his former club Stuttgart just a year after signing for Barcelona. Then, in the hope of finding a route back to the Premier League, he joined Birmingham on loan in 2010. It's a move he now admits was the wrong one.
"Birmingham was a mistake. I don't mean that negatively towards them, because they are a historic English team; a great club," Hleb tells FFT. "At the time, I was used to playing in teams which played good football and at Birmingham, their style was to play physically, to use long balls. It just didn't suit me."
Towards the end of the loan, Hleb himself hinted at an Arsenal return. "I did speak to my agent about a move back to Arsenal, but he told me that it would be impossible because they'd bought two or three new midfielders."
Although he didn't get to don the club's colours again, he still watches the club as a fan. "I do watch Arsenal, I support them. They are my team," he says.
As someone with a supporter's mindset towards the club, the 36-year-old admits that the current situation in north London isn't ideal. "The contract situation [with Alexis Sanchez and Mesut Ozil] can affect the whole group, of course," says Hleb. "We're not talking about tennis, where you only need to think about yourself. Everybody must be together and when there are rumours that players want to leave, it transmits to their team-mates.
"We had it [at Arsenal] with Thierry Henry, our best player, similar to Sanchez now. When he moved to Barcelona, everyone thought we were finished, but football moves on. If Alexis Sanchez does decide to leave, someone will replace him and Arsenal will move forward."
Rollercoaster career
Hleb's own career has featured plenty of moves, involving 10 clubs in six different countries. It also includes more than one spell at a quartet clubs (four at BATE Borisov, two at Stuttgart, two at Glenclerbirligi and two at Russian second-tier club Krylia Sovetov Samara, where he currently plays).
He speaks of his current home with great enthusiasm, and urges people not to avoid visiting Russia for next year's World Cup. 
"The Russian people are fantastic, they love football… nobody should be afraid of coming to Russia," Hleb asserts. "Mutual respect is key, and if people respect the Russians, they will respect you too. Everybody just wants to enjoy the World Cup, and a country like this hosting such a big event will be amazing."
On a personal level, the future beyond his playing days is not yet clear, but he's not limiting his options – particularly given his recent acquisition of a law degree.
"I love football and experiencing new leagues," the former Gunner says. "I still feel fresh, and I don't feel tired of football either. I'm not sure what my next move will be, I haven't considered it yet.
"I became a dad in December so there's more focus on family now. I want to go on holiday with them and think, as a family, to decide. Maybe I'll play one more year, maybe not.
"I studied a law degree for four years at the Academy of Public Administration. It's something I could go into after football, I'm not sure. I learnt a lot, though, and thoroughly enjoyed it."
Whatever step he decides to take next, Hleb will one day be able to look back on a long, varied and intriguing career.
Quizzes, features and footballing fun
Get the best features, fun and footballing frolics straight to your inbox every week.
Thank you for signing up to Four Four Two. You will receive a verification email shortly.
There was a problem. Please refresh the page and try again.