Kepa Arrizabalaga went straight from Wembley to Arnhem, team-mates confirm
The rebellious goalkeeper didn't wait around for his inevitable loan move, Back of the Net reports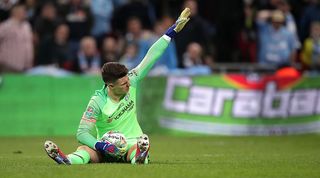 Chelsea goalkeeper Kepa Arrizabalaga took the liberty of navigating his own way from the goal-line at Wembley to Vitesse's GelreDome without even returning to the dressing room, FourFourTwo can reveal.
Kepa stunned onlookers when he refused to be substituted ahead of a penalty shootout in the Carabao Cup final, leaving manager Maurizio Sarri incandescent with rage.
The petulant shot-stopper was clearly aware of his mistake as he prowled the goal-line awaiting penalties, and TV cameras showed the 24-year-old ordering a Rough Guide to Arnhem and booking a visit to its Airborne Museum on his phone as Chelsea's players took their kicks.
"I went over to console Kepa but he was already ordering his Uber to St Pancras and trying to minimise his connection time in Rotterdam Centraal," David Luiz told FourFourTwo.
"He was holding up pretty well considering. He'd found himself a nice little apartment in Arnhem-Noord, and even begun ordering sofas and some of those coffee table books about art that make it look like you care about art, when actually you don't care about art at all but would like to be seen to care about art.
"We embraced briefly and he said he'd see me in the Europa League next season. Then he joked that he hoped it didn't go to penalties, before suggesting it might have been too soon for that joke.
"After that he trotted off to get his Uber, still wearing his keeper kit and aware that he would never see any of his other possessions again."
No assumptions
Reports suggest that Sarri was surprised and disappointed that Kepa didn't return to face the music, but the tactician assured his custodian's team-mates that he had no intention of farming the Spaniard out to Vitesse.
"The gaffer looked genuinely hurt and stressed that he had no intention of sending Kepa to Vitesse Arnhem; none at all," Eden Hazard told FourFourTwo.
"That certainly calmed us all down, especially because most of us don't believe Arnhem exists. It's like when your dad tells you that your trusty childhood labrador has gone to live on a farm in the country. Nobody comes back from Arnhem.
"But then Sarri muttered that he had a much more suitable club in mind, a Premier League club no less, and cackled for a really long time."
Sources inside Chelsea have confirmed that Sarri has made contact with the Worker Peasant Red Guards of the North Korean Premier League to discuss a loan deal, including an option to make the move 'very permanent indeed' after a year should Kepa impress or disappoint.
Please note: Needless to say, this satirical story is not real.
THEN READ... Quiz! Can you name every Premier League goalkeeper with more than 50 clean sheets?
Quizzes, features and footballing fun
Get the best features, fun and footballing frolics straight to your inbox every week.
Thank you for signing up to Four Four Two. You will receive a verification email shortly.
There was a problem. Please refresh the page and try again.