This is what it feels like to be Aston Villa right now
Everything has gone pear-shaped at Villa Park this season and there's no reason to expect an imminent turnaround, explains fan Ian Woodcock...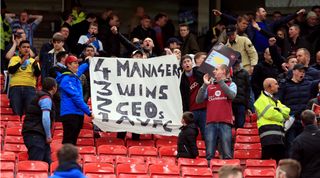 In the last seven days Aston Villa have been relegated from the top flight after 28 years, seen two directors resign with their positions untenable and suspended their all-time top Premier League goalscorer after he was caught smoking a shisha pipe/photographed at a party while the club went down/for being fat.
An absolute mess by anyone's standards, but just another dreadful week in what has been a horror show of a season for Villa. It wasn't meant to be like this.
This was meant to be 'new Villa'. After years of flirting with relegation there were new players, a new way of doing things and new optimism. But the new players have almost all been abject failures, the new way of doing things has been to lose every week rather than just most weeks, and the optimism was gone before September was out.
How did it come to this? How did things go from bad to mind-bogglingly horrendous in such a short period of time?
Trouble at the top
Most fans trace Villa's decline down to Martin O'Neill walking out on the eve of the 2010/11 season over the sale of James Milner to Manchester City. O'Neill had fallen out with Randy Lerner as the American sought to bring about at least some balance to the books after big spending had ultimately led to three unsuccessful tilts at finishing in the Champions League places.
After a succession of poor appointments and tightening of budgets, Lerner's name is now mud not only at Villa Park but throughout English football. The man lauded for his approach when he took over in 2006 is now a byword for the mismanagement that so many British clubs have suffered at the hands of foreign owners.
Fans chant for him to leave (and worse) at every game. Now it seems David Bernstein and Mervyn King, who were only installed to the club's board in March, were forced to leave their positions after emails regarding his leadership of the club found their way back to the former Cleveland Browns owner.
He wasn't happy and, on Monday, the duo quit. The club, which has been for sale for two years, must look like a less attractive proposition every day.
Lerner has rightly faced a huge amount of criticism from all corners. So much so in fact that Villa fans barely remembered they were supposed to turn on the players until an embarrassing 1-1 FA Cup draw at Wycombe brought about some ugly scenes.
Clear the air
Regardless of mismanagement from the top, this is a Villa side that managed to go from August to January without winning a league match, a side that needed extra time to beat Notts County, a side that Remi Garde admitted he could not guarantee 100% effort from in training. Training.
Never mind giving their all in games, these lads couldn't even be bothered to run about a bit in training. Judging from Gabby Agbonlahor's expanding waistline, some of them didn't run about at all.
The men responsible for assembling this disaster of a squad have almost all gone now. Chief executive Tom Fox and sporting director Hendrik Almstadt left the club in March but director of recruitment Paddy Reilly, for now, remains.
Reilly treated the summer transfer window like an extended firesale, buying anything and everything. In total 12 players came in. Of those dozen only Idrissa Gana and Jordan Ayew can take any kind of credit for their performances and, as such, will hope to not be at the club next season.
Some, such as the car-tweeting, 'weight is off our shoulders now', captain Joleon Lescott (that's right, captain) and Micah Richards, have possibly ruined their reputations within the game for good. They may, like the club, find themselves stuck in the Championship.
Relegation might only have been mathematically confirmed with Saturday's defeat at Manchester United, but the reality is that most fans have known it was inevitable since November, if not earlier. Indeed, the writing was on the wall when then-boss Tim Sherwood said the team was in a relegation battle as early as September.
After all, this time the club couldn't even do getting relegated right. It's supposed to be the hope that kills you, the run of wins that makes you think 'we just might do this' and packed out stands with fans with one eye on the game and one on a smartphone checking on how other teams are doing.
Villa have won three times all season and the only time Villa supporters have been checking their phones is to see if they've gone down yet or not.
Hard times ahead
In the club shop (everything 50% off) after the 2-1 defeat by Bournemouth earlier this month, a man turned to his girlfriend and said: "I can't wear Villa shorts to the gym, I'll be a laughing stock." For the most part, Villa fans seem to be stuck in either the anger or acceptance stage of grief now.
Given the dire nature of the club's situation, they have turned up in commendably, bafflingly large numbers home and away all season. Aston Villa have lost 24 of their 34 league games, they have been bottom of the league since the last day of October, they have the worst goal difference in the top four divisions and still 31,000 fans turned up for the defeat by the Cherries.
It has already been announced that the upper tier of the Trinity Road stand will be closed next season as the club prepare for second-tier football for the first time in 29 years.
Somehow Villa already feel like yesterday's club. They will be joining fellow former giants Leeds United, Nottingham Forest and Blackburn Rovers in the Championship next season. They have found out just how hard getting back to the Premier League is, and there is nothing to suggest that Villa won't find it just as difficult.
Losing, much like winning, becomes a habit and it's one that Villa can't shake. After a season where they have hardly even been competitive, the very idea that they will suddenly start winning in the Championship seems ridiculous.
When Leeds began to count the cost of spending beyond their means, chairman Peter Ridsdale said in 2003: "Should we have spent so heavily in the past? Probably not. But we lived the dream."
The following years must have seemed like a never-ending nightmare to Whites fans, and Villa, who dreamed the dream rather than lived it, will soon be waking up to the reality of their new present. Whether this is the end or merely the end the start of the club's nightmare remains to be seen.
Quizzes, features and footballing fun
Get the best features, fun and footballing frolics straight to your inbox every week.
Thank you for signing up to Four Four Two. You will receive a verification email shortly.
There was a problem. Please refresh the page and try again.