The 14 teams we want to play as on Football Manager 2014
The new version of the addictive management sim is out now - but who should you play as?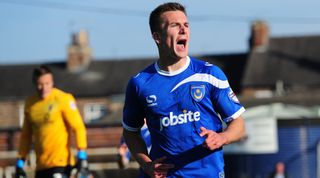 Portsmouth
The Hampshire side's decline is more than well documented, and now they're in the Football League's 'basement division'. With severe financial problems and a thin squad, survival followed by slow rebuilding are the orders of the day. The bright hope is Jed Wallace (pictured above); build your team around him as you look to take the 2008 FA Cup winners back towards the upper echelons.
Wigan
Everyone loves a promotion campaign twinned with an unlikely crack at a European competition, right? Well Owen Coyle might not be too impressed by the resultant fixture pile-up, but Wigan offer a platform for a truly action packed first season. With at least £15 million in the bank and a squad already more than capable of going up to the Premier League, the Latics could represent a very enjoyable first save.
Liverpool
On this year's edition Liverpool offer the perfect balance of money, big names and talented youngsters, all while still presenting a challenge. You could go one of two ways here; build the team around the likes of Suarez and try and bring the glory days back to Anfield, or utilise the strong English core and create an entirely English squad. Securing a top four berth is by no means guaranteed in the first season, patience is the key.
Roma
Serie A's surprise leaders still have their 100% start going on Football Manager 2014 release day. The challenge will be to try and replicate their real world success, as you try to secure a first Scudetto for over a decade. As a side project, why not see if you can help Francesco Totti achieve his goal of becoming Serie A's all time top scorer? Only 47 goals to go at the start of the game…
Atletico Madrid
Not even the most ardent Atletico fan would have predicted that they would be ahead of their big-spending arch rivals after 10 matches. Diego Simeone has done a tremendous job and has compensated for the loss of Falcao brilliantly. It is up to you to pick up the gauntlet and deliver the club's first league title since 1996, breaking Spain's duopoly in the process. Don't forget your academy though; there are some serious talents like Koke and Oliver Torres for you to nuture.
Swansea City
Swansea are back and they've got a real striker this year, as well as a Europa League campaign to navigate. It's safe to say Swansea somewhat over performed last season, but can you repeat their success? Winning a domestic cup will be hard, but your aim should be to get the Welsh side back into Europe via the league. Perhaps the hardest challenge of all will be to replicate their tiki-taka possession style of football.
Monaco
Last season it was PSG and now it is their newest competition, Monaco. After being promoted from Ligue 2 last year, Claudio Ranieri has assembled an all-star cast in the principality. The challenge is three-fold. First, take on PSG and claim the domestic title. Second, race the Parisians to Champions League glory. Thirdly, manage the above while adhering to UEFA's financial fair play rules.
Schalke
Very much the fourth team in Germany right now, behind Bayern, Dortmund and Leverkusen, incredibly Schalke haven't won the title since 1958. With Julian Draxler, though, there are reasons to be optimistic. With a little investment, there is no reason you can't get them challenging for silverware.
Southampton
The Saints have made a lightning start to the new season, and boast some of the most exciting young English talents in the league. You'll be tasked with keeping hold of them, developing more like them and making a push for a European place. All that while trying to keep a little digitised Nicola Cortese happy, which presumably won't be easy. Southampton have fantastic infrastructure but failure isn't tolerated lightly on the south coast and you'll have to hit the ground running.
Wolves
This year's sleeping giant. Well, not exactly, but they are a big club in the lower leagues and they have the perfect platform to achieve back-to-back promotions. The club is financially secure and there are a lot of players that you can sell if you want to raise funds. Getting them up the Championship shouldn't be a problem, the real test will be where you go from there.
Coventry
Or if you want a real test in League One why not take on Coventry, homeless and with a 10-point deduction. The squad is fairly strong but getting over that deduction to achieve promotion in the first season is going to be tricky – obviously, the quicker you get up to the Championship the better. The long-term goal is to get the Sky Blues back to where they were before the turn of the millennium, when they were in the top flight.
Everton
There is one very good reason why you should start with Everton. For once they actually have some money to spend. You'll be given at least £8 million to play with (unheard of for those of us who have taken on this challenge before) and you already have a very talented squad. The Toffees' academy has thrown out 15-year-old Ryan Ledson, who looks to be a very talented prospect on this year's game. Add in the likes of Ross Barkley, James McCarthy and the on-loan Romelu Lukaku and Everton seem like a very attractive proposition.
Napoli
They may have lost Edinson Cavani over the summer but Napoli have reinvested wisely and their squad looks like it will be more than capable of challenging for the title. Stopping Juventus will not be an easy task though, especially as the game seems to perfectly implement Antonio Conte's 3-5-2 formation. Aside from the Italian Cup in 2012, Napoli haven't had much success since the 1980s, they're waiting for a new era of trophies; can you beat Rafa Benitez to the punch?
Manchester United
Fergie has gone and Moyes is floundering a touch, can you step into the breech and save Manchester United? In the real world the Red Devils have made a shaky start to the new season but in game they are have all the makings of title winners. With Robin van Persie and Wayne Rooney leading the line and at least £30 million in the bank, surely you will be able to keep pace with the likes of Arsenal, Chelsea and Manchester City? Why not try and implement a 3-5-2 while you're at it, as FFT's Jonathan Fadugba suggests…
Football Manager 2014 is out now
Quizzes, features and footballing fun
Get the best features, fun and footballing frolics straight to your inbox every week.
Thank you for signing up to Four Four Two. You will receive a verification email shortly.
There was a problem. Please refresh the page and try again.