19 signs you're a proper Manchester United fan
The Old Trafford faithful live these on a near daily basis, says Republik of Mancunia's Scott Patterson...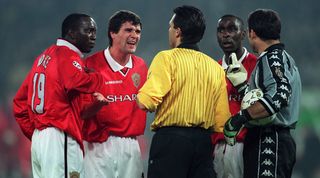 1) You know that games only get going in the 90th minute and have faith in a victory until the final whistle blows, whatever the score, whatever the opposition and whatever the occasion.
2) The French national anthem sends tingles down your spine, you used to run around the playground with your collar turned up, and you know why 1966 was a great year for English football.
3) You owned this on cassette tape and instinctively respond to the words "Schmeichel, Parker, Pallister" with "Irwin, Bruce, Sharpe and Ince".
4) You have no doubt that God is a Red. There can be no other explanation for John Terry's Moscow slip in 2008 and Steven Gerrard's slip in 2014 that cost Liverpool their first title in a quarter of a century.
5) You've tried to convince your partner that Bobby, Eric, Ole or Roy would be a lovely name for your first-born son.
6) You know no other fans in England will ever experience the pride you felt when watching your lads, now referred to as The Class of '92 (c), winning trophy after trophy over a decade or two.
7) You long to hear the words "newredissueOUTtoday" called out as you walk down Sir Matt Busby Way.
8) You're always perplexed by the Gerrard vs Frank Lampard debate, when the obvious answer was Paul Scholes.
9) You can recite the words to this piece of commentary and get goosebumps every time you watch it...
What must Lothar Matthaus be thinking? Well, with the greatest respect, who cares?
10) You'll tell anyone who will listen that Roy Keane's performance in Turin in 1999 was the greatest from a footballer of all time, ever, ever.
11) If you squint your eyes, you can still see what the Stretford End looked like with the Wonderfuel Gas sign on the top of it.
12) You agree that United are better than England, that the boy Ronaldo made England look sh*te, and you support the team that has been world champions once more than England.
13) You hate Leeds scum.
14) You thought the Sharpey shuffle was the coolest goal celebration of all time. You also had a mate to reenact the Giggs-Ince celebration with on the playground.
15) When you're on a night out and you hear this you're half expecting the team to walk in through the door.
16) You can't understand why Legends Cafe replaced the painted pictures of the players with photos of Beckham in an LA Galaxy shirt and Tevez.
17) You've watched a game from the back row of tier three of the Sir Alex Ferguson stand and it only took you until half-time to get your breath back after climbing the stairs.
18) You are cracked up by stories like this of fans asking for post-humous knighthoods for old managers. But what would Sir Alex Ferguson make of it?
19) You were in the K Stand on the final day of the 1993/94 season against Coventry. Honest.
Now read...
Quizzes, features and footballing fun
Get the best features, fun and footballing frolics straight to your inbox every week.
Thank you for signing up to Four Four Two. You will receive a verification email shortly.
There was a problem. Please refresh the page and try again.