4 Diego Simeone masterstrokes that got Atletico Madrid back in the La Liga title race
La Liga is all a flutter with excitement, as just a point now separates the top three. Troopers Atleti are on a roll, and Lee Roden explains why...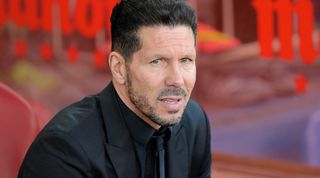 From being eight points behind Barcelona to drawing level at the top, Atletico Madrid's turnaround in La Liga has been dramatic to say the least. Key to the change is Diego Simeone, who has made four shifts in particular that have put the Colchoneros back in the picture…
1. Improve the attack by reverting to type
Everyone knows that Atlético's defence is as solid as they come, but while they have long been impossible to break down at the back, they encountered problems when trying to break down opponents themselves for a large stretch of this season.
Atleti have recently turned a corner in that regard, scoring three or more in six of their last seven league games, compared to doing so only three times in their first 26. But how did Simeone pull it off? In part, by reverting to type.
Since losing Diego Costa to Chelsea, Simeone has struggled to replace the lightning-quick breaks his team pulled off so brilliantly with the Spain international up front.
With the likes of Mario Mandzukic and Jackson Martinez unable to replicate Costa's runs, Simeone had to look to alternative means of attack, with varying degrees of success. Sometimes it worked, more often it didn't, and the sensation always seemed to be that Atlético had lost one of their greatest weapons from the recent title win.
That is, until Fernando Torres decided to roll back the years. Like Costa at his best, El Nino is the kind of player who invites a first-time pass over the top with his tricky movement, sharp on the heels of the defence.
Torres hadn't been at his best for a number of years, however, and that's where Simeone's decision to hold back on a contract extension for the Colchoneros legend proved important. Playing for his very future at his boyhood club, he stepped up and delivered big goals when his team needed them most, netting six in nine league appearances since February.
Atletico have finally recovered one of their old strengths, and with perfect timing.
2. More freedom for Koke means more creativity
Someone needs to provide the final pass for Torres, of course, and just like in the 2013/14 season it's Koke who has filled that role.
With 13 assists, the academy product is now the best provider in La Liga, matching the number he delivered three seasons ago with five games left to play.
More than half of those assists (7) have arrived in Atletico's last seven league games, and a big part of that upturn is positional. Rather than using the 24-year-old on the wing or deep in midfield as he had for the majority of the first half of the campaign, Simeone now has Koke playing more like a No.10, positioned just behind the strikers with the freedom to move out wide if he wishes.
If Atleti win the ball high up the pitch, he is in the right position to release Torres or Antoine Griezmann as quickly as possible. If they are constructing from a more static attack, he has the permission to pull out wide and help overload the flanks.
Simeone seems to have found the right formula to exploit his most creative midfielder's quick thinking, and that's significant.
3. Augusto: the defensive midfielder with the mentality of an attacker
It's also worth noting the role one of Atletico's winter signings has played in their improvement. Augusto Fernández worked with Simeone at River Plate during their 2008 Clausura win, and bringing him in has been an inspired move.
The 30-year-old excels at winning the ball back, helping Atleti to do so higher up the pitch than they could without him. But what he does with the ball once he recovers it is also important.
More often than not, the first thing Augusto thinks about after regaining possession is how to move it forward as quickly and as dangerously as possible, his time under the Marcelo Bielsa-inspired Eduardo Berizzo clear in that regard.
That completely changes Atlético's rhythm, making them play at a higher tempo compared to the often-lumbering performances of earlier in the season.
Augusto's addition has also led to important squad competition, and a significant upturn in Gabi's recent form is no coincidence.
Simeone summed Augusto up perfectly recently when he called him someone who reads the game in a more offensive than defensive way. He offers something completely different to Atleti's other deep midfielders.
4. Looking to youth
Paradoxically, Atlético's resurgence has come at a time where they looked more likely to slip further down the table than make gains.
In the final week of March, the Rojiblancos were hit with an injury crisis. Losing Stefan Savic, Diego Godin and Jose Maria Gimenez at the same time was the equivalent of Barcelona losing Lionel Messi, Neymar and Luis Suarez, so important is solidity at the back to Atleti's style. How Simeone responded in that crisis situation was significant.
In a similar scenario earlier this year, the manager tried to invent his way out of trouble, asking Saúl Ñíguez to play at centre-back for the first time since his loan spell at Rayo Vallecano.
This time around, Simeone instead opted to trust his youngsters, backing 20-year-old defender Lucas Hernandez, despite the Frenchman only playing once in the league between August and February. It was a gamble, but trusting a natural centre-back has paid off: Lucas went on to perform exceptionally well in wins over Valencia, Betis and Espanyol (not to mention Barcelona in the Champions League), and even assisted the opening goal against Granada while filling in at left-back.
At the other end of the pitch there's a similar story, with 21-year-old Angel Correa becoming Simeone's go-to attacking sub in the last month. The forward has appeared in every one of Atleti's last five league games, and played a part in four goals during that period. In the Argentine, Simeone has found the perfect player to kill off a game and help rest his starting strikers.
With the crunch stage of the season now here, it's the competitiveness of these young supporting players that will keep Atleti fresh, and potentially keep them winning.
More features every day on FFT.com • More La Liga • More Atletico Madrid
Quizzes, features and footballing fun
Get the best features, fun and footballing frolics straight to your inbox every week.
Thank you for signing up to Four Four Two. You will receive a verification email shortly.
There was a problem. Please refresh the page and try again.