5 things Manchester United must do to move forward as a club
Nobody knows whether they'll be in the Champions League next season or not, but regardless: there are structural and strategical problems hampering serious progress at Old Trafford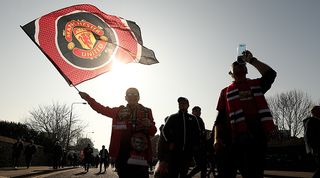 1. Appoint a sporting director
The most important task of all. Over the last decade, Manchester United have drifted away from what made them great. Alex Ferguson covered for the structural inefficiencies that have been laid bare following his retirement.
United cannot return to the elite of European football until Ed Woodward cedes control of footballing issues. Their vice-chairman is an excellent businessman who has improved United's financial power and corporate presence, but that doesn't help the team on the pitch. The transfer policy has been shambolic. United are a bluebottle buzzing dozily around the room until it lands upon something that takes its fancy. The lack of long-term transfer plan is embarrassing.
Manchester City wanted to dominate English football, so they went out and got the manager and sporting director who they felt would give them the best chance; both together were the perfect marriage. Manchester United have appointed a series of managers who have all been backed up by transfer budgets but without a structure above them to ensure any succession planning is possible. This is a club that reacts rather than proactively plots its route to success, and that's not good enough.
A competent sporting director (and we're not talking Mike Phelan here) is essential to get United back on the right path. They would immediately bring a greater sense of clarity to the club's hierarchy, convincing new and existing players that they were part of a distinct vision rather than merely picked up through opportunity and knee-jerk reaction.
It's too simple to say that United have signed bad players; all succeeded before joining Manchester United, or they wouldn't be there. But without that long-term vision, this club is attempting a difficult journey wearing a blindfold. That will never end well.
2. Clear out the deadwood
United don't have bad players; they merely have a squad in which complacency has been allowed to fester because of the example set by those at the very top of the club.
Gary Neville opined that the club didn't have a midfielder who could pass it 10 yards, but that's patently untrue. What they lack is a system and style of play. Footballers will always struggle if they have no idea what they're actually meant to be doing.
That said, there are fringe squad members who must be moved on to make way for fresh ideas. Manchester United are unlikely to get good money for them - more on that later – but that horse has bolted for this crop. They simply need to get rid.
Matteo Darmian, Marcos Rojo, Juan Mata, Ashley Young, Antonio Valencia and Alexis Sanchez. Move on those six, replace them with four or five players who will compete for first-team places, and the extra competition will get more out of those who remain.
3. Own the destiny of key players
Only Arsenal can rival Manchester United as the worst sellers in the Premier League. Perhaps it comes from a position of inbuilt arrogance: if you aren't good enough for this grand old club, then you aren't worth much.
But whatever the reason, United must improve. Too many players have hung around until they are pushed out of a side door for a relative pittance. They have sold only two players (Angel Di Maria and Cristiano Ronaldo) for more than £20m in the last 15 years. You can see the same happening with at least five players in the current squad (and yes, we're referring to Phil Jones's new four-year contract).
It's not necessarily about the revenue gained from player sales, more the idea that United must appear ruthless with those who don't impress and therefore remain in control of their own destiny. Take Liverpool, for whom selling Philippe Coutinho was the masterstroke of Jurgen Klopp's tenure because it enabled them to reinvest and sign players who truly wanted to be there and fight for something special.
There are rumours that David de Gea, Paul Pogba, Anthony Martial and even Marcus Rashford would be prepared to pursue moves away from Old Trafford. But if the money is right (and that is key), don't see their departures as a sign of weakness but a signal of strength. We are Manchester United; you are merely one player. We can be bigger and better without you.
4. Buy young
There have been few high points to this Manchester United season, but most lie in the younger players coming through. Luke Shaw has been consistent after finally overcoming injury and fitness issues, Diogo Dalot could be a starting full-back in years to come and Scott McTominay has displayed the drive and hunger that can be as important as natural talent.
So continue that process to ignite some more fire in the squad. Aaron Wan-Bissaka would be an excellent signing from Crystal Palace, while Declan Rice could be a wonderful fillip if United can beat Manchester City to his signature. Jadon Sancho will be extraordinarily expensive, but United certainly have the requisite disposable income.
There are others: Matthijs de Ligt, Joao Felix, Kai Havertz, Tanguy Ndombele, Jonathan David and many more besides. Europe's elite are less frequently buying ready-made talent and instead focusing on prodigious youngsters who can be sculpted and refined by their coaching teams. And even if it goes awry, the sell-on value will stay high.
Most importantly, buying young, talented players only helps to persuade supporters that this club is planning for its long-term future rather than living season to season, manager to manager... and disaster to disaster.
5. Know Solskjaer's targets
The only thing worse than making a mistake is persevering with it because you aren't prepared to concede that you got it wrong.
Ole Gunnar Solskjaer does deserve more time, plus a summer transfer window and pre-season in which he can stamp his authority and philosophy on his squad. He must also be provided with a proficient and experienced sporting director to make those tasks easier.
But there is also a growing sense – even among Manchester United supporters – that the Norwegian provided a useful bump post-Jose Mourinho, but lacks the tactical maturity and experience to make this immensely difficult job work in the long term.
The constant nostalgia about the good old days is wearing thin purely because Manchester United and the Premier League have changed since Solskjaer was a player at Old Trafford. This club needs new ideas, not a reminder of the old ones. The one thing United haven't tried since Ferguson left is a forward-thinking tactician who has enjoyed recent success.
So United must have targets in mind, not made public or shared with Solskjaer but held at boardroom level and stuck to next season. If Solskjaer is missing those targets by October or November, a ruthless change must be made if the club are not to waste another season.
The worry that a new manager will arrive with a new list of transfer targets indicates just why that technical director role is so crucial.
Then read…
OPINION How Nemanja Matic shows up everything wrong with Jose Mourinho's reign at Manchester United
QUIZ! Can you name the PFA Premier League Teams of the Year from the last decade?
While you're here, why not take advantage of our brilliant new subscribers' offer? Get 5 copies of the world's greatest football magazine for just £5 (opens in new tab) – the game's greatest stories and finest journalism direct to your door for less than the cost of a London pint. Cheers!
New features you'd love on FourFourTwo.com
Thank you for reading 5 articles this month* Join now for unlimited access
Enjoy your first month for just £1 / $1 / €1
*Read 5 free articles per month without a subscription
Join now for unlimited access
Try first month for just £1 / $1 / €1