Forget your Galacticos: Why Luka Modric is Zinedine Zidane's main man
By Lee Roden published
The multi-talented Croatian midfielder should be the man Zizou builds his team around, argues Lee Roden...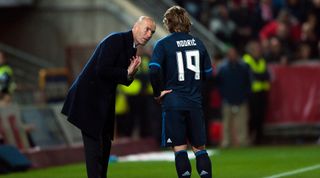 It's far too easy for the quiet ones to pass unnoticed at Real Madrid. The most famous case was Claude Makelele, whose unique talents weren't fully appreciated until he was sold in 2003, and one example stands out in the present.
Modric was questioned in his early years at the Santiago Bernabeu, and recognition of his quality is a recent phenomenon in Spain. His lack of Galactico status isn't conducive to Marca front pages.
But the Croatian could be more important this season than any of the players who cost twice his fee. Brilliant in possession, tireless without it and usually one step ahead of his opponents, building the team around the ex-Spurs Magician may be the key to success for Zinedine Zidane.
Quietly consistent
The paradox of Modric's years at the Bernabeu is that he has been so consistently good that it tends to have a camouflaging effect, his regularity ultimately grabbing less attention than players who are more spectacular but less steady.
Mobile and with few technical weaknesses, not only does he pass well for Madrid, but passes well over a large range, crisply spraying the ball across multiple distances and more often than not placing it so that the recipient can take the ball in his stride.
He can dribble too, but unlike many good dribblers doesn't abuse his talent, rarely falling into the trap of carrying possession for too long and instead preferring to release it earlier to aid the fluidity of a move.
Play Modric a poor, heavy ball, and he has the ability to improvise in order to control it. On the rare occasions that he plays one himself, he tends to react quickly enough to minimise the damage, on some occasions even cutting off the opponent who thought he had pounced on the error.
All of that would sound like an exaggeration if it wasn't proven by his astonishing numbers, the stats that are still jaw-droppingly good this season despite Madrid's struggles for the majority of the campaign.
Of 1,620 passes attempted in La Liga in 2015/16, the midfielder has reached his man with 91%, the accuracy only dropping slightly to 90% when limited to the opposition half. What's even more impressive is the nature of the passes: 30% have been forward, 31% left, 25% right, and only 14% backwards.
This isn't a player whose individual numbers are augmented by taking safe options, but rather someone who looks to break lines with possession and more often than not succeeds.
Always thinking
Anyone who has watched the Zadar native since his emergence at Tottenham will be well aware of his excellence in possession, but what says more about his true quality these days is what he does without it. The No.19 always seems to find himself between the lines. His movement is constant but rarely rushed, allowing him to sneak unnoticed into a space where he can create a problem if he's taken up by a team-mate.
While some of Madrid's attackers are guilty of counter-productively trying to occupy the same central spaces behind the box, Modric often opts to hang back instead, waiting patiently in an effort to capitalise not on the first ball but the second, like a chess player predicting three moves ahead.
In a team with too many No.10s masquerading as central midfielders, Modric is a rarity in that he is an excellent all-round middle man. Under Zidane it's equally common to see the 30-year-old showing for possession on the edge of the opposition area as it is to see him drop back between the centre-backs to provide a clean build-up near his own box. Team-mates know that regardless of where he is, he can be trusted with the ball.
The dirty work
On the surface, the 5ft 9in playmaker doesn't appear to be the most imposing of players, but his stature belies his importance for Madrid on a physical level. He's never one to shirk the less glamorous side of the game, and Modric's habit of recovering possession is particularly useful for a team whose attacking players like to take risks, and by extension are prone to losing the ball.
It hasn't always been that way, and credit for Modric's improvements defensively should go to Jose Mourinho. When the midfielder first arrived in Spain he struggled physically, accustomed to the freedom of defensive duties afforded to him by Harry Redknapp.
Mourinho's response was to ease him into action, only making him a regular starter once he felt his all-round game was up to scratch. Subsequent managers have reaped the rewards of that schooling, which has made him a viable central option even in the fiercest of contests.
Capable of more?
El Pais recently labelled Modric "the continuation of Zidane on the pitch", but it's tempting to ask whether the coach could exploit his talents even further – particularly after seeing the game of two contrasting halves that Zidane's team produced against Athletic Club on February 13.
Picking out another beauty for Madrid
The duel with the Basques was Zizou's toughest challenge yet, and in the first 45 minutes he rarely managed to get his best midfielder involved. Possession frequently bypassed Modric's right side in favour of the left flank where Cristiano Ronaldo was stationed.
That led to a spectacular goal from the Portuguese attacker, but it also led to a complete lack of control from the home team, handing Athletic plenty of opportunities to cause problems of their own. A better side would have taken them.
Something was clearly said at half-time, because after the break much more of Madrid's play went through Modric. The Croatian's increase in prominence was a nightmare for Athletic Bilbao playmaker Benat Etxebarria, who was constantly foiled following the break, failing to get past Modric in possession and chasing shadows when trying to gain it for himself.
The result? Athletic had far fewer chances on goal in the second half compared to the first, despite Madrid playing the closing stages of the game with 10 men.
That game provided a clear example of the difference when Real Madrid connect regularly with Modric compared to when they don't, and that can be extrapolated as a forewarning for the rest of the season.
To compete properly and maintain control in big games, los Blancos need their most consistent and complete midfielder to be as involved as possible. Building the team in a way that enhances Modric's influence could play a big role in deciding Zidane's success or failure.
Roma vs Real Madrid LIVE ANALYSIS with Stats Zone
More features every day on FFT.com • Analysis
STATS ZONE Free on iOS • Free on Android
Thank you for reading 5 articles this month* Join now for unlimited access
Enjoy your first month for just £1 / $1 / €1
*Read 5 free articles per month without a subscription
Join now for unlimited access
Try your first month for just £1 / $1 / €1
Quizzes, features and footballing fun
Get the best features, fun and footballing frolics straight to your inbox every week.
Thank you for signing up to Four Four Two. You will receive a verification email shortly.
There was a problem. Please refresh the page and try again.