Andrei Kanchelskis: I didn't know which Manchester club I was signing for in 1991
By Andrei Kanchelskis published
The flying winger was one of the 90s' earliest foreign players. He tells FFT about topping the music charts with Manchester United, and the time he swore at Alex Ferguson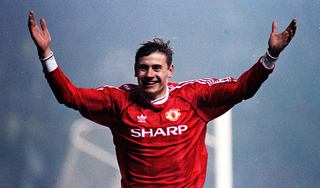 I didn't know which Manchester club I was joining. When I flew to England in 1991, no one told me which club I was going to. I asked my agent and he just said, "To Manchester". I asked, "Which club?" and he replied, "I don't know". When we landed, we were driven to Old Trafford. It was only then that I realised it was United.
I had to buy emergency boots. When I first met Alex Ferguson he said, "Tomorrow, you're training". Nobody told me that I'd be training. I hadn't brought my boots! I went to buy some, but they were terrible. They didn't really fit properly. I played really badly in a friendly, but fortunately they still gave me a contract.
Unitedweren'ta big deal in the USSR. There wasn't a lot of information about English football when I was younger. Of course I knew about Manchester United – Denis Law, Bobby Charlton, Matt Busby and George Best – but in '91 most people spoke only about Liverpool because they had been dominating. That changed in the '90s – soon everyone spoke about Man United and I was very proud to be part of that change.
England was like school. There was so much to learn: the mentality, the food, the language, having to drive on the other side of the road – it was a very big change. The football was similar, though. I'd played for Dynamo Kiev under Valeri Lobanovsky – one of the best coaches around – and he liked playing 4-4-2 with two wingers, just like Ferguson.
I once called Fergie a "Scottish bastard" – although not on purpose. My new team-mates taught me to say that to Ferguson at training, but I didn't realise what it meant. That sort of thing happens if any player goes to a different country – when I played in Russia, everyone taught a Brazilian player to say, "F**k off" to the coach in Russian. When I called Ferguson a "Scottish bastard" everybody laughed! Thankfully, he did too…
We should have won the league in 1991/92. We were top all season, but towards the end we had too many matches and dropped points against Luton, West Ham and Liverpool. We won our last game, against Spurs at Old Trafford. Ferguson came into the dressing room and said: "Great season. Don't worry, next season we will win it." He was right.
We also should have won the Treble in 1994. We won the Double, but we lost the League Cup final against Aston Villa at Wembley – I remember it very well because I got sent off for handball!
After Eric Cantona kicked the fan at Crystal Palace in 1995, everyone was quiet in the dressing room. It was probably better not to shout at a moment like that. It was a bad situation, especially for Eric, because he was suspended for a long time after that. He lost control, but it can happen sometimes: Zinedine Zidane lost control in the World Cup final, after all.
I've recorded a No.1 record. Teams would release their own songs back in those days. We did it at Everton and Rangers. At United, our song Come On You Reds got to the top of the charts in 1994.
I played for three countries during the '90s – USSR, the CIS and Russia. At Euro 92, the USSR had broken up and I played for the CIS – there was no national anthem and it was very strange. Afterwards I chose to play for Russia rather than Ukraine – people in Ukraine said bad things, shouting that I was born in Ukraine but played for Russia. But I wasn't the only one – Ukraine couldn't play at the 1994 World Cup, and six players born there chose to play for Russia instead. All of the people saying those things were just stupid.
Fergie tried to persuade me to stay at United in '95. Deciding to leave was a mistake, but when I left David Beckham started to play. If I'd stayed, maybe nobody would have heard the name David Beckham!
Arsenal wanted to sign me but Man United said, "No chance" because they were fighting them at the top of the league. So I went to Everton and my first goals were the two I scored against Liverpool when we won at Anfield. That was very special because we won a big derby. I was lucky, as I got to score in all the big derbies – the Manchester derby, the Merseyside derby and the Old Firm derby, too.
We won the league at Celtic Park during my time at Rangers, in 1999. That was absolutely brilliant – a big celebration. The fans were happy about it!
I stood on the ball and put my hand to my forehead during a Scottish Cup semi-final against Ayr in2000,as if I was looking into the distance. I was looking for my forward. Where's my forward? Straight after that we scored a goal: I looked up, put in a good cross and Billy Dodds scored. My forward!
This feature originally appeared in the February 2018 issue of FourFourTwo. Subscribe (opens in new tab)!
Thank you for reading 5 articles this month* Join now for unlimited access
Enjoy your first month for just £1 / $1 / €1
*Read 5 free articles per month without a subscription
Join now for unlimited access
Try first month for just £1 / $1 / €1
Quizzes, features and footballing fun
Get the best features, fun and footballing frolics straight to your inbox every week.
Thank you for signing up to Four Four Two. You will receive a verification email shortly.
There was a problem. Please refresh the page and try again.