Are Bayern Munich fans really that bothered about Pep Guardiola's departure?
The decorated Catalan has enjoyed domestic dominance in Bavaria, but Jonathan Harding has discovered that not everyone will be sad to see him go...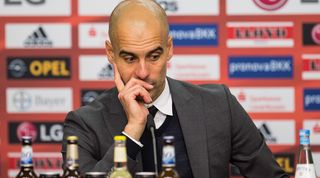 "For Bayern fans, he's become more of a man than a myth," lifelong Bayern Munich (opens in new tab) fan Tobi tells FFT.
The problem with myth is that it's never as good the reality. Pep Guardiola's arrival at Bayern was accompanied with all the grandeur of a great opening chapter, but as his departure looms and the pressure grows, there are signs that the Spaniard's aura has dimmed a little.
Just days after the news broke that Guardiola would be Manchester City's manager next season, Bayern faced Leverkusen away. Before the game, Guardiola was asked about how he was going to handle the conflict between working for his current club and City in the future.
His response (and entire press conference) left many reeling: "I'm like a woman – I can handle two things at once," he replied.
Around the ground before the game, Bayern fans were not concerned that the news would affect the team (they drew 0-0), but they had seemingly had enough of their Spanish coach. "He never fitted," said one.
"He fit the team, but not all the noise surrounding it," Tobi summarises. Recent reports and a few acts of retaliation from the man himself certainly support that theory. Quite how he'll find the blood-hungry English media, then, remains to be seen.
Eyes on the prize
"I want to coach in the Premier League," said the Spaniard at the start of 2016. Guardiola himself was announced as Bayern's new head coach before Jupp Heynckes was out the door, but this was different. Heynckes, if a little reluctantly, was ready to put his slippers on. By prematurely announcing his departure, it feels like Guardiola has taken his gloves off.
It must have felt like a slap in the face for Bayern and their fans. Were they just second best while Manchester City assembled a team worthy of his efforts? With Bayern's season in the balance, it hardly seemed the right time to make such an announcement – whatever the headlines were.
Ever since the decision was publicised, Guardiola has looked and sounded more and more uninterested in life at Bayern. His press conferences have taken on a snappy, frustrated tone.
Ahead of the Leverkusen game in his most infamous press conference to date, Guardiola added to his backhanded compliment with a rant about the media. "Head coaches don't get any respect anymore," he snarled. "It doesn't matter what we say… I don't know why managers give press conferences anymore."
Last April, Guardiola dedicated a win to defender Dante, saying he wanted a thousand of the Brazilian defender in his team. Not long afterwards, the 32-year-old joined Wolfsburg.
He has also often spoken of how Mario Götze is one of his favourite players, but the World Cup winner is seen on his social media channels more often than he is on the Allianz Arena pitch.
On the one hand, the protection of his players is an admirable technique, but when applied universally it becomes grating and leaves many frustrated that Guardiola wasn't able to make more of Götze's quality.
Fractious decisions
Aside from the Premier League announcement, Guardiola's decision to throw out beloved and world-renowned doctor Hans-Wilhelm Müller-Wohlfahrt was the Spaniard's most damaging decision against Bayern Munich, the club. It was Super Coach vs Super Doctor, but the dispute descended into a spat that left both looking silly and, eventually, Guardiola as ruthlessly power hungry.
"On the pitch, it was unbelievable because we dominated teams," says Tobi. Racing to the Bundesliga title in record time in Guardiola's first season, the Spaniard is on course to deliver the league title in each of his three years. "But apart from that it was tough. There was never a middle ground."
Susie, editor of popular site Bayern Central, admits high expectations have dampened achievements. "Bayern fans are spoiled beyond belief, so winning the Meisterschale is simply not enough," she shrugs.
Two German Cups look a possibility, and of course all eyes will be on whether he can win the Champions League at the third time of asking.
From the demolition of Manchester City in Guardiola's first season in charge to the 45 minutes (all that Bayern needed to end the contest) against defending German Cup champions Wolfsburg this season, Bayern have delivered an abundance of spectacular performances under Guardiola.
But as beneficial as Guardiola's professor-like approach to the game has been for Bayern, the Catalan's intensity has left many feeling uncomfortable at what the club might have lost in exchange.
"Changing Munich's style after winning everything there was to win didn't sit well with many loyal supporters," says Susie. "Everybody was saying: 'Why can't we just play 4-2-3-1?'"
Split opinions
Despite a clear playing philosophy in place and individuals like Thomas Müller, Robert Lewandowski and lately, Joshua Kimmich, hitting new heights in their development, there was still a feeling Guardiola was trying to fix something that was already working.
Meanwhile, his dismissal of Mario Mandzukic, among others, was also unpopular after the hot-headed Croatian failed to fit the new system.
"Most casual fans rue the lack of directness that was played in the Heynckes era and before, and hate the patient build-up of the possession game," says Susie. "He has certainly fractured the fan community into two very distinct sides."
Even without the doctor fracas or the grumpiness, perhaps this is what will haunt Guardiola's Bavarian chapter. Not the records, the dominance nor the titles, but the perceived notion that he thought he was bigger than Germany's grandest club.
From teacher to coach, Bayern have reacted in turn to the flexing of Guardiola's muscles and are preparing for the calm manner and soothing tones of Carlo Ancelotti.
"A less angsty fan community" is what Susie is most excited about, while Tobi argues that "Ancelotti's calm manner will leave journalists more rational".
The return of Uli Hoeness also helps. Say what you want about his tax returns, but he ran the club superbly and had he not been away during Guardiola's time, the Spaniard might have held his tongue more often.
While it seems inevitable that the Champions League will be how many measure Guardiola's time in Munich, his ruthless and moody nature should be of greater concern – particularly to his new team who play in the most scrutinised league in the world.
Bayern might have grown under Guardiola, but not without suffering a few bruises.
More Pep
More features every day on FFT.com (opens in new tab) • More Bayern • More Man City
Thank you for reading 5 articles this month* Join now for unlimited access
Enjoy your first month for just £1 / $1 / €1
*Read 5 free articles per month without a subscription
Join now for unlimited access
Try first month for just £1 / $1 / €1
Get the FourFourTwo Newsletter
The best features, fun and footballing quizzes, straight to your inbox every week.