AVB, Pellegrini... and Magath?! Meet the bosses in China's ex-Premier League Club
While the trickle of big-name players heading to Chinese Super League pitches has turning into a flood, there is just as big a pool for the competition's touchline-dwellers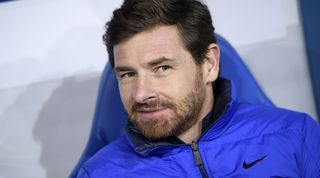 Of the 16 teams in the Chinese Super League's top tier, five are coached by former Premier League managers and four of them will be trying to stop Luiz Felipe Scolari from guiding Guangzhou Evergrande to a seventh successive title.
There is a very good chance that whichever of these five win this mini-battle will be lifting the trophy come November...
1. Andre Villas-Boas (Shanghai SIPG)
Not only are there five ex-Premier League coaches now in the CSL, two of them used to occupy the hot seat at Stamford Bridge in Scolari and Villas-Boas.
The Portuguese tactician arrived at Chelsea in the summer of 2011 but was out on his ear the following March. A subsequent spell at Tottenham didn't go much better and he now arrives at Shanghai SIPG – via Russia – to succeed Sven-Goran Eriksson. The Swede was relieved of his duties after a third-place CSL finish and a quarter-final spot in the Asian Champions League, a decision that reveals how demanding these Chinese club bosses can be.
There is talent for AVB to call upon. Hulk arrived last year and the team also has Wu Lei, China's best attacker. If that wasn't enough, Oscar arrived earlier this month.
AVB has admitted that he went to Chelsea too young, but the challenge in China for the now-39-year-old should be just right. Taking the title off Big Phil would also be a fine achievement that would go down well in Europe too.
Target: Villas-Boas has the squad to challenge at home and in Asia, and after a second-placed finish in 2015 and third in 2016, the club is desperate for a first league championship.
2. Felix Magath (Shandong Luneng)
The German had a short spell in charge of Fulham that not only ended in Premier League relegation in 2014, but also inflicted further damage to a coaching reputation that had taken a bit of a beating since his titles with Bayern Munich and Wolfsburg.
He picked up the nicknamed 'Saddam' at some of his former clubs, in reference to a training regime that makes travel in the Middle Kingdom during the Chinese New Year look positively pleasant.
Fulham was Magath's first job outside Germany, Shandong is the second, and the coach has work to do to show he can deliver the goods.
Magath arrived just before the halfway point of last season, replacing Mano Menezes after the 2010 champions and third-placed team from 2015 sank to the bottom of the table. He led Shandong to the last eight of the Asian Champions League and, more importantly, to safety – although only just. The Jinan club finished one spot and two points above the drop zone, partly thanks to the summer arrival of Italian striker Graziano Pelle.
Shandong are a traditional powerhouse and the last team not called Guangzhou Evergrande to be champion. That 2010 title was their third in five years, but it all felt like a lifetime ago last season. Magath has to bring some of those old feelings back.
Target: A much better season than last is the basic requirement. A challenge for the top three and the accompanying Asian Champions League spots would be ideal, with a top-six finish probably being acceptable given the increased competition.
3. Luiz Felipe Scolari (Guangzhou Evergrande)
His two domestic titles since arriving in June 2015 mean the Canton club have now made it six from the last six. Despite that, the Brazilian looked set to lose his job late last year as Guangzhou wanted Marcello Lippi for a second spell, only to see the Italian take on the far more challenging role in charge of the Chinese national team.
Scolari, like Villas-Boas, struggled at Chelsea but is the favourite to finish on top of the former Premier League coaches' pile. The rest of China has been waiting, however, to see what the champions will do in the transfer market. Scolari says he is happy with the foreign contingent that he already has, but then he said that last year before going out to sign Jackson Martinez from Atletico Madrid.
The competition is getting harder and there are four or five teams desperate to stop Guangzhou from making it seven straight.
Target: 'Be the best forever' is the club's motto and Guangzhou want to mortgage that title in China – and especially in Asia.
4. Manuel Pellegrini (Hebei)
It was something of a surprise that former Everton midfielder Li Tie was fired as coach of Hebei last August. He had led the team into the top tier and they were in the top four for much of the season, before a poor run of form took them down to fifth.
Li fell victim to the demand for a big name, and former Real Madrid and Manchester City coach Pellegrini certainly fitted that bill.
Yet any bounce usually associated with a new coach didn't happen. In the seven remaining games of the season, the Chilean managed just one win. The five points they collected resulted in the team slipping to seventh, which was hardly inspiring.
Things will have to improve this year, or the famous coach may find the hot seat in the frozen north begins to get uncomfortable. Having Ezequiel Lavezzi fully fit hould help, after he broke his elbow helping Argentina to the final of the 2016 Copa America.
Target: Finish in the top three and subsequent Champions League places and/or win the FA Cup.
5. Gus Poyet (Shanghai Shenhua)
Shanghai is going to be an interesting place in 2017. SIPG have a former Chelsea coach in charge, while Shenhua boast a former Blues midfield hero.
Poyet was binned by Sunderland in 2015, which was followed by a much better time in Greece with AEK Athens and then a tricky spell in Spain with Real Betis. Considering all of that, the Uruguayan is perhaps a little fortunate to get such a job – but he has some talent at his disposal.
NOW READ THIS
China's football masterplan: why there's much more to it than stellar signings
Carlos Tevez has joined Demba Ba at the long-time under-performing club, whose loyal fans are desperate for some genuine success. If Poyet can deliver, it will look good on his CV and help pave the way for his stated long-term target: a return to the Premier League.
Target: To have a genuine title challenge would be seen as a success, and a good showing in the Asian Champions League would be a real bonus.
Thank you for reading 5 articles this month* Join now for unlimited access
Enjoy your first month for just £1 / $1 / €1
*Read 5 free articles per month without a subscription
Join now for unlimited access
Try first month for just £1 / $1 / €1