Bradley Wright-Phillips: Talentspotter
"Ben Thatcher's just crazy – you have to keep on eye on him at all times"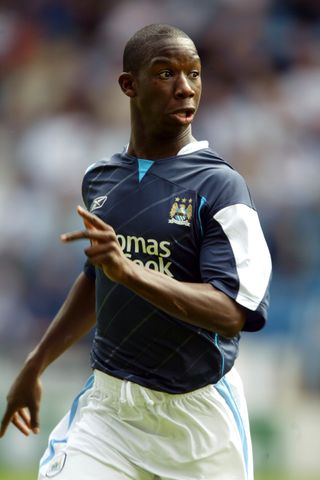 Nicknames
Usually people just call me Wrighty or Brad.
As a boy I supported...
Arsenal. My dad [Ian Wright] used to play for them, so I'd go to a lot of the games. I enjoyed it but I was only a kid at the time and obviously I don't get to see them much these days.
Strengths
Hmm... I find it difficult to talk about myself as a player, but I suppose pace and technique are my strongest points, and I'm working on my finishing ability.
Weaknesses
My heading is nowhere near as good as I'd like it to be and my tackling could be better.
I play a bit like...
I'd like to think I play a bit like my dad and that's who I've based a lot of my game around. I wouldn't mind being able to play like Zinedine Zidane, either. Then again, who would?
Heroes
My dad and Zidane.
Highlights
Scoring my first Premiership goal at Middlesbrough will always be special. That and playing a part in the winning goal against Liverpool were highlights of last season. I also played against Russia for England Under-20s so I'd include that – as well as being called up for the Toulon tournament, another big boost. Oh, and winning the Manchester Senior Cup against Manchester United – I enjoyed being part of winning a trophy.
Lowlight
Not winning the reserve league title last season when we were nicely placed to clinch it. We were going well until we lost to bottom club Nottingham Forest and Manchester United nipped in to win it.
Toughest opponent
Er, Jamie Carragher of Liverpool. I can't think of many others in the Premiership because most of my appearances so far have been from the bench with only a few minutes to play.
Best mate in football
Karl Bermingham. I've come through the Academy at City with Karl and he's a great guy. I think I'm going over to Ireland this summer to see him. Other good mates at City are Nedum Onuoha, Lee Croft and Willo Flood – we've all grown up together and are close friends.
Club joker
Ben Thatcher – that guy's just crazy. I won't go into detail but you have to keep on eye on Thatch at all times.
Best advice given
My dad told me to always get my shots on target, Frankie Bunn at the Academy said as a striker I need to get in the box at every opportunity, and Mike Summerbee said that I have to turn and head straight for goal whenever I can.
Best players played with
Robbie Fowler and Nicolas Anelka because they are strikers at the top of their game. It's always good playing alongside my brother as well.
Tunes
Anything by Kanye West, Kayno and Usher.
Wheels
Audi A3 – I've not had it long. Either that or I'll borrow one of Shaun's!
Chicks
I'd have to go for Christina Milian.
Flicks
Lord of the Rings, Troy and The Wanderers.
Holiday destination
Nowhere has matched up to Florida – at least not so far.
TV programmes
My Wife and Kids.
Most embarrassing moment
At last year's Man City Player of the Year awards I came third in the Young Player category. I thought they announced the winner in reverse order and went on stage to collect a memento of some kind – but they only wanted the winner up on stage. That's my most embarrassing moment by some distance!
If I hadn't been a footballer...
I'd be involved in music in some way.
How did you get the scar above your eye?
I can't remember how old I was, but I was small when it happened. Shaun took a swing with a cricket bat, I was too close and the bat caught me just over the eye. Hence the scar. It was an accident – that's all that matters to me!
Describe yourself in five words
I'm very hard to please.
Being SWP's brother is...
Beneficial, because he's always there to advise me and has played in the Premiership for many years now. Plus he always looks out for me, and always has done.
In five years' time I'll be...
Hopefully a first-team regular at City and top scorer in the Premiership!
Interview: David Clayton. From the August 2005 issue of FourFourTwo.
Quizzes, features and footballing fun
Get the best features, fun and footballing frolics straight to your inbox every week.