The case for Sam Allardyce: Why Big Sam's fit to lead England
Every day this week, one writer will put forward the case for their chosen man in the Three Lions dugout. Alex Keble kicks off with the man best known for maximising resources...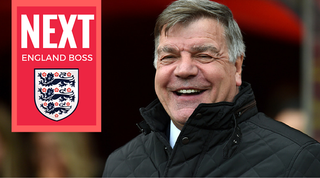 Let's break the cycle. Every two years the media hypnotise us into believing that England rank among the front-runners; every two years England attempt to play a progressive, possession-based game; every two years England fall pathetically at the first difficult hurdle.
The latest inquest has already led us towards Jurgen Klinsmann, an attack-minded manager who will help fuel our collective belief that England are among the world's best. This optimistic approach, though doomed to fail, is understandable.
It's easier to believe that 2016 was an isolated failure rather than part of a wider pattern, because to accept the latter would be to confront the shameful fact that the country's youth academies (the most financially powerful in world football) are failing and that the media's expectations are intertwined with the nervous inertia that defines England matches.
England are not among the best nations in Europe, let alone the world. To advance beyond the second round at the World Cup 2018 will require some serious improvements and a significantly more humble approach towards tournament football. This is not a squad in need of a progressive, world-beating manager.
However painful it is to admit, this is a nation that needs Sam Allardyce.
Pragmatism pays
The conservative aesthetics offered at Euro 2016 by Portugal and Italy (both limited in their talents) should be seen as a template for the FA. Allardyce would deliver something similar, dismissing Hodgson's patient and thoughtful approach in favour of a more defensive system.
Although it may be unpopular, the England players could excel with a more direct counter-attacking strategy, mixing the grit and steel of some talented central midfielders (Eric Dier, Jordan Henderson, Fabian Delph) with speed in the final third (Jamie Vardy, Raheem Sterling, Marcus Rashford). However, it would be grossly unfair to suggest that Allardyce – a highly adaptable and constantly evolving coach – always plays in the same way, or that he cannot play progressive football.
In his final season at Upton Park he used a 4-4-2 diamond formation that propelled West Ham towards the top four until their collapse in January. Using Diafra Sakho and Enner Valencia as split strikers with Stewart Downing in the No.10 role, the Hammers were transformed into an exciting team that combined typically direct and powerful Allardyce tactics with attacking verve.
England could easily use this system, with Jamie Vardy and Harry Kane bursting into the channels and opening up space for Wayne Rooney or Raheem Sterling behind. Advanced full-backs played a crucial role in that West Ham team, and in the Spurs pair of Danny Rose and Kyle Walker, Allardyce would have the perfect balance of talent to implement this system.
England dismantle Switzerland with a goal on the counter
Not that we should assume to know how an Allardyce England would line up. Above all else, he is a reactive manager who collects meticulous detail on opponents in order to exploit weaknesses, tweaking his tactics and formation constantly. He is widely respected by former players for his attention to detail and ability to organise his teams so that each player understands their role exactly.
Mr Motivator
International football requires that managers get their ideas across quickly and, above all, they must be excellent motivators. Allardyce's track record suggests that he excels in both departments. Bolton, Blackburn, West Ham and Sunderland all dramatically improved almost immediately after he joined.
That he so quickly galvanised a Sunderland squad that looked lethargic and unmotivated is testament to his big personality, and the speed with which he can implement his ideas. What's more, his excellent working relationship with Nicolas Anelka, El Hadji Diouf and Youri Djorkaeff suggest he knows how to handle big egos. England could do with a manager capable of taking disparate parts and quickly moulding them into a defensively resolute unit.
In fact, Jermain Defoe recently endorsed the ex-Bolton manager's skills, saying: "He should be among the contenders for the job. Sam has always said to us, 'you know what? I don't care how we play, as long as we win, that's the most important thing'.
"'Sometimes you can't make it pretty and play good football… football is about results. It doesn't matter how you play." Defoe told the BBC.
Aside from his short stint under difficult circumstances at Newcastle, Allardyce has been successful at every club he has managed. It would be arrogant of England, who have not performed well at a tournament in 20 years, to dismiss his tactical philosophy given the success it brought Bolton, Blackburn, West Ham and Sunderland.
England are, at best, 10th favourites to win the World Cup in Russia. Rather than allowing the delusions of grandeur to continue, let's embrace the pragmatism and tactical nous of an English manager with the type of record – and personality – that could see England finally achieve what's expected of them.
Quizzes, features and footballing fun
Get the best features, fun and footballing frolics straight to your inbox every week.
Thank you for signing up to Four Four Two. You will receive a verification email shortly.
There was a problem. Please refresh the page and try again.