Chinese football fan makes 6,000-mile trip to Runcorn – because he played as them on Championship Manager
Huang Wenbin enoyed a hugely successful Championship Manager 2001/02 career with Runcorn, so decided to pay them a proper visit in person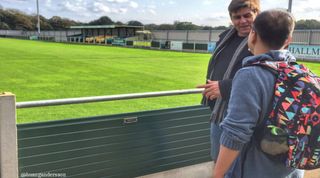 Wenbin took 'Runcorn FC Halton' - as they were formerly known - all the way to the Premier League, signing the likes of Roberto Carlos, David Beckham and Ryan Giggs along the way.
Wenbin realised in 2015 that he felt the same passion for the actual club as much as his Championship Manager career, so realised his dream by visiting the ninth-tier North West Counties League Premier Division club at the weekend.
"The first time I made the decision to find Runcorn FC was in 2015," Wenbin told the Mirror.
"I went to Liverpool by train to watch Steven Gerrard's last match at Anfield.
"When the train was parking, I saw a sign for Runcorn. I told my friend I will be there again to find my club."
He continued: "We all breathed a sigh of relief when we saw that someone was waiting for us in front of the stadium. We spent over 24 hours to arrive in Liverpool from Xiamen in China.
"We missed the bus station and got lost on the road in the countryside near Runcorn Linnets. We spent three hours trying to find the club. It must be my fault for my poor English speaking and listening."
Runcorn chairman Mark Buckley was delighted to see Wenbin.
"It was quite humbling because he was such an honest and polite man," said Buckley.
"I really, really enjoyed it personally. It was a fabulous few hours."
Thank you for reading 5 articles this month* Join now for unlimited access
Enjoy your first month for just £1 / $1 / €1
*Read 5 free articles per month without a subscription
Join now for unlimited access
Try first month for just £1 / $1 / €1
Get FourFourTwo Newsletter
The best features, fun and footballing quizzes, straight to your inbox every week.