David Beckham at Real Madrid: The story of how Goldenballs became a Galactico
David Beckham moved to Real Madrid 20 years ago this year – but the England captain's time in Spain was far from plain sailing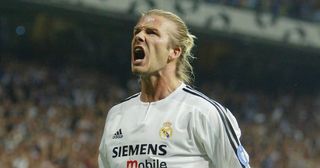 (Image credit: Shaun Botterill/Getty Images)
Beneath the floodlights on a stormy night at Old Trafford, Manchester United's No.7 draws a breath, 30 yards from goal. The scoreboard reads: Manchester United 4 Real Madrid 3. Still trailing on aggregate, United need this free-kick to go in, plus one more goal in stoppage time, if they're to reach the semi-finals of the 2002/03 Champions League.
He's already put two goals past Real Madrid's Iker Casillas, including, in his own words, "the best free-kick of my Manchester United career". A hat-trick would make his 60th-minute introduction seem even more misguided.
The trademark run-up commences, left arm arcing into the night sky. His Adidas Predator boot strikes leather. A stadium holds its breath…
Illuminated only by a television screen, he watches the moment back, four hours later, on the sofa of his family home. This free-kick, unfortunately, sails over the crossbar and disappears into the Stretford End. "F**king hell," he sighs. "If only…"
But then he spots something among the highlights that makes his blood run cold. The cameras have panned to the Old Trafford bench, where his manager of the past decade, Sir Alex Ferguson, realises the tie is now lost. The Scot glares at his player with a look of unmasked contempt.
"That face told me everything I needed to know," Beckham later recalled. "It was over. He wanted me out."
From the day Ferguson called the Beckham family home in 1986 to invite an 11-year-old future England captain to train with United, the youngster had been in awe of his mentor. "He was the man who'd made everything possible for me," he reflected. "The father figure in what had become a second family."
Beckham was the golden boy; the Class of '92 graduate who turned into an overnight celebrity following his famous halfway line goal against Wimbledon in August 1996. The midfielder became the poster boy of a side that went on to win six Premier League titles, two FA Cups and the Champions League, the latter in a remarkable Treble-winning season of 1998-99 which may never be surpassed in the minds of some romantics. During the glory days, Beckham could not falter in his manager's estimations.
"When a relationship like theirs is going strong, everything in the world seems fine," former Manchester United striker Dwight Yorke, who helped conquer Europe alongside Beckham between 1998 and 2002, tells FFT. "Everybody is happy when you're winning football matches. For Fergie and Becks – for all of us – life was great."
Beckham was a team-mate's dream, not least if you just so happened to be a striker:
a peerless crosser, sensational long-range passer and a workhorse out of possession.
"He was magnificent," enthuses Yorke. "With someone like Becks, who could deliver a football at an incredibly consistent level, you would simply focus on getting yourself into a scoring position – you knew the ball was going to come over with such quality."
Prior to the 4-3 defeat against Real Madrid, however, things had already started to sour. The story is well known by now: golden boy had become Goldenballs, a global icon with the haircuts, modelling deals and pop star girlfriend to prove it. Fergie felt his man had taken an eye off the ball.
"If you were in the media too much, the manager was always a little bit edgier than before," remembers Yorke. "Things start to deteriorate. Game time is affected. It was a whole different level with Becks to the rest of us, of course."
Beckham and his gaffer's final campaign together was marred by squabbling, cold shoulders and the infamous boot-kicking incident in February 2003, which left the player needing stitches above his left eye. By the time Roy Keane hoisted that season's Premier League trophy aloft, rumours of an exit had begun to swirl. The biggest clubs in Italy and Spain were linked.
Then two things happened in the middle of May: first, United's chief executive Peter Kenyon informed Beckham that the club was open to selling him. Then a contract extension was put on the table. "As if to say, 'Sign this or forget it'," sniffed Beckham. He promptly jetted off to the USA with his family to mull things over.
But that holiday proved to be anything but relaxing. After turning on the TV one day, the 28-year-old was dumbstruck by news that United had seemingly accepted a provisional offer from Barcelona presidential candidate Joan Laporta.
Beckham seethed, but Spanish football journalist Guillem Balague believes that offer was never genuine. "Laporta is a clever man and he was willing to do anything it took to win that presidential election," he tells FFT. "He arranged for his friend Pini Zahavi, the super agent, to make that offer to United. The statement clearly outlined that Laporta would need to win the election first – it was a message to voters."
Regardless, Beckham was never interested. If he was going to make a heart-wrenching move away from Old Trafford, there was only one club he'd consider – and luckily for him, they were about to launch a bid of their own.
David Beckham's big move to Real Madrid: Really Wannabe a Madrista
On June 18, 2003, the Red Devils announced they'd accepted an offer of £25 million from nine-time European champions Real Madrid, who had been rumoured to be interested since before the past season's Champions League encounter. It mattered relatively little that Los Blancos already had a world-class right-midfielder in their ranks. "If he comes, where's he going to play?" defender Roberto Carlos pondered to FFT earlier that year. "We already have Luis Figo."
But the interest was very serious. "David, if you come to Madrid, you won't ever regret it," president Florentino Perez assured him over the phone. Perez had signed Figo from arch-rivals Barcelona in 2000 as part of his own presidential campaign, before superstars Zinedine Zidane and Ronaldo joined across the following two summers. For El Presidente, signing the world's best player each summer was never solely about the football.
"His Galacticos idea was built on bringing in the biggest stars in the world," explains Balague. "Bigger stars meant selling more shirts and making more money. Beckham's signing fit into that. It was a sign of power to go to the Premier League and take their biggest name back to Madrid."
After being informed by Kenyon that his relationship with Ferguson was now beyond repair, Beckham made the call to become Perez's latest Galactico.
Thousands of reporters and photographers flocked to the Bernabeu on July 1, the date of Beckham's unveiling. With the No.7 shirt already occupied by Madrid legend Raul, the midfielder plumped for No.23 in homage to basketball legend Michael Jordan. The media frenzy around that minor detail alone was an indication that Perez had made another shrewd marketing decision.
Madrid stars welcomed the move publicly, with Roberto Carlos – now clearly toeing the party line – joking that there'd finally be "two good-looking players at the club". For the team's youngsters, it was another exciting summer. "There was a lot of expectation to see him because he was an icon," Antonio Nunez, who played alongside Beckham in the Englishman's first season, reveals to FFT. "Of all the Galacticos, he was now the most famous. His wife was a Spice Girl!"
But in purely footballing terms, the new recruit knew that the Galacticos would take some winning round.
"There was initially some scepticism from a few of the stars at the club," says Balague. "There was an element of, 'Who is this David Beckham? Is he good enough to be here?' He wasn't quite at the level of Figo, Ronaldo or Zidane. There was also a language barrier. Only a handful of Real's stars, including Figo, could speak English." So, Beckham joined the club's pre-season tour of the Far East with a massive point to prove. Fortunately, he was willing to roll up his sleeves.
"Doubts about him soon disappeared once he began training with the squad, because he's a humble guy," adds Balague, who got to know the Beckhams well during their spell in Spain. "I know he had his own fears walking into that dressing room, but he won people round during pre-season with his work ethic. It was obvious that he was here to succeed as a footballer."
Indeed, Beckham actually appeared more starstruck than anyone, describing Zidane as "the best footballer I've ever trained with", marvelling at the "nine different ways" that Ronaldo could control the same pass in training and hailing Raul, "a god in this city".
"We were all surprised by his humility," says Nunez, who'd later play for Liverpool. "You might expect someone so famous to be a bit of a diva. But he was the opposite."
The appointment of a new coach, Carlos Queiroz ­– who knew Beckham from his time as Ferguson's assistant at Old Trafford – was an added relief for the player. The Portuguese had devised a plan to solve the Figo-Beckham conundrum, which involved playing with no right-winger at all. Instead, they were fielded either side of Zidane in an insanely attacking 5-3-2 formation. Beckham, who had long harboured desires to play more centrally, was thrilled with the setup.
His highly-anticipated competitive debut came at Mallorca in 2003's Supercopa de Espana, a two-legged tussle between the La Liga and Copa del Rey champions. Things didn't go to plan, though: the new man was substituted shortly after half-time in a 2-1 first-leg defeat. The next day, Spanish media mocked his signing.
But Becks responded in steely fashion in the return fixture, slotting home a Ronaldo cross to wrap up a 3-0 win and first trophy in white. As the Bernabeu erupted, and Roberto Carlos hoisted him off the ground with a bear hug, the move to Spain officially sank in. "I'd been so unhappy during my last few months at Old Trafford," he recounted. "Now, I knew I'd done the right thing."
Beckham bagged again just two minutes into his La Liga debut, tapping home another precise Ronaldo cutback against Real Betis as Queiroz's charges got off the mark with a 2-1 victory. For buoyant Madridistas, it was a sign of things to come.
Friendship never ends
Madrid's new No.23 hit five goals, including three free-kicks, in his first 16 appearances to help Los Blancos top La Liga at Christmas. The football was so breathtaking during one 7-2 drubbing of Real Valladolid that Beckham half-wished he could have been sitting in the stands watching instead.
He had now been accepted as a Galactico.
"We knew before that he was a good player," said Ronaldo in October 2003. "But we didn't expect him to be such an influential player. He has everyone's respect."
"His work rate particularly stood out," says Balague. "His English style of playing, the running really hard and getting stuck in, was admirable. It's also telling that, despite the team already boasting a number of sublime free-kick takers, Beckham became the main man on set-pieces."
For youngster Nunez, watching Beckham and the other Galacticos training together was unforgettable. "It was a spectacle, as Beckham, Figo, Roberto Carlos and Zidane would practise their free-kicks together after sessions," he tells FFT. "They would discuss techniques and advise each other. Beckham was the best, though. Rarely have so many players of such a high level come together."
Imagine being in a wall and seeing Beckham and Roberto Carlos standing over the ball 🤯pic.twitter.com/rYofxVAJlqApril 20, 2022
Despite such talent, Madrid's squad ran out of gas in the second half of the season. Amid pressure for their biggest stars to play every week, tired legs and injuries contributed to shocks both in Europe and domestically: a Champions League quarter-final defeat to Monaco, and fourth-place finish in La Liga. Los Blancos lost their last five games in a row to end a miserable year seven points behind champions Valencia. The white handkerchiefs were out. So was Queiroz.
A promising start in Madrid had ended with a cold dose of reality, but Beckham at least felt like part of the furniture heading into his second term. Unfortunately for him, Real's slump continued.
Queiroz's replacement, ex-Spain boss Jose Antonio Camacho, resigned just three league games into the new season, citing "a lack of support from the players". In a farcical series of events, Camacho's successor, Mariano Garcia Remon, lasted just 101 days himself before being replaced by Brazilian Vanderlei Luxemburgo. He guided an unsettled side to second spot in La Liga, following early exits in both cups. It was another year to forget.
So too was Beckham's third campaign in Spain, even after the huge summer arrivals of Sergio Ramos and Robinho. Club president Perez, the man responsible for Beckham's transfer, also departed midway through the season, eventually being replaced by Ramon Calderon. Luxemburgo got the chop shortly before Christmas, then reserve team boss Juan Ramon Lopez Caro led Real to another runners-up finish – albeit 12 points behind Barça – with Madrid beaten by Arsenal in the Champions League last 16.
"During David's first three seasons at Real, the club made many poor decisions in terms of coaches and players," explains Balague. "Too much emphasis was placed on names and not enough on picking the right people."
Thankfully, things finally changed for the better in Beckham's fourth season, as Italian coach Fabio Capello returned to the club he'd steered to La Liga glory in 1996-97. Following Zidane's retirement, Beckham was reunited with Ruud van Nistelrooy from Manchester United, while Ballon d'Or winner-to-be Fabio Cannavaro also arrived. Both proved to be smart buys.
Not that it did much good for Beckham, however, who would be forced to contend with a different face forcing him out of the team. Jose Antonio Reyes, a loan signing from Arsenal, was much quicker than his English team-mate and often preferred on the right of Capello's 4-4-2. Between the middle of September and mid-December, Beckham started one league game, later admitting to "feeling like a spare part".
Now 31 and into the final year of his deal, he began to wonder if the dream was over.
The first free-kick Becks scored for Madrid – ft. Luis Figo with that *ahem* assist ✨pic.twitter.com/6FSYEqO9KHApril 20, 2022
He'd made up his mind by mid-January 2007, when Madrid sporting director Predrag Mijatovic announced that Beckham would not be prolonging his stay at the Bernabeu beyond the season's end. The following day, Beckham stunned the world by announcing that he'd agreed a preliminary five-year deal with MLS side LA Galaxy.
"Beckham is going to Hollywood to be a film star," huffed irate president Calderon. "We were right not to extend his contract, which has been proved by the fact that no club in the world wanted him except LA." Two days after the Galaxy announcement, Capello publicly stated that Beckham had played his final game for the club. His story at Madrid wasn't going to have its fairytale ending... or so it seemed.
"What happened next is the measure of David Beckham the footballer," says Balague. "Capello was not the type of guy to change his mind. You would have said at this stage that there was no way back."
Show me how good you are
Rather than sulk, though, the England skipper worked tirelessly to try to regain his place. He couldn't hold down a spot on the wing, but he could still run a game from the middle of midfield.
Pleased with his "commendable" contributions in training, Capello had relented by mid-February, calling the midfielder back into his squad for a league clash against Real Sociedad. Beckham grabbed his opportunity, equalising with a 30-yard free-kick as Madrid came from behind to win 2-1. He then started at home to Bayern Munich in the Champions League last 16, playing a crucial role in two of three first-half goals as Real prevailed 3-2. Bayern CEO Karl-Heinz Rummenigge labelled his display "world-class".
Capello trusted Beckham enough to pick him in the final six La Liga matches he was available for, and was duly rewarded. This time, Madrid went toe-to-toe with Barcelona for the title. "He was undroppable during the run-in," says Balague. "A giant on the field."
Victory in their final game of the campaign, at home to Mallorca, would guarantee Los Blancos the title, thanks to a superior head-to-head record over their Catalan foes. With his wife and family in his private box, joined (obviously) by actors Tom Cruise and Katie Holmes, Becks & Co recovered from 1-0 down to win 3-1. After the final whistle, draped in an England flag, he was treated to a standing ovation by Madridistas.
"Given everything I'd been through that season, winning the league felt as sweet as anything I had achieved," recalled Beckham. "To become a champion of Spain was what I'd dreamt of when I joined the club. It was the perfect way to say goodbye."
So emphatic were the Englishman's final six months at Real that president Calderon even tried convincing LA Galaxy to postpone their arrangement for another season. But Beckham had made up his mind: America called. "He likely would have won so much more without mismanagement higher up at the club during that period," bemoans Balague. "But he left Real a champion. He'd conquered Spain."
Goldenballs had conquered it in more ways than one: it was estimated that his time in the Spanish capital was directly responsible for a €600m increase in the club's revenue. In his final campaign, Real finally surpassed Manchester United as the world's richest club, with commercial revenues of close to €200m per year. On those grounds, some dismiss Beckham's impact at the Bernabeu as a predominantly financial one.
Balague disagrees. "Of course, away from the pitch, he had a huge impact," he concedes. "He helped to bring Spanish football to a larger audience than ever before, while Real and Barcelona became clubs that more people paid attention to. El Clasico was watched by millions more.
"But in footballing terms, he was adored by team-mates and supporters because of his hard work, leadership and expertise from free-kicks. Without him forcing his way back into the side in 2007, they probably wouldn't have won the league. That free-kick against Sociedad is still talked about."
Capello lamented the loss of a player he had come to rely on. "We all made mistakes over Beckham," confessed the Italian in the summer of 2007. "It's a shame he's going. He's a great player."
Beckham's fellow Galacticos were also full of it. Figo described him as "a phenomenon"; Roberto Carlos, "a joy". The man himself, meanwhile, dubbed his time at the Bernabeu "among the most beautiful and important spells of my career".
Before flying off to change the face of MLS forever, there was time for one final goodbye, delivered in Spanish to the press. "Thanks to the, erm, six coaches, five presidents and my team-mates," he quipped, before apologising for his poor language skills. "No es mal, eh?" ("It wasn't too bad, huh?")
Few who witnessed that trademark run-up beneath the Bernabeu floodlights would describe his time in Madrid as anything less.
More David Beckham stories
David Beckham has opened up on coping with World Cup pain in 1998, claiming that Manchester United was his escape.
Beckham has spoken about Lionel Messi, saying how his brain works differently to the average player and has explained why he was worried about Barcelona re-signing the Argentine. He has also revealed that he never wanted to leave Old Trafford.
On the subject of the Glazers, Beckham has said that he knows the "right people" to buy the club from the Manchester United owners.
Thank you for reading 5 articles this month* Join now for unlimited access
Enjoy your first month for just £1 / $1 / €1
*Read 5 free articles per month without a subscription
Join now for unlimited access
Try first month for just £1 / $1 / €1