Puzzled Almiron finds Newcastle induction mostly involves folding clothes, locating shoes
Newcastle's record signing may be used in an unfamiliar role, Back of the Net reports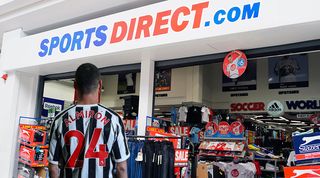 Newcastle new boy Miguel Almiron acquitted himself well on his first day despite being asked to take on a significantly different position to the one he excelled in for Atlanta United.
The Paraguayan showed up for his Newcastle induction and initially looked off the pace after being deployed not as an attacking midfielder or deep-lying forward, but in the stock room at a Sports Direct.
However, after a tough morning session where Almiron expected to be given too much time to stack shoe boxes, the 24-year-old impressed with his fleet of foot in locating size 6 Lonsdale trainers and his devastating accuracy with sale stickers.
"The new lad [Almiron] had a great attitude to be fair to him," a Sports Direct supervisor told FourFourTwo.
"He kept saying how excited he was to get started and that he's expecting to get goosebumps on his first Saturday afternoon in front of a vocal crowd.
"I told him it does get pretty busy here but that he'll get used to the pressure, especially as it seems the gaffer [Mike Ashley] has put him on the rota for 150-hour weeks to get his money's worth out of him."
Great deal
Almiron was positive after his first shift as a Newcastle player, despite expressing his reservations about a lack of ball work and being unsettled by a chat with Mike Ashley on future plans.
"I didn't get near a ball in this session, except for that bin of Sondico size 4s which are now reduced by 75 per cent," Almiron told FourFourTwo.
"But I suppose that's going to help me ease into being a Newcastle player.
"It was nice to finally meet the big guy [Mike Ashley] and we had a good chat.
"He said that I could expect to have a pretty free role but that when we're under pressure he'd expect me to track back to the till, which must be some kind of English football expression.
"Then he stressed that I shouldn't get any funny ideas about my position, before softening and asking me to confirm his suspicion that a lot of people would still pay a tenner for a Kula Shaker album on CD."
Please note: Believe it or not, this story isn't real.
Quizzes, features and footballing fun
Get the best features, fun and footballing frolics straight to your inbox every week.
Thank you for signing up to Four Four Two. You will receive a verification email shortly.
There was a problem. Please refresh the page and try again.