"Game's gone!" – Fans notice strange detail on the referee's shirt during England vs Iran
Some fans were left stunned by a new addition to the referees' kits in Qatar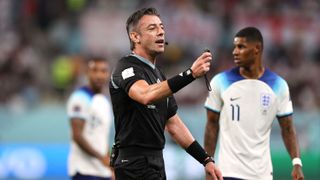 (Image credit: Getty)
Many World Cup fans have been left stunned by a strange and apparently new addition to the referees' shirts for Qatar 2022 – including the man in charge for England's 6-2 win against Iran in their opening game.
Brazilian Raphael Claus, who oversaw the Three Lions' first fixture, infuriated many England fans with some questionable officiating, including the decision to award Iran a late penalty. However, it wasn't his performance that left many football fans scratching their heads, but his kit.
FIFA appear keen to give their match officials a little extra exposure in Qatar, with the call to include their names on the back of their shirts – just like players. However, it took more eagle-eyed fans to spot the detail, as the names are actually much smaller than they are on players' shirts.
Late drama 😳Iran are awarded a late penalty after a VAR check.The similar incident in the first-half wasn't given.England 6-2 Iran💻🖥📱 Reaction on @BBCiPlayer, @BBCSounds and the @BBCSport app#BBCFootball #BBCWorldCupNovember 21, 2022
During England vs Iran, many fans tweeted to ask why the word 'Claus' was written on the back of the referee's shirt, with some even claiming the "game's gone" because of the addition.
It just so happened that Claus took centre stage for much of the match. His decision to award 24 minutes of stoppage time across the two halves was eyebrow-raising, as was his failure to award Harry Maguire a penalty for a foul in the Iran box.
Other referees will be hoping to fly under the radar during their fixtures. After all, a good refereeing performance usually goes unnoticed.
Thank you for reading 5 articles this month* Join now for unlimited access
Enjoy your first month for just £1 / $1 / €1
*Read 5 free articles per month without a subscription
Join now for unlimited access
Try first month for just £1 / $1 / €1