How misunderstood Granit Xhaka finally found his place at Arsenal
The £35m Swiss midfielder wasn't helped by the fact that Arsene Wenger seemed to get his best position wrong. Now, with a new manager and partner in the middle he's begun to shine, writes Richard Jolly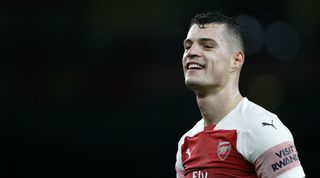 The anniversary went unobserved. On January 22, it was two years since Granit Xhaka's last Arsenal sending off, which had been his ninth red card in three years for clubs and country.
Rewind to January 2017 and Arsene Wenger promptly proceeded to make a bad situation worse. Xhaka was deemed his defensive midfielder. The Arsenal manager contrived to compound the impression he had misinterpreted a £35 million footballer. "He's not naturally a great tackler," said the Frenchman. "I would encourage him not to tackle."
That advice may have gone unheeded: Xhaka has got 30 yellow cards for Arsenal alone since then. But, crucially, no reds.
Mistaken man
Without controversy, he has dropped out of many a conversation. Quietly, the most misunderstood man in English football has become a mainstay, and this apparent liability looks a likely leader next season. If a handful (at most) of Wenger's recruits seem to have long-term futures under Unai Emery, Xhaka is one of those integral anomalies.
It marks a turnaround. The Swiss may be proof that it's easy to gain a bad reputation and an altogether harder and lengthier process to shed it. He was the Jorginho of his day, the expensive import charged with transforming a midfield; a supposed solution who was actually a problem. He became a magnet: for the ball and unflattering comments alike.
If part of the fault for that lay with Xhaka and his dodgy tackling technique, part belonged to Arsenal. If he was misjudged and miscast, it was in part by his employers. They may not have defined him as a defensive midfielder – though it scarcely helped that the club bought him during the same summer that Chelsea signed N'Golo Kante and for a bigger fee – but Arsenal picked him where one was required.
The false 10
Meanwhile, the Swiss felt he was more Andrea Pirlo than Claude Makelele. "I'd actually describe myself as a fake No.10 – in other words, a No.10 that plays further back," Xhaka told the Guardian in 2017. Which, in a squad overflowing with No.10s, real and fake, was perhaps not what Arsenal needed.
Nor, indeed, what they thought they had. Wenger described Xhaka in September 2016 not as a regista but as a box-to-box midfielder. For much of his first two seasons, he was paired with Santi Cazorla, Aaron Ramsey or Jack Wilshere; in such duos, Xhaka had to bring the bite and, given the Welshman's box-to-box running, that supposed skill set was superfluous. If at times the switch to three centre-backs felt like an attempt to compensate for the lack of a specialist nullifier, Arsenal didn't have one after Francis Coquelin faded from favour.
They do now. Lucas Torreira was the first genuine defensive midfielder they bought since Lassana Diarra. Matteo Guendouzi offers more energy and enthusiasm than some predecessors. Xhaka has dovetailed with both, forming alliances with players with differing attributes. Occasionally all three have played, and their emphasis on graft means that Xhaka is allowed to supply the craft. That shift from style to solidity has enabled him to be rebranded.
Recalibrated midfield
In an imbalanced squad and an injury-hit season, perhaps the best functioning parts of a transitional team have been Arsenal's centre-forwards, given the goal returns of Pierre-Emerick Aubameyang and Alexandre Lacazette, and their central midfielders.
Xhaka in particular. With a sidekick who can be more of a destroyer – and with more legal methods than Xhaka – he has been allowed to knit a team together. Jorginho and Fernandinho are the only midfielders to play more passes in the Premier League this season, and if that represents a decline of sorts – Xhaka mustered the most last season and was second only to Cesar Azpilicueta in 2016/17 – it indicates how his annual 2,000-plus passes, while less memorable than the occasional rash lunge or spectacular goal, render him a quietly constructive player.
A midfield has been recalibrated when another is the most destructive player. Xhaka was never the new Patrick Vieira, but he might be the next Cazorla. If it seems a slight on Torreira – an altogether superior player to Coquelin – in suggesting that he is a more limited midfielder's heir, that partnership of opposites between the Spaniard and the Frenchman was Arsenal's best central midfield axis in Wenger's autumn years. It had a balance that Wenger's recruitment strategy and Arsenal's incessant injuries often denied them.
He accumulated left-footed playmakers at the rate that George Graham collected centre-backs – but by next season, Xhaka may be the lone one left. Cazorla and Wilshere departed last summer, and Mesut Ozil will surely follow suit if Arsenal can find anyone to take on his salary.
Future captain?
If an outcast with the armband is an incongruous sight, Ozil's eventual exit could cement Xhaka's seniority. Arsenal's five captains include one who is retiring (Petr Cech), one who is leaving (Ramsey), one who could be going (Ozil) and an injury-prone 33-year-old (Laurent Koscielny). If the veteran spends much of next season as a back-up, presumably Xhaka will be the skipper.
To some, it would represent an indictment if he inherits the mantle of Tony Adams, Vieira, Thierry Henry, Cesc Fabregas and Robin van Persie. Arsenal have had their statement skippers; men who embodied much about the club. Xhaka seemed a symbol of confused thinking; a continued reluctance to pay for a genuinely defensive midfielder; the face of Arsenal's impractical approach when they required Kante's unapologetic pragmatism.
With the aid of a manager who has understood him and a newcomer who has complemented him, Xhaka has ceded his unwanted place in the eye of the storm to Ozil. Instead, he has become Arsenal's pivotal passer and resident survivor. And given that inauspicious start, it feels like an achievement.
NOW READ… Aaron Ramsey: the final piece to fall in Arsenal's botched British plan – but who's to blame?
Thank you for reading 5 articles this month* Join now for unlimited access
Enjoy your first month for just £1 / $1 / €1
*Read 5 free articles per month without a subscription
Join now for unlimited access
Try first month for just £1 / $1 / €1
Get FourFourTwo Newsletter
The best features, fun and footballing quizzes, straight to your inbox every week.
Richard Jolly also writes for the National, the Guardian, the Observer, the Straits Times, the Independent, Sporting Life, Football 365 and the Blizzard. He has written for the FourFourTwo website since 2018 and for the magazine in the 1990s and the 2020s, but not in between. He has covered 1500+ games and remembers a disturbing number of the 0-0 draws.