How Napoli's swashbuckling former Madrid stars are keeping Cavani's ghost at bay
Adam Digby hails the key components keeping Napoli ticking; namely Gonzalo Higuain and Jose Callejón...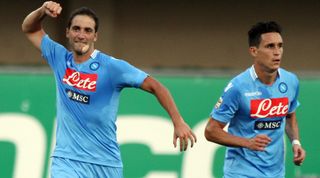 Common wisdom told us that, by selling Edinson Cavani, Napoli were ensuring that they would no longer be competing with the very best. No matter who they signed with the €64.5 million fee they received from Paris Saint-Germain, the Italian club were destined to fail. The loss of the Uruguayan was simply too great to overcome.
With 78 goals in 104 appearances, it was easy to see why.
It would be a challenge even for a coach as experienced as Rafael Benitez, who was not only also helping them to adjust to a new formation, but would clearly need more than one new player to replace El Matador. Yet, as Napoli have done since Aurelio De Laurentiis bought the club in 2004, the club invested shrewdly and brought in no fewer than 13 new faces. Some of these – like Pablo Armero or Duván Zapata – have failed to make an impact, but others have made an incredible start in the shadow of Vesuvius.
Gonzalo Higuain arrived with perhaps the most expectation. At €37m he was three times more expensive than any other arrival and, given his role, would inevitably be compared to Cavani. The Argentine has thrived in his new surroundings, however, registering 10 goals and seven assists in his first 19 league appearances. Finding the net a further four times in the Champions League, the 26-year-old has settled instantly, seamlessly taking his predecessor's place as the darling of the Stadio San Paolo.
Along with Raul Albiol and Pepe Reina, Higuain has helped Napoli continue their excellent recent record, and they currently sit third in Serie A. Only leaders Juventus have scored more than their 43 goals so far this term, and only three teams have conceded fewer. Benitez's 4-2-3-1 formation has become their default setting, giving them much more solidity than was the norm under Walter Mazzarri.
The club can consider themselves hugely unfortunate to have been eliminated from the Champions League, having earned 12 points in an extremely tough group with Arsenal, Marseille and Borussia Dortmund. Despite Higuain's form and an injury which has limited Marek Hamsik to nine league starts, Napoli's attacking trident has proved the basis of their success.
It's where another former Real Madrid star is shining brightly in José Callejón, who has arguably become this new-look Napoli's best player. Even at a surprisingly low figure of €10m his move was seen as a gamble, having never truly realised his immense potential in the Spanish capital. His doubters have been proven hugely wrong, however, with the 26-year-old netting nine times from just 33 shots thus far, a clinical return from a player who does so much more than score goals.
Many were unsure what to expect, and a closer look reveals Callejón to be a very contradictory kind of attacking player. Often in Madrid – or indeed, during his loan spell at Espanyol – he would play on the wing, charged with creating goals for others. Cristiano Ronaldo, Karim Benzema and even Dani Osvaldo benefited from his inventive passing or accurate crossing in La Liga. Yet we have rarely seen that at Napoli, with the player yet to record a single assist over his first 20 Serie A appearances. Nor has he shown any of the skills usually associated with a typical winger, creating just 15 successful take-ons in that same period.
But make no mistake, Callejón is still vital in getting his team-mates on the scoresheet - just not in such an easily quantifiable way.
"He is a very important player for us," Benitez said of Callejón back in September, "his movements are different to the others we have in the squad." His work-rate off the ball is undoubtedly his key attribute, and has become a major feature of Napoli's playing style at both ends of the pitch. Averaging 2.1 tackles and 1.1 interceptions per game, Callejón has helped win the ball back quickly, while at the other end of the pitch his runs seem to inevitably result in goals for the man himself, or others.
His selfless style was evident in the win over Arsenal last month, where he was charged with a role covering the left flank defensively. The Spaniard stuck to his task, recovering the ball well and protecting it even better, much to the frustration of the Premier League club. He was repeatedly fouled during the game as both teams went in search of the result that would guarantee their passage to the knockout stages.
That may have eventually evaded Napoli, but nobody did more than Callejón to prevent their exit. Once his side retained possession, he – along with Dries Mertens and Lorenzo Insigne – switched positions across the front three to great effect. Scoring one goal and creating another for Higuain, he popped up in numerous places and left Arsenal with little chance of containing him.
A week earlier he'd done the same on the opposite flank against Lazio, helping his side to a 4-2 win in which he netted the final goal to secure all three points. But again, it was his defensive effort which caught the eye, as a team-high six tackles limited the impact of Hernanes and Stefan Radu. That Benitez entrusted him with this role speaks volumes about the confidence that has already developed between them.
In the same match he also continually interchanged with Higuain, creating three scoring chances for his team-mates and causing Lazio endless problems. Higuain's tactical flexibility allowed Callejón to flourish against the Roman club, as he filled in for the Spaniard on the right flank. Scoring twice himself, the striker worked hard on the right and showed the advantages his presence brings when compared to Cavani. The Uruguayan is, for all his defensive efforts on set-pieces, very much an out-and-out scorer, but his replacement offers much more.
Higuain is continuing where he left off in Madrid, regularly pulling out wide instead of leading the line centrally, learning to play further away from goal when Ronaldo drifted into the middle. He has been heavily involved in the team's build-up play and become essential to their new style this term. Napoli were famous for living on the counter attack under Mazzarri, but Benitez has demanded they keep the ball more. Their average possession has subsequently risen from 54.2% last term to 55.1% this season.
While there's been only a slight increase in their pass completion rate (84.1% compared to 83.4% in 2012/13), their volume of passes has risen significantly. Napoli average 536 completed passes per game in the current campaign, markedly more than the 468 last season. Higuain has played his part perfectly.
Another key man has been midfielder Gökhan Inler, a player who embodies Benitez's changes perhaps more than any other. Of that 68 pass-per-game increase, the Swiss alone is responsible for almost 15, jumping from 51.7 to 66.6, which sees him ranked sixth among all players in Serie A. His abilities were in full display in September's win over Atalanta earlier this season, as he completed 103 of 106 attempts in a performance that ranks alongside the top midfielders on the continent. Inler's compatriots Blerim Dzemaili and Valon Behrami have been useful alongside him, but Napoli took another leap in quality this week by adding Hellas Verona's Jorginho.
The Brazilian has been a revelation this term, attracting attention from major clubs everywhere, but Napoli moved quickly to secure a player with seven goals and three assists in his first 18 games. Just 22 years old, he helped the Gialloblu earn promotion to Serie A and will hope to make a similar impact under the tutelage of Benitez. He has completed 63.3 passes per game with 86.1% success, making him seem like a perfect fit for the coach, Inler and Napoli.
"We are still missing something," Benitez told reporters after their most recent game against Bologna, who snatched a late equaliser. A defensive addition alongside Albiol is essential. But if they can hold on to third place and secure Champions League football once again, the presence of a coach with true pedigree together with players like Higuain and Callejón make Napoli a tempting destination once again.
Thank you for reading 5 articles this month* Join now for unlimited access
Enjoy your first month for just £1 / $1 / €1
*Read 5 free articles per month without a subscription
Join now for unlimited access
Try first month for just £1 / $1 / €1