Introducing Justin Kluivert: the heir to Patrick who's desperate to follow in his dad's footsteps at Barcelona
Kluivert Snr. represented Ajax, Milan and Barcelona, and scored a goal every other game for the Netherlands – but his 17-year-old hotshot son is looking good to follow in those footsteps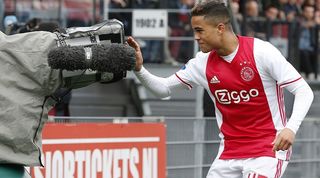 An 18-year-old Patrick Kluivert was in his debut season for Ajax when he scored his historic goal in the 1994 Champions League Final against Milan. His son Justin is unlikely to grace such a big stage any time soon, but his progress is arguably even faster: on Sunday, he scored his first Eredivisie goal at the age of 17, and the Dutch fans are starting to get excited about the new prospect.
Could he possibly reach the heights of his father?
Kluivert Jr. isn't afraid of such expectations. On the contrary – he's inspired by them. Last year, when representing the under-17 national team at the European Championship, he claimed: "I like it when I am compared to my dad. He had a great career, and I hope to have one [too]. People anticipate things from me, but I feel no pressure. I just love playing football."
He's so excited to follow in his dad's footsteps that, upon being promoted to the first team in January, Justin asked for the No.45 shirt and published a photo with a plus between the 4 and 5. Ivan Zamorano famously employed a similar trick at Inter, where his beloved No.9 was already taken by Ronaldo – the Chilean star played with 1+8 on his back, and Kluivert has done similar as he attempts to replicate his father.
Different styles
However, it should be noted that Justin is very different to his dad as far playing style and position are concerned. The former Barcelona star was a classic No.9 – a penalty-area predator who thrived on crosses from the flanks.
He would have probably been grateful to play with his son, then, who's a pure winger. Justin is faster, trickier and much shorter - he stands at 5ft 9in - and putting the ball in the net isn't really his main job. His goal against Excelsior Rotterdam last weekend was the exception, and even that was very easy – a simple tap-in in front of an empty net (see video above).
And yet it was hugely symbolic, because it came exactly a decade and a day after Patrick's last goal in the Eredivisie, on March 18, 2007 – coincidentally, scored for PSV against Ajax. Now the heir has arrived 10 years later, and the only regret is that they didn't have a chance to work together as expected.
Patrick was supposed to become Justin's coach in the youth team in the summer, and the son eagerly waited for the opportunity. "I like that," he said. "The first weeks will be strange, but then I will see him as a trainer."
However, Kluivert received an out-of-the-blue offer to become director of football at PSG, and simply couldn't refuse it. Instead of working with Justin on a daily basis, he's now trying to find time to attend his games. So far, he's enjoyed what he's seen.
Young but senior
Justin is playing on two fronts at the moment. He's still an integral part of the under-19 team, coached by Aron Winter, and helped them reach the quarter-finals of the UEFA Youth League, where Ajax lost to Real Madrid two weeks ago. But head coach Peter Bosz didn't hesitate to call him up at the beginning of the year, largely due to a lack of quality wingers in his first-team setup.
Kluivert impressed on his debut against Zwolle, coming on in the first half and providing a good through-ball to Anwar El Ghazi that led to a penalty. He can play on both flanks, and is able to cut inside from either because his weaker left foot is actually quite decent. His speed and self-confidence have left some of the club's greatest names thrilled.
Ajax legend Sjaak Swart, the club's all-time record appearance-maker, said: "Kluivert is making good progress. You can give the ball to him, and he's very difficult to stop. He possesses speed and courage, and knows how to pass. He should now develop other aspects of his game, but it's hard to believe that he's just 17."
Bosz is also full of praise for the youngster. "Justin has swagger in his game, he's a true Amsterdammer," the coach said.
So far he's included Kluivert in his starting XI three times, and used him off the bench in six more games. One of those substitute appearances, his Europa League debut against Legia Warsaw in February, took place in rather bizarre circumstances.
The first leg in Poland was still goalless with 17 minutes remaining, and Bosz wanted Kluivert to speed things up as an impact substitute. And yet, when Kenny Tete was sent off and there was a need to strengthen the rearguard, the coach replaced Justin with the German defender Heiko Westermann just 13 minutes after he'd come on.
"I know it hurt the boy, but we had to get the result and it was the best solution to bench Justin. We had our reasons to do so," Bosz explained.
Family reunion?
Other youngsters would have been disappointed by such treatment, but Kluivert didn't mind – he just continuted to work hard in training.
Nothing, it seems, can hurt his self-belief. His father's lessons might have helped in that respect, with Patrick remarking last year: "I try to prepare Justin for the future, because I know it better than anyone."
RECOMMENDED
Your club's worst player... EVER! As voted for by the fans
11 forgotten international stars who shone after returning from the abyss
The exact level of Kluivert Jr.'s potential is still unclear, but expectations are growing and it will be very interesting to follow his progress. Scouts from Europe's top clubs are certain to do just that as well.
"I look up to Cristiano Ronaldo," the striker told Goal. "Not just because of his qualities, which are obvious, but also the way he lives and eats and how hard he trains. He is really an example for me.
"But Barcelona is my dream club. Within seven years, I would like to be at Barcelona. Before that I would like to play in England as well. I really like that competition [the Premier League]."
"Justin knows exactly what he wants," Kluivert Snr. confirmed. "He is focused. I am a very proud father."
The teenager might well await a call from Paris in the future.
Thank you for reading 5 articles this month* Join now for unlimited access
Enjoy your first month for just £1 / $1 / €1
*Read 5 free articles per month without a subscription
Join now for unlimited access
Try first month for just £1 / $1 / €1