James Milner interview: "We don't want to be remembered as the team that won the Champions League once"
By Matt Ladson published
Titles are decided on the narrowest of margins, and if Liverpool don't beat Man City at Anfield they may live to regret it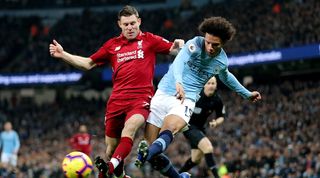 Liverpool know that going close isn't enough. Despite achieving a club record total of 97 points - also the third-highest tally in English football history - the Reds finished a point behind Manchester City. Acquiring such a total means nowhere was the title 'lost' or 'bottled.'
"This is the toughest Premier League title that we have won," assessed Pep Guardiola, while praising Liverpool for pushing his side so far.
Ultimately, it was results in games between the two sides which proved pivotal – a 0-0 draw at Anfield and 2-1 win for City at the Etihad meant the title went to Manchester rather than Merseyside. Even a draw in that away game would have seen Liverpool end their 29-year wait to be the champions of England again.
And in that game it was a goal-line clearance by John Stones, the score at 0-0 and ball 11.7 millimetres away from crossing the line, that proved the finest of fine margins.
James Milner is the only Liverpool player to have won a Premier League title, having done so twice as a City player before switching allegiances four years ago. He knows the importance of these head-to-head games.
"They're important and always tough games," Milner tells FourFourTwo. "They're always tight, too: last year you look back at the games and you see their goal (Leroy Sané's winner at the Etihad) which hits the post and goes in, and ours is cleared off the line.
"At this level, that's the margin for error - inches, centimetres, millimetres. It's tough to take, but that's football and hopefully we can learn from those games against them this year."
RECOMMENDED
Milner arrived at Liverpool having been offered a midfield role under then-manager Brendan Rodgers. The move came after Liverpool had finished second to City by two points in 2014, then 25 behind 2015's victors Chelsea. It was one of many false dawns in the Reds' recent history.
"There was probably a hangover for a couple of years after that really, going so close when people want it so much," assessed Milner.
Liverpool supporters really do want it "so much". For a club of their history to go 30 years without a title is unfathomable, especially considering how close they have been on numerous occasions in the last two decades, only to then fall away quickly. This time, though, it's different.
"You see where we (Liverpool) were when I first signed and the transition to where we are now, going toe-to-toe with them (City). It's fantastic, and hopefully we can keep pushing them to fight as hard as we can for the title this year," says Milner, the only player starting Liverpool's win in Genk on Tuesday night who also began Klopp's first European win four years ago against Rubin Kazan.
Since their last trip to the Etihad in January, Liverpool's squad have earned their title of European champions, and Milner thinks that has put them on a new standing. "Winning the Champions League, and the confidence and experience we've gained from that, will stand us in good stead this year," he explains.
"We don't want to be remembered as the team that won the Champions League once – we want that to be one of a number of trophies."
Should this squad add the Premier League title to their collection, they will be remembered as one of Liverpool's greatest sides – which, given their relentless winning habit of the last 18 months, is how they should be recalled.
Going into Sunday's game six points ahead of their rivals, you could be forgiven for thinking that a draw might be a good result for Klopp's side. However, achieving four points – or more – across the two head-to-head games has to be the aim regardless of current standings. That's what won City the title last season, and what could well be the deciding factor again this year.
With the first game at Anfield, Liverpool must use their home advantage to win and open up a nine-point gap ahead of the final international break of the year. They don't want to be heading to City in early April needing a win. A draw might look satisfactory on Sunday evening, keeping that six-point lead intact, but next May it might not look so good. It's a long season and this only game 12 of 38.
Anfield will need to provide an atmosphere akin to the Champions League quarter-final two seasons ago, when Liverpool steamed into a 3-0 lead inside half an hour - that coming just three months after a 4-3 win the league match, where Liverpool had shocked City again with three goals in nine second-half minutes.
Last season's meeting at Anfield was a much more subdued affair, ending goalless after Riyad Mahrez missed a penalty late on. Guardiola had learned from the lessons of the previous season.
"If you play so quick, they are much better than us," the Catalan admitted post-match. "If it's an open game at Anfield, an open game against Liverpool, you don't even have one chance, not even one per cent. They play for that. If it's up and down quickly they are much, much better – they are maybe the best team in the world running these transitions, offensive-defensively.
"There is not a team better in the world than them, because it's built for that; it's created for that. It's what Jurgen feels, and what the players take, for that sense. In that situation they are much better than us."
What Liverpool need on Sunday is to turn Anfield into a place where City make mistakes; where turnovers and transitions in play allow Liverpool's front three to run into spaces and get in behind.
Klopp will know that Guardiola will have his team set up not to allow that, and the tactical battle between the two managers will be fascinating. Guardiola would have been relatively happy with a point in the away game last season, but this time, six points behind, he may need to play a more open game to get a win and cut the lead to just three points. Or does he take the long-term approach, knowing that whoever takes four points across the two games will likely end up winning the title?
Either way, Klopp needs to find a way of beating City if they sit deeper and take a more conservative approach again. Time to get excited.
NOW READ...
QUIZ: Can you name the last 50 players to score in games between Liverpool and Manchester City?
ANALYSIS: How the Premier League table would look without VAR this season
GUIDE: Premier League live stream best VPN: how to watch every game from anywhere in the world
Thank you for reading 5 articles this month* Join now for unlimited access
Enjoy your first month for just £1 / $1 / €1
*Read 5 free articles per month without a subscription
Join now for unlimited access
Try your first month for just £1 / $1 / €1
Matt Ladson is editor of This Is Anfield, the independent Liverpool news and comment website, and covers all areas of the Reds for FourFourTwo – including transfer analysis, interviews, title wins and European trophies.
Quizzes, features and footballing fun
Get the best features, fun and footballing frolics straight to your inbox every week.
Thank you for signing up to Four Four Two. You will receive a verification email shortly.
There was a problem. Please refresh the page and try again.