The legacy of USA '94: why two big misses didn't prevent a World Cup hit
By Graham Parker published
On its 25th anniversary, here's how the hosting of the world's most eyeballed sporting event helped an entire continent onto its feet...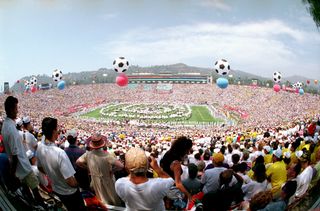 It started with a penalty missed by Diana Ross and ended with one missed by Roberto Baggio. It has been 25 years since the 1994 World Cup in the USA – more than two decades in which the global game has expanded beyond recognition, club ownerships have shifted from car dealers to carbon billionaires, and digital technology has transformed how football is broadcast and consumed.
In the USA itself, a new league, Major League Soccer, was founded in the wake 
of the tournament. There are now 24 teams, with more coming.
In 2013, broadcast titan NBC outbid several rivals for the Premier League rights to every single game as part of its deal, with the likes of BeIN, Fox and ESPN carving up Serie A, La Liga, the Bundesliga, Liga MX and dozens of other competitions. Among 12-to-20-year-olds, football is now the second-most-watched sport in the country, and big European teams, savvy to the potential of the US market, have become perennial visitors on blockbuster summer tours.
But when Diana Ross ran the length of Chicago's Soldier Field on June 17, 1994, all that was in the future. As her hit I'm Coming Out rang out, the Motown legend enacted an elaborate stutter step in front of a pre-rigged goal (and, indeed, pre-rigged goalkeeper), firing a 'penalty' from all of six yards. And firing it wide.
"I want the world to... noooo!"
'Miss Ross' didn't miss a beat – the goal burst open as if she'd scored and the pageant continued. Yet right there, in the opening moments of the opening ceremony, was the image critics needed to damn USA 94 before it had even begun.
Detractors of the decision to host the World Cup in the US over competition from football-loving nations Morocco, Chile and sentimental favourite Brazil saw a moment that typified every cliché about Americans and football. Americans, they said, were more about showbiz than sport, and had no right to be hosting the pre-eminent tournament of the world game. For those critics, it wasn't just Ross who had missed the target.
It's perhaps hard to remember now just how broad and patronising the pre-tournament negativity had been. In the UK in particular, mocking the perceived gaucheness of the Americans was a welcome distraction from the national team's own self-inflicted absence from the tournament. Not that the English were strangers to the idea of football as narrative entertainment.
The high opera of Gazza's tears at Italia 90 had been followed by the base comedy of Graham Taylor's well-documented "Do I not like that" failure to qualify in 1994. But behind it all was the persistent idea that sport, like music, was somehow a branch of culture apart – a source of identity rather than a lifestyle option. No such friction existed in the USA.
Accordingly, even the poet laureate of the new writing about the sport, Nick Hornby, was not above making digs at the Americans, writing a pre-tournament guide instructing them how to watch the game. If Germany's master diver Jurgen Klinsmann should somehow end up on the turf, Hornby suggested, Americans should pray for him, as he was sure to be seriously injured.
This was also the first of what might be called the 'empire-building' World Cups for FIFA – a tournament meeting the sweet spot of money and an expanding footprint for the sport (a model that has subsequently seen Japan/South Korea, South Africa and Qatar win bids to host). The USA, with its existing sports, transport and broadcast infrastructure, and huge potential audience, was actually a fairly safe choice for FIFA from many standpoints, but its lack of a top-flight league and its perceived lack of football heritage went badly against it. FIFA were under pressure from the minute the vote to award the tournament to the USA took place, on July 4, 1988.
The idea that six years later to the day, a 10-man USA would be playing a second-round game against Brazil, and pushing them all the way in a 1-0 defeat, seemed impossibly remote at that moment. For one thing, the USA hadn't even competed at a World Cup since 1950, when they achieved their infamous 1-0 victory over England. After a burst of interest in the 1970s around the NASL and New York Cosmos, that league had collapsed in 1984, and the football landscape in the US became impossibly fragmented for the so-called 'lost generation' of American players in the 1980s.
"We were a laughing stock"

Peter Vermes is head coach of current MLS champions Sporting Kansas City, having also won a title with the club (then Kansas City Wizards) as a player. In 1988 he was a new college graduate contemplating his dream of life as a professional player.
"At that time, being a professional soccer player in the United States wasn't a reality, to be honest with you," Vermes says. "Although the ASPL had started in 1989, it wasn't really a first-division league, so if you really wanted to forge ahead and try a professional career in soccer, it had to be overseas."
Vermes eventually got a foothold with Hungarian side Gyori ETO, moved to Volendam in the Dutch Eredivisie and would later play in the Spanish second and third tier with Figueres for four years, before returning to the States, joining the fledgling MLS in the wake of USA 94. His trajectory was not atypical of his generation – those who didn't fall through the many cracks, that is.
And yet Vermes' generation of players did achieve something that may have saved the 1994 World Cup, when a Paul Caligiuri shot (sometimes referred to now by US fans as the "shot heard 'round the world") looped over the Trinidad & Tobago goalkeeper to send the USA to Italia 90.
Vermes has no doubt about the importance of the goal. "If you look at it today, it was imperative that we qualify in 1990," he explains. "Because having already received the World Cup in 1994 we were viewed at that time as a laughing stock, because everybody was asking the question: 'Why? There's no professional league in the country – why would you give it to a country that doesn't even play soccer?' That type of thing. So it was imperative for us to qualify on merit to give some credibility to FIFA making that decision to give us the World Cup in 1994. I think it was huge."
As it was, the USA lost all three of their games at Italia 90, but they'd got there 
on their own merits and earned the 1994 organising committee some time and credibility in doing so. Not that Alexi Lalas, one of the faces in the crowd during that tournament, and a future icon in 1994, was looking ahead to his destiny: "In 1990 I bummed around Europe with my buddies and went to the World Cup and sat around and watched the team, painted my face, drank a lot of beer – not even fathoming that four years later I'd be on the field playing for the national team."
Back in the USA, American World Cup organisers were charged not just with running a tournament, but enacting a FIFA mandate to build a sustainable structure for the sport and a first-division league in the country. Given the fragmented state of football in the USA, running the tournament was possibly the less daunting aspect of the task, even with the eyes of the world on them. There was at least, for example, some existing evidence of an audience: tournament director Alan Rothenberg had run the 1984 Olympic football tournament that had seen repeated sellouts for the 100,000-capacity Rose Bowl in Los Angeles, venue for the USA 94 final.
In 1990, Rothenberg won the presidency of the US Soccer Federation. The day after his election he called Hank Steinbrecher, a former player and coach who had run the Harvard football venue at the 1984 Olympics, and invited him on board. Steinbrecher became general secretary of US Soccer and helped start the task of professionalising the game.
As Steinbrecher remembers it, a turning point came in late summer 1992, when a three-day weekend brought together 250 leaders within the sport. "The unique thing about this was that we didn't just ask people from the football association: we had sponsors come; we had the press come; we had people who absolutely hated the FA; we had private promoters; we had players; we had people from all different constituencies; and basically said, 'Leave your weapons at the door – we're only going to talk about how to grow the game of soccer in America.' And amazingly enough, we were able to develop a consensus."
Among the decisions US Soccer made around this time was to put the top American players on a contract and run the national team more or less as a club side in 
the build-up to the 1994 World Cup. Before that point, players were on "$15 a day as per diems – woeful", as Steinbrecher puts it.
Lalas remembers that period: "I did it completely backwards to the way that you're supposed to do it. Normally you have some success at club level, people notice you, you get called on to the national team and then you go on and play at a World Cup. I stepped onto the field in that summer having never been on the books or played in a professional club environment – all my experience was international.
RECOMMENDED Alexi Lalas: Before USA 94 I was a punk who never thought about my place
"The federation, basically two years before the World Cup, established a training centre in Southern California, in Mission Viejo, where we trained twice a day and then played internationals. Which is why, when you look at players of my generation, we have so many caps – because that's all that we did."
"It was a spectacle... and nobody does that better than the US"
Still, when the tournament rolled round, nobody gave the USA much chance. Even the organisers were sceptical. Steinbrecher remembers sitting with Rothenberg and executive vice-president Sunil Gulati a few months before the tournament and rating its likelihood of success:
"One was that the World Cup had to be an artistic success, so that people would enjoy it and the American public would be captured by it. Two was that our team needed to do well – get through to the second round. And three was that the World Cup had to be a financial success, which could help stimulate the inauguration of a league. Now what were the possibilities of us succeeding in all three of those? They weren't great – I think we looked at it somewhere in the 20 per cent range…"
The draw hadn't helped. The USA were supposed to be kept apart from 
the strongly fancied Colombia, via the arcane rules of the draw. Instead they 
were paired, to Steinbrecher's frustration. "Oh, we had very harsh words with Sepp Blatter after the draw!" he laughs. "Something like, 'You expletive, deleted idiot – do you have any idea what you're doing?' Colombia! And then we beat them…"
It's become one of the most infamous games in sport – chiefly for the Andres Escobar own goal that opened the scoring in a 2-1 USA win. Ten days later, Escobar was dead – supposedly confronted about his error by a gunman in Medellin. Ultimately it would colour all the participants' memories of the day, but at the time, Lalas saw only the most unlikely of vindications.
RECOMMENDED What really went wrong with Colombia
"After that game, to have that iconic type of moment… if you've grown up as an American, with the American flag and everybody screaming 'USA! USA!' and you know for all intents and purposes you're going to go through from your group – you've accomplished that goal. You've sent that important message that we'd talked about, not just domestically but internationally – that it's not just about hosting a World Cup, but you actually deserve to be there and you can do some stuff on the field. That was the day."
Elsewhere the tournament was progressing relatively smoothly, with its usual share of storylines. There was controversy when Diego Maradona was sent home in disgrace for taking ephedrine, and repeated grumblings about kick-off times adjusted for TV networks (still a rare phenomenon then) forcing players to play in scorching conditions. But there were also moments of brilliance and romance, such as Hristo Stoichkov announcing himself to the world with an exciting Bulgaria team who, in an irony Nick Hornby might have appreciated, eventually did for Klinsmann's Germany thanks to Yordan Letchkov's diving header. Or there was the packed house at New York's Giants Stadium to see unfancied Republic of Ireland shock Italy.
Brazil, though, were hardly setting the tournament on fire, despite the attacking potency of Romario and Bebeto. During the semi-finals, when they and an equally pragmatic Italy snuffed out Sweden and Bulgaria, the tournament lost a little of its lustre – an impression confirmed by a dour, goalless final, something of an anti-spectacle for the 94,000 at the Rose Bowl.
RECOMMENDED Boring, boring... Brazil?!? Were the boys of 94 really unloved back home?
Yet they were there, as were others, in their thousands throughout the tournament. As Steinbrecher puts it: "There's no book that tells you how to run a World Cup, but we knew we couldn't run a World Cup in a vacuum. We needed the base of US soccer. And that base had to be strong, co-ordinated and organised, because they're the ones that buy the tickets and will actually do most of the management."
Zusi, aged eight
Those who had kept the spirit of the game alive through US football's 'dark ages' in the '80s were among those rallying to show up in force during the tournament, so the tournament was in part a celebration of the keeping of the flame. Yet if it was to leave a legacy, another generation would have to be inspired.
Graham Zusi was eight when the World Cup happened, and was on the field when Diana Ross took her kick – one of thousands of children taking part in the opening ceremony. He may not have fully appreciated the magnitude of the event at the time ("I wouldn't exactly say it made me visualise a career in the game – it was just a cool thing to do with my friends. Hey, I was eight") but the current US midfielder is aware that he benefits from opportunities that only arose because of USA 94.
Landon Donovan, who was part of some of the US teams that built on 1994, is fully aware of the legacy left by a home World Cup.
"In 1994 it was important for us to have it here and to do well. I think after that other countries finally looked at us differently. It wasn't just luck, or that we only worked hard and ran a lot. We actually had quality and we've shown it. We were definitely more than what US teams have been in the past. We were a real team with real soccer players who knew how to play.
"Since then it's only gotten better. [France] 98 didn't go so well but it's something we showed again in 2002, beating Portugal and Mexico, and we were unlucky against Germany in the quarter-finals. This started in '94."
Yet that attendance alone points to one of the tournament's successes. Some 3.4m watched the 52 games in person – more than any World Cup before or since. The momentum ensured the domestic league had a credible mandate for its launch in 1996, and despite ups and downs since, the appetite for the game in all its forms has never been higher in the US.
Yet arguably, the image of Diana Ross points to the greatest legacy of the 1994 World Cup being international as much as domestic – a sign of the sport's imminent folding into the global entertainment industry. By some measures you could maybe claim that while Roberto Baggio definitely missed, Ross didn't.
Baggio balloons over to hand the trophy to Brazil
Lalas is in no doubt: "It was a spectacle, it was a show, and nobody does that better than the US. At the time it was something that was looked at sceptically, or at least quizzically, by the rest of the world, but in terms of how the sport is put on, everybody since then has started doing that.
"You need look no further than what the EPL has done. They've recognised that this is about entertainment and that how you present it goes a long way in terms of establishing credibility – the lights and the glitz and the glamour, the stars and the star-making and the narratives – all are part of giving the fan and the viewer an entertaining experience.
"Doing that and saying that doesn't mean that you can't take it seriously, that you don't want to win, that there isn't passion or a competitive nature to it all. But when you look what they took from America, whether it's Monday Night Football, or the way the broadcast plays out, the camera angles, the microphone positions, all of that different stuff… it's a show."
Challenges remain. Lalas calls the relative lack of top-flight talent to emerge from the US in the intervening years "an irritant". Vermes bemoaned fixture congestion as his Kansas City side tried to navigate league and cup play, the CONCACAF Champions League and losing players to friendlies and internationals, but he is aware of the irony of that complaint, given his own travels just to find a game in his youth.
For Steinbrecher, the World Cup was "a moment of intensification" on a much longer journey ("overnight successes take 25 years"). As he and Rothenberg left the Rose Bowl the day after the final, they were asked for a photo by a young family in the car park. They duly posed, thumbs aloft, only for the puzzled wife to say she wanted one of them to take the family's picture. "It's fleeting," 
grins Steinbrecher, of that lesson in humility. "Welcome to the long haul…"
A version of this feature originally appeared in the June 2014 issue of FourFourTwo magazine. Subscribe!
RECOMMENDED
Thank you for reading 5 articles this month* Join now for unlimited access
Enjoy your first month for just £1 / $1 / €1
*Read 5 free articles per month without a subscription
Join now for unlimited access
Try first month for just £1 / $1 / €1
Quizzes, features and footballing fun
Get the best features, fun and footballing frolics straight to your inbox every week.
Thank you for signing up to Four Four Two. You will receive a verification email shortly.
There was a problem. Please refresh the page and try again.