Manchester United's Moneyballed opponents Midtjylland still doing things their way
It's now 18 months since Matthew Benham introduced his analytical approach to a small Danish club who had never won anything. After a first league title last term, Andreas Kjäll picks up the story ahead of Thursday's clash with the Red Devils...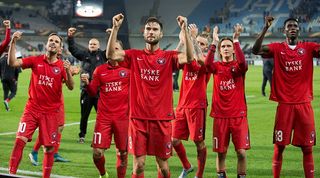 "We have not taken a single bad decision since we got hold of Matthew Benham's statistics," Glen Riddersholm, FC Midtjylland's head coach, told FFT last summer. A few weeks later, Riddersholm resigned after an internal controversy with the club's management.
The fans were in uproar, the club missed out on Champions League qualification and everyone wondered: was this celebrated Moneyball method just a one-hit wonder? Were Midtjylland on the verge of collapse after a solitary, magical year?
The story is familiar by now. Brentford owner Matthew Benham bought Midtjylland, made Rasmus Ankersen (a co-director at Griffin Park) chairman and built the team's tactics and transfer policy around the use of statistics. The approach paid off, with Midtjylland winning the first league title in their history last season.
The Moneyball effect was discussed right across Europe. As Ankersen explained to FFT, Midtjylland had to be smarter if they wanted to overcome the bigger clubs. Just a few weeks later, though, manager Riddersholm labelled those same decision-makers "idiots".
Crisis or opportunity?
There was trouble in paradise. It soon emerged that Riddersholm and sporting director Claus Steinlein had not been friendly for quite a long time, with rumours surfacing that the rest of the coaching staff were set to follow Riddersholm through the exit.
"When Matthew Benham and I came to the club last summer, we knew there was conflict," chairman Ankersen told Danish newspaper Politiken. "We tried to solve it, but eventually it reached a point of no return." Riddersholm was a popular figure with the club's fanbase, so Ankersen's next step was to write an open letter to supporters to calm the mood.
"First, I want to emphasise that it is anything but chaos at the club," he wrote. "In fact, we are facing the most exciting months in the club's history."
Ankersen was probably right: it certainly felt as though there could be a power shift under way in the hierarchy of Danish football. Since the Super League was rebranded in 1991, only Brondby and FC Copenhagen had managed to win it two or more times in a row. In total, the duo had finished on top of the pile 16 out of 25 times. Could Midtjylland bring an end to their dominance?
Critics criticise
It certainly didn't seem impossible. Riddersholm was replaced by Jess Thorup, the man who took Denmark's Under-21s to the semi-finals of last year's European Championship. Things started well, with Midtjylland knocking out Southampton and qualifying for the Europa League group stage. They continued to excel on the continent, finishing ahead of Club Brugge and Legia Warsaw to earn themselves a round of 32 tie with Manchester United. It's probably the biggest game in the club's history.
Midtjylland defeat Legia Warsaw
Back home, Midtjylland are chasing league leaders Copenhagen for another title. Stale Solbakken, coach of the latter, certainly seems to feel threatened by the emergence of the champions, with the former Wolves manager regularly taking to the press to discuss Midtjylland's rise. Their playing style was described as "very simple", before Solbakken announced that "Midtjylland cannot be defined as a talented club anymore."
"I think the managerial change has had a major impact," he told Jyllands-Posten. "Riddersholm was an academy man, but with Ankersen and the British owner Benham, the club has changed. They are no longer a talent factory. There's more of an international touch at the club now."
Further afield
Solbakken is right: Midtjylland have changed. In a review of the club's transfers conducted by magazine Tipsbladet, it was found that Midtjylland had stopped recruiting homegrown players. Between 2011 and 2014, half of its signings were from fellow Danish clubs; since the summer of 2014, though, only Lasse Heinze and Martin Pusic came from Danish clubs, with the remaining 18 arrivals all joining from foreign sides.
The squad today consists of players from 12 different countries. Midtjylland has almost twice as many foreign players as the runners-up on the list, Copenhagen and FC Nordsjaelland, who have 10 foreign stars apiece.
Ankersen was happy to admit that this recruitment strategy was deliberate. "Danes have a tendency to overestimate Danish players," he told Ekstrabladet. "In the debate on Danish players not succeeding abroad, you often hear the argument that they lack security and miss their mother's meatballs. But Perhaps Danish players are simply not good enough to succeed at a higher level."
Sporting director Steinlein developed his colleague's reasoning in an interview with Jyllands-Posten. "Just like Copenhagen, we are confident in our DNA. There will always be waves back and forth. We want to prove that we can play at the top of the league and in Europe at the same time, as well as investing in young talent.
"In recent years, we've invested heavily in our own talents and doubled the resources of our academy, so I'm not worried that we won't see even greater players in the future."
Mixed methods
Midtjylland have continued to recruit players with the help of Benham's 300 statisticians in London, but the club are now embracing more traditional methods of scouting too.
"We're constantly trying to improve our process," Ankersen tells FFT. "We've worked hard in the last six months on finding ways to amalgamate new and statistic-driven scouting methods with more traditional scouting methods.
"One great transfer we made was Vaclav Kadlec from Frankfurt. He's at a level you don't usually see in Denmark, and being able to attract him was a great coup for us."
Kadlec scores for Frankfurt
Youth focus
Another player who was added to the ranks was 17-year-old Kaan Kairinen, a defensive midfielder from Finland who is considered one of the best players around in his age group. "We had a close dialogue with our research team in England," said Steinlein of the transfer. "He has an impressive physique and is simultaneously dynamic and technically proficient."
Midtjylland are not only able to recruit a higher quality of player than before, they also have an increased chance of keeping hold of their best ones. Midfielder Mikkel Dueland has rejected Liverpool, while Pione Sisto has said no to West Ham among others.
"We hope to challenge clubs in Europe who are in a heavier weight class than us," Ankersen tells FFT. "And we also hope to win the league again." If they can lift the title again this term, Midtjylland can celebrate both an extraordinary achievement and the fact that they did it their way.
Quizzes, features and footballing fun
Get the best features, fun and footballing frolics straight to your inbox every week.
Thank you for signing up to Four Four Two. You will receive a verification email shortly.
There was a problem. Please refresh the page and try again.