Marco van Basten: Games That Changed My Life
The legendary striker recalls his most memorable matches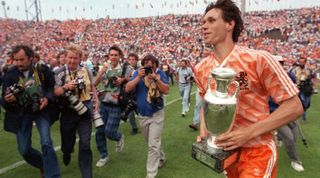 April 3, 1982: Ajax 5-0 NEC Nijmegen
This was the day that I became a professional footballer – and with Ajax, too; the club I'd always wanted to play for. I came on for Johan Cruyff after 45 minutes and scored midway through the second half. It was a great feeling, especially when you're only 16 years old. I was still at school, but all of a sudden I became a little bit famous across the country. Everything changed.
December 8, 1985: Ajax 9-0 Sparta Rotterdam
I scored six goals in this game – it was like every shot went in! I had a great record in Holland: it was a lot easier than playing in Italy. I had a few games like this, where I thought I could score anything.
You still see it now with Cristiano Ronaldo and Lionel Messi in La Liga: they score 40-50 goals a season. I had a good goals-to-game average – I would play 26 games and score 27 goals – but I had injuries. If I'd played every game, I could have reached 40 or 50 goals a season as well!
June 15, 1988: England 1-3 Netherlands
This was a special day. I scored a hat-trick, but it was especially good because I'd been injured for a long time and was finding it hard to come back. We lost the first game against the Soviet Union, but then Rinus Michels put me in against England and we won 3-1 – albeit with a little bit of luck.
From that game onwards, everything in Euro 88 went well. My goal in the final against the Soviet Union is the thing that everyone remembers, but every game is important. If we hadn't done the job against England, we would not have gone on to reach the final.
May 24, 1989: Steaua Bucharest 0-4 Milan
I was so nervous – this was my first European Cup final. The good thing is that when we were coming to the stadium on the bus – we played the final at Camp Nou – there was a sea of Rossoneri fans. It was so immense that we looked at each other and thought the same thing: we can't lose here.
Everything inside the ground was red-and-black, too. I scored twice, as did Ruud Gullit. We didn't have a problem in that game, so that was a very nice evening.
May 26, 1993: Marseille 1-0 Milan
Another European final – this time, the first Champions League final. I didn't know it then, but this was the last time I would ever play. I was impatient because I wanted to come back, but my ankle still hurt a lot and it didn't work well. I was pretty unhappy. It's a pity, but I couldn't change it.
Now I'm 22 years older and wiser. At that time it was difficult and it hurt, but now it's something I have to accept.
Marco van Basten is a Nissan ambassador for the UEFA Champions League.
This feature originally appeared in the October 2015 issue of FourFourTwo. Subscribe!
Quizzes, features and footballing fun
Get the best features, fun and footballing frolics straight to your inbox every week.
Thank you for signing up to Four Four Two. You will receive a verification email shortly.
There was a problem. Please refresh the page and try again.