Meet Diego Simeone's favourite player in La Liga (who doesn't play for Atletico)
El Cholo's just one of many in the Samuel Castillejo fan club, writes David Cartlidge...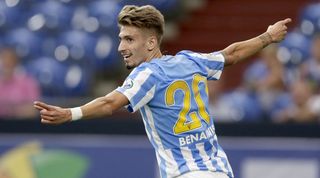 The 60-second story
FACT FILE
Date of birth: January 18, 1995
Place of birth: Malaga, Spain
Height: 5ft 10in
Position: Forward
Club: Malaga (29 apps, 1 goal)
International: N/a
"I'm not the new pearl of Malaga, I'm a worker." In one sentence, Samuel Castillejo summed up his approach to football better than any analyst could. They would concur with his statement of course, but that the player is so aware of his status tells you all you need to know.
A certain Isco was the last player at Malaga to be branded with the 'pearl' tag. It didn't do him much harm, as he currently dictates play for one the biggest teams in the world.
Isco too, is a fan of Castillejo. "It's the Samuel Castillejo show," he tweeted during one of many standout performances from the 20-year-old this season. Isco is just one face in Castillejo's growing army of fans.
Castillejo made his name in pre-season for Malaga, auditioning for a place in the small squad the club had been left with. First he impressed in Australia against Perth and Adelaide, but it was on English soil where he truly shone.
He netted a stunning brace against Newcastle in a man-of-the-match performance, following it with a strong display against West Ham. Boss Javi Gracia couldn't ignore the player anymore.
After starting the season on the bench, he has gradually become a regular presence in the team, totting up an impressive 1846 minutes. In fact, only four outfield players at Malaga have featured more in La Liga, a testament to the trust placed upon his young shoulders.
Why you need to know him
Castillejo may well be playing under another of his biggest fans next season. Diego Simeone is said to be enamoured with the player, taken by the way Castillejo plays the game with hard work, determination, sacrifice and commitment – the very values Atletico Madrid are built upon under El Cholo. Simeone usually has to inject these attributes into his charges, moulding them as both players and men.
But with Castillejo, the hard work might already have been done. It could just be natural for the boy from Huelin, a working class area of Malaga near the city's port.
For now the player features under Gracia at Malaga, though, spearheading a youthful side performing above expectations this season. With stars like Santi Cazorla, Jeremy Toulalan and Isco all having passed through on their way to bigger things, it's up to the likes of Castillejo, Juanmi and Sergi Darder to give Malaga's colourful support something to shout about. So far they've done so admirably, beating Barcelona at Camp Nou and making sure there is plenty of pride left in them yet.
The Spaniard's name had been on the lips of many before this season. After Malaga's takeover in 2010, Abdullah Ghubn, right-hand man to owner Sheikh Al-Thani, was advised to hand Castillejo a new contract. He did so too, and the player was handed €1.6 million over five years, a huge sum for a then-16-year-old. But when the money later ran out, Malaga had to lower the player's wages to half of the initial figure.
The hype was justified when he scored 16 goals under the command of legendary boss Salva Ballesta in the Tercera Division with Atlético Malagueño. Although the goals have dried up somewhat since his promotion to the first team, his work ethic has tripled. Gracia uses Castillejo in a role which focuses more on the team, which has contributed to his lack of goals, but the upside is the rapid maturing of a promising player.
There may not be European nights under Manuel Pellegrini for Malaga anymore, but is there anything more fulfilling than seeing a local boy go to the wall for his team?
Strengths
Castillejo has become known for his incredible versatility, despite his tender years. He can occupy positions on either flank, play through the middle, or even in attack. Versatile is certainly the word for his skill set too.
On the ball he's quick, and is able to change direction in an instant. He can pull off a flair move to beat a man, or drive past them with raw pace. His awareness in and around the penalty area has been noted too, such is his strong willingness to drive towards the goal.
It's his work off the ball that's caught the eye of Simeone and his legion of admirers, however. With youth teams he was seen as something of a free spirit, but Gracia's influence has clearly made Samuel more aware of his defensive side. Tactically he's very sound, taking on orders and carrying out a duty for the team.
He can slot into central midfield and add presence, but also cover his full-back when wide. Plus, he's sharp over short distances, cutting out passes and closing down opponents on the ball. The defensive acumen shown so far is a suggestion that Castillejo could indeed become a complete player.
Weaknesses
Despite proving prolific in the youth categories, Castillejo has yet to find the net frequently with the first team. When he's been put in front of goal, or handed half chances, many have been squandered.
Still, it's difficult to be too tough on the player given that this is his first season and the commitment to his defensive work has been so admirable.
They said…
"People were speaking of this kid as more of an economic topic (due to the large contract at 16), rather than that of him on the field," said Manel Casanova, head of Malaga's productive youth academy. "Now, with his role in the first team, no one speaks about money anymore."
Did you know?
Castillejo has been handed the nickname 'El Fideo', meaning 'noodle' in Spanish. Sounds familiar? It should – Angel Di Maria has the same tag.
Like the Manchester United man, Castillejo's wiry frame and ability to squirm away in tight spaces earned him the name. The Malaga man has been often compared to Di Maria, not least because of his dribbling.
TALENTSPOTTER RATINGS
Shooting 6
Heading 6
Passing 6
Tackling 6
Pace 8
Dribbling 8
Creativity 8
Work-rate 9
What happens next?
Castillejo will see the season out with Malaga and hope the club achieves an unprecedented European place. He's expected to maintain his ratio of minutes gathered so far, and will be a key presence during the run-in. With a Spain Under-21 call-up now achieved, a few games with Albert Celades's men will be important for his development, as they were for Isco at that level.
The summer will be interesting, and despite a new deal until 2019 signed in October, interest will be strong from major clubs. €20m is the release clause in his contract, but it's expected Malaga could sell for a lower fee with rumours that an investment fund may take up some of the player's rights.
Whatever happens, Castillejo will keep plugging away on his mission to prove the old adage that hard work pays off.
Thank you for reading 5 articles this month* Join now for unlimited access
Enjoy your first month for just £1 / $1 / €1
*Read 5 free articles per month without a subscription
Join now for unlimited access
Try first month for just £1 / $1 / €1
Get FourFourTwo Newsletter
The best features, fun and footballing quizzes, straight to your inbox every week.