The morning after, Arsenal unable to get in contact with Vorskla Poltava
Unai Emery starting to wonder if he imagined the whole Europa League match, Back of the Net reports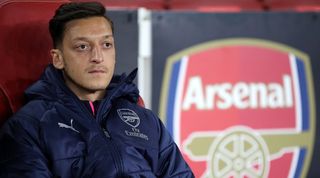 Waking up on Friday morning, Arsenal manager Unai Emery was surprised and disappointed to find that Vorskla Poltava had disappeared without a trace and left no way to contact them.
The Spaniard had been reflecting with satisfaction on a mutually enjoyable night at the Emirates when he realised with a jolt that he didn't really know much about Vorskla Poltava at all.
Despite talk of meeting up again in November, Vorskla left no contact details and Emery was forced to admit that he didn't even know which country they came from.
"I spent a lot of the morning Googling, but I couldn't find anything, not even a Facebook page," Emery told FourFourTwo. "Surely we'd have some mutual friends like Shakhtar Donetsk, Slavia Prague or Olympiakos?
"I've got to the point where I'm thinking of trying LinkedIn, but then even if I could find them they would be able to see I was checking them out.
"It doesn't help that I'm not totally certain how to spell either their first or second name, so I'm mostly just typing 'Eastern European football team' which doesn't seem to be narrowing it down.
"They seemed to enjoy the evening too, especially when they scored those two late goals, but maybe they always grab a couple of consolation goals in every game they play. Maybe we weren't special at all."
Pillow talk
After telling the story of their 4-2 Europa League triumph to others, Emery has had to admit that it does sound far-fetched.
"People keep saying it must've been Dynamo Kiev or BATE Borisov that we played, they can't seem to believe that a team in a European competition could suddenly appear in our lives and then just as quickly disappear," Emery confessed.
"I have to admit I'm starting to wonder a little bit myself whether this exotic midweek conquest happened at all."
Close friends have encouraged Emery to start preparing for his date with Qarabag on October 4, but he doesn't appear ready to move on.
"I just don't know that I can start again like that," Emery said. "I don't want to get hurt by getting attached to an Eastern European team of unknown origins who just see us as a fun day out to tell their friends about.
"I'm tempted to send a weakened team, scrounge a bad-tempered 1-0 win and then take our club website down."
Please note: This story is satirical, which we hope you realised before getting to this point.
Back of the Net • New features you'd love on FourFourTwo.com
Quizzes, features and footballing fun
Get the best features, fun and footballing frolics straight to your inbox every week.
Thank you for signing up to Four Four Two. You will receive a verification email shortly.
There was a problem. Please refresh the page and try again.