New York nixed: Lampard, sackings, soft drinks and baseball bruise the Big Apple
It's not just an absent Chelsea legend that's bringing problems to New York, says Kris Heneage...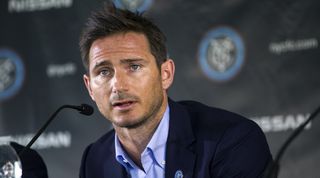 As supporters we are told to get behind the team until the final whistle, but this month a fans' group felt compelled to release a club-condemning statement before they had played a single match.
Responding to the confirmation of a long-held fear that New York City FC's star midfielder Frank Lampard would not be with the team for their first ever competitive game in early March, the Third Rail supporters' group described it as an 'outrage'.
The story begins last July, when a sharply-dressed Lampard sat in front of an excited American media posse in New York City. The veteran midfielder spoke eloquently about how he had been sold on the vision of the club: "In the dressing rooms in Europe, at least in Chelsea, they're all talking about the MLS," he said.
However, the season was still eight months away and so it was logical for Lampard to stay in shape with a loan spell in Europe. And despite his previous ties with Stamford Bridge, it made sense to hook up with Manchester City. The English champions have made no secret of their involvement in the NYCFC project: the new club's light blue kits and club website are almost identical to that of their Mancunian cousins.
Who's in charge?
Lampard would be joined in the north-west by NYCFC's first head coach Jason Kreis as he shadowed Patrick Vieira and the Elite Development Squad (formerly known as the reserves) – another perceived asset of the link between the two clubs. Previously the Real Salt Lake coach, Kreis is well-respected within the league and was a shrewd appointment, especially if his knowledge is augmented by spending time in Manchester.
Instead, NYCFC will be diminished by Lampard spending what most see as too much time in Manchester. The story of his extended stay broke on New Year's Eve, and since the announcement the situation has only gained complexity. During a discussion with Sports Illustrated, MLS Commissioner Don Garber revealed that the arrangement with Man City was woven into Lampard's deal from inception.
Deputy Commissioner Mark Abbott has said that Lampard agreed a deal with the City Football Group, the umbrella company fronted by Sheikh Mansour which owns both teams. That did nothing to dispel the murkiness given that it was widely reported at the time – including on both clubs' websites – that Lampard had agreed a loan deal from NYCFC to Manchester City.
In a statement that now looks prophetic, Garber spoke in early December of the need for greater transparency in MLS. Instead, the details of Lampard's deal are slowly being revealed by sources in England.
On Wednesday The Guardian confirmed that NYCFC do not have a deal with Lampard, and thus he could spend the entirety of his two-year-contract in Manchester, as Manuel Pellegrini refuses to give an exact date for Lampard's departure.
A great number of fans were eager to return season tickets in disgust. This proved difficult, given their ticket representatives did not return to work until Monday January 5, but is also far from ideal for a club already expected to have trouble producing an atmosphere at home games.
Although plans are in progress to build a soccer-specific stadium, the team will play at least the first season at Yankee Stadium – a baseball park whose dimensions do not smoothly accommodate a rectangular surface, with the majority of the seating placed behind home plate, some distance from the outfield-based pitch.
While NYCFC struggle, all is serene at the other expansion side, Orlando City SC. Having signed Kaka as their marquee name, they have also lured in US international Brek Shea.
A club that began its life in the third-tier USL Pro league, topping it three times in the last four seasons, Orlando will play their games in the 61,000-seat Citrus Bowl gridiron stadium and already have an established fanbase, making them a strong prospect for the new season.
Florida has traditionally been a tough market for US soccer, with two previous teams – Miami Fusion and Tampa Bay Mutiny – both failing, but Orlando have high hopes and have made a number of shrewd moves, signing Amobi Okugo and All-Star defender Aurelin Collin.
Meanwhile NYCFC's preparations have been overshadowed by the Lampard situation. While Manchester has always been the mothership, many now feel that the New York club has lost any hope of legitimacy and the once-promised autonomy.
Far from Bullish
Worryingly enough, they're not the only MLS team to face that sort of situation. They're not even the only MLS team in New York to face it. As their name implies, the New York Red Bulls are part of a larger family, and the energy drink company appears far keener to enhance the prospects of their German and Austrian outfits, RB Leipzig and Red Bull Salzburg. In fact, as recently as this week, reports have surfaced that Red Bull may be willing to sell their American club, should anyone wish to pay around $220 million.
The Red Bulls are struggling just as much as their new city rivals. The departure of Thierry Henry has hit the fans hard, as has the firing of much-loved coach Mike Petke, a former defender at the club and hugely popular among the supporters. With the New York Knicks also struggling in the NBA, it's proving a difficult period in the sporting history of the Big Apple.
As for the new outfit, Garber rejects claims that NYCFC are no more than a feeder club: "I don't think it is a farm team for Man City. With this decision, while I can understand people will try to think that, the level of investment that this ownership group is making with the club is massive and it rivals some of the bigger clubs around the world."
However, even Garber couldn't ignore the feeling of betrayal festering among supporters. "I could understand why their fans are unhappy, and I do believe [NYCFC] will work hard to build back that trust," he explained. "They've started that process already. I sensed this was coming and it didn't surprise me when they ultimately made their decision."
By contrast, Kreis may now regret his comment on the day Lampard signed, that "For me, players that enter in the middle of the season are typical fails" – the ex-Chelsea man is now expected in July, four months into the campaign. However, optimists will point to Jermaine Jones, whose mid-season move to New England pushed the club towards the play-offs and eventually the MLS Cup final.
A successful season would help NYCFC rebuild the relationship with their fans. They need to foster trust once again and show they are not like the last satellite team planted into MLS by a foreign club, Chivas USA, who closed down last year.
Quizzes, features and footballing fun
Get the best features, fun and footballing frolics straight to your inbox every week.
Thank you for signing up to Four Four Two. You will receive a verification email shortly.
There was a problem. Please refresh the page and try again.