Overpaid and underplayed: what Mesut Ozil and Alexis Sanchez tell us about football's market problem
Two of the best-paid footballers in the world can't get into their respective teams' starting line-ups – but nor can they find new clubs. How did it happen?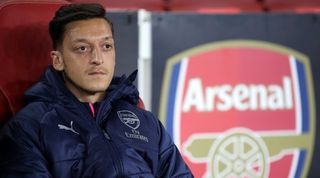 It never promised to be the happiest of reunions, even before one of the participants was ruled out. Mesut Ozil and Alexis Sanchez could have compared pay cheques and their impressions of the Premier League's various dugouts.
Yet if the Chilean seemed likelier to play when Arsenal host Manchester United on Sunday, it was only due to injuries. Then he was sidelined himself. Half of his goals this season have come at the Emirates Stadium, but he won't take to the field he graced in his days as the most coveted footballer in England.
Ozil, meanwhile – who has gone four months without a start against top-six peers – could be a spectator. The cameras might pan to him: Sanchez may at least be out of sight and, United could hope, out of mind.
Poor planning
Two of the world's 10 best-paid players rarely feature in their managers' strongest 11. The former team-mates are twinned as symbols of waste, the most high-profile examples of how easily the Premier League's vast income can be squandered. They are the faces of poor planning.
The pair have long had an emblematic element: firstly when Arsenal cast off the shackles of austerity to spend; then as they ran down contracts in seeming votes of no confidence for Arsene Wenger's crumbling empire; then when their signatures were presented as coups. Manchester United plucked the Chilean from under City's noses, while Arsenal kept a £42.4 million footballer who could have left for free.
Now the deals of January 2018 serve as examples of how not to run football clubs.
Sanchez looks in terminal decline. Ozil's technical skills offer more longevity, but Arsenal appointed a manager who doesn't want him. The midfielder is contracted until 2021; the winger until 2022. They represent issues that won't go away, drains on the wage bill for far into the future. Ozil may prevent Arsenal from buying; his earnings may have made keeping Aaron Ramsey unaffordable.
Who can sign them?
They are very modern phenomena, unshiftable footballers. These two aren't going anywhere. They are put out of the reach for the vast majority of even very wealthy clubs by colossal salaries; they are unlikely to attract offers from the select few who can afford them because they wouldn't get into their sides. While those involved tend not to be granted too much sympathy, they are prisoners of lucrative contracts – they and their employers trapped in dysfunctional relationships by disastrous decision-making that seem to render divorce a financial impossibility.
Even before the awkward question of who would want to sign them, there's an initial impediment: who even can? At the highest level, there are only a few potential buyers and they can be ruled out. Only one player in Italy – Cristiano Ronaldo – earns as much. Only the Paris Saint-Germain Galacticos do in France. Only those capable of starring for Real Madrid and Barcelona do in Spain. No one does in Germany.
Sanchez's salary exceeds those of Liverpool and Tottenham's best-paid players combined. He has half as many league goals this season as Lewis Dunk and Roman Saiss; one, to be exact. The footballing grounds to commit substantial funds to him have disappeared.
The usually upbeat Ole Gunnar Solskjaer was probably more enlightening than he intended to be last month. "I can't do anything about Alexis Sanchez," he said. If he was discussing performance levels, it has a wider truth. Barring a generous offer from China or an oil-rich league, Manchester United are surely stuck with Sanchez, and Arsenal lumbered with Ozil. They face unedifying choices: pay them not to play, pay them to go away, pay them to play for someone else. Because while a transfer fee can be waived, wages can't without a player's consent.
PSEUDONEWS Out-of-sorts Alexis Sanchez gamely battling to put shin pads on correctly
How the market went mad
If their contracts are a consequence of past excellence, they reflect the way that the football market has failed. Wage inflation has been the footballing version of Weimar Germany or Maduro's Venezuela; or more pertinently, of baseball's over-long deals that represent triumphs of agents – multi-year monstrosities that mean Alex Rodriguez, Albert Pujols and Robinson Cano were getting paid to decline, earning over $20 million a year into their forties.
If Wayne Rooney had the worst contract in football, United keeping him the best-paid player in the country when he was no longer a first choice, his old club have repeated that mistake. They are proof that a footballer's cost goes far beyond the transfer fee; it is an ongoing expense.
Clubs can fashion a cut-price exit when wages remain affordable. Manchester City paid a ludicrous £1.437 million for Steve Daley in 1979 and sold their disastrous British record signing a year later for just £300,000.
Fast forward to the modern day, and a new era of mushrooming fees dictate that any departure would come at a large loss: take Philippe Coutinho's £142 million move to Barcelona, or Kepa Arrizabalaga's £71.6 million transfer to Chelsea – each fee perhaps double what it should have been. United surely wouldn't recoup £52 million for Fred now but, without Sanchez-style wages, the list of possible destinations extends.
Some clubs, keen to offload, are successful. Chelsea did well, considering his age and temperament, to get £57 million for Diego Costa with so few potential buyers around. Factoring in Alvaro Morata's failure at Stamford Bridge too, £48 million for him also looks like good business. 
But at least there was a market, however small, for each. Ozil and Sanchez threaten to be unshiftable and unsellable, unwanted and often unused by clubs who committed too many millions in contract talks for others to take on that financial burden.
NOW READ THIS… How misunderstood Granit Xhaka finally found his place at Arsenal
Quizzes, features and footballing fun
Get the best features, fun and footballing frolics straight to your inbox every week.
Thank you for signing up to Four Four Two. You will receive a verification email shortly.
There was a problem. Please refresh the page and try again.