What's it like to be a big-money flop? Five players who've been there tell FourFourTwo...
From Akinbiyi to Veron, the players themselves explain what went wrong after their clubs spent big bucks on them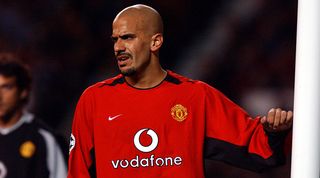 Words: Martin Mazur, Sam Rowe, Alex Holiga, Andy Greeves, Richard Edwards
Juan Sebastian Veron (Lazio to Manchester United, 2001)
Fee: £28.1m (in today's money: £51.4m)
Sir Alex Ferguson wasn't too pleased when, just 10 months after forking out a Premier League record £28.1m for Juan Sebastian Veron, it was suggested he was a transfer flop. "He's a f**king great player," the Scot growled as he stormed out of his press conference. "And you're all f**king idiots."
Still, there was no escaping the fact that, for all his past success in Italy and with the Argentine national team, Veron was struggling to live up to the billing at Old Trafford. So why didn't it work out?
"I don't make excuses," Veron tells FFT of his struggles in English football. "It was a new thing for me, even if I've always faced change with ease. My family was happy, I was happy.
"The real change was the physical aspect. I regard fitness training as a very important thing. I moved from a country with intense pre-season training to another where football matches are the only way they train. In England they play the whole year: Christmas, New Year, non-stop.
"The first six months I coped with it well – really well. But after December, it was very difficult for me to keep up. I would suffer from the lack of a fitness base, I wouldn't be able to last the whole game, and I would pick up injuries."
Still, there were some highlights. Veron scored the crucial fourth goal in United's memorable 5-3 comeback at Tottenham in September 2001, and was also imperious during the early stages of the Red Devils' Champions League campaign of 2002/03, before injuries struck again.
He also netted the goal that Ferguson later described as the best he'd ever seen ("It was a volleyed rabona in the air and it went directly into the top corner"). Sadly, it was only in a training session during a tour of the United States.
Things may not have gone to plan, but anyone who thought that Veron was the archetypal South American fancy dan desperate to get away from rainy Manchester would be dead wrong. The midfielder moved south to the newly monied Chelsea in summer 2003, but just couldn't settle in London.
"Looking back, I didn't make the right choice," he admits. "I should have stayed in Manchester. My wife left Manchester in tears. We were used to moving cities and I'd never seen her crying because of a move. I had talked to Ferguson and he had told me that he couldn't guarantee my spot in the team; that I had to earn it. And it was logical. I didn't think it through."
Ferguson hinted at one other reason for the Argentine's struggles at United in his 2014 autobiography. "He didn't speak the language," the Scot wrote. "He wasn't antisocial; he just wasn't a communicator. I'd come in for work: 'Morning, Seba'. 'Morning, Mister'. And that was it. You couldn't drag anything from him."
Perhaps he just didn't like all the swearing.
NEXT: "These days, if you score nine goals in the Premier League that's seen as not too bad..."
Juan Veron • Ade Akinbiyi • Bosko Balaban • Steve Daley • Luther Blissett
Ade Akinbiyi (Wolves to Leicester, 2000)
Fee: £5m (in today's money: £12m)
"At the time, the price tag didn't bother me. I'd established myself at Wolves and was doing well, but it wasn't me who named the price, it was the club, and Leicester wanted to pay that much for my services. £5m was a massive fee for Leicester at the time, and naturally they expected me to score a lot of goals to justify that.
"I really can't pinpoint why it didn't work out. I think it was the right time for Leicester to come and buy me, although maybe I could've done with another year at Wolves. But, of course, I wanted to play in the Premier League.
"I came in as Emile Heskey's replacement, but he is a different breed of footballer. He's big, strong and scores goals, but back then, if Heskey wasn't scoring a lot he could get away with it. He was the local hero. I was a different player – I'd be running in behind and trying to cause people problems. But Leicester looked at my record in the Championship and thought I'd come and do the same thing.
"The fans were supportive at the start. They want you to do well and they'll give you 10 games, but the longer it goes on, people start scratching their heads and ask if it was a waste of money. That's normal. I was ready for the criticism. I didn't do well, and fans pay their money so they've got the right to criticise, as we're getting paid to play football.
"Everyone was trying to support me, including other players and the manager – the last thing they want is a player in their side who's not playing well. I was doing extra training, and I was working so hard that I think the manager thought: 'He's training well; why isn't he doing it during a game?' I couldn't put my finger on it.
"I was 100 per cent fit and could run all day; I just wasn't scoring – like the game against Liverpool, where I was off target most of the time. I think it's confidence – part and parcel of sport or any type of work. Sometimes you can't focus or hit the target your boss wants you to.
"I remember ending my goal drought against Sunderland. It wasn't a great goal – it was really scrappy, to be fair – but just to see it go over the line was a weight off my shoulders. I did a mad celebration as I was just so happy, and I thought I could carry on from there.
"If I could turn back time I'd have thought more about it – whether it was the right time to move – but I have no regrets. It did change me, though. Once I left Leicester I had to work even harder for managers to believe in me.
"I scored nine league goals in the 2000/01 season. These days, if you score nine goals in the Premier League that's seen as not too bad. But back in the day, people expected a lot of goals from players like me. It didn't happen. It was more or less a waste of money, if you want to call it that."
NEXT: "I chose Villa because they offered me twice as much as anybody else..."
Juan Veron • Ade Akinbiyi • Bosko Balaban • Steve Daley • Luther Blissett
Bosko Balaban (Dinamo Zagreb to Aston Villa, 2001)
Fee: £5.8m (iIn today's money: £10.6m)
"I had other offers but I chose to join Villa because they offered me twice as much as anybody else," Bosko Balaban tells FFT some decade-and-a-half after John Gregory signed him. "I thought they must have really wanted me if they were prepared to pay that kind of money."
The Croatian striker arrived at Villa Park to much fanfare, with compatriot Davor Suker among those tipping him to be a huge success – although there was some cause for concern. Villa's last big-money import had been Colombian Juan Pablo Angel, who at that stage was struggling to justify his own £9.5m price tag. Still, this time they were determined to be patient. For a while, at least.
"John Gregory told me his plan was to slowly introduce me to Premier League football, step by step. I was fine with that because I was only 22 and there were three other strikers in the squad, so I knew I couldn't expect to get a lot of playing time right away. Then Mr Gregory left after only a few months, and it all went down the drain quickly after that. The new boss, Graham Taylor, gathered several players and told us that we would no longer be needed."
With four-and-a-half years left on his contract, Balaban felt he was being forced out having barely been given a chance to show his worth.
"I know I regularly get named on those lists of the worst signings or transfer flops of all time," Balaban grumbles, "but let me ask you this: whose flop was it, really? Was it mine, or was it Aston Villa's? I think it was the club's transfer policy that flopped.
"If you're a club that throws big money at signings and then doesn't let them actually play, the jokes should really be at your expense."
Balaban left Villa after a year, initially returning to Dinamo Zagreb on loan, before joining Club Brugge on a free transfer in 2003. At both clubs, he averaged roughly a goal every other game. Having played just 138 minutes of Premier League football over eight substitute appearances, it's little wonder he didn't do the same in England.
NEXT: "The referee came to me after the game and said he felt bad for sending me off"
Juan Veron • Ade Akinbiyi • Bosko Balaban • Steve Daley • Luther Blissett
Steve Daley (Wolves to Manchester City, 1979)
Fee: £1.4m (in today's money: £68.2m)
"Before the deal was agreed, a number of bids had been turned down by Wolves. I kept all the newspaper cuttings from around the time, which reflect how quickly my fee went up.
"Wolves started to negotiate with Manchester City around the £1 million mark. Then a bid of £1.2 million came in and was accepted. All the add-ons took the deal up to a very specific value of £1,437,500. The £500 was my fee as part of the deal!
"On my way back down the M6, having signed for City, me and my wife stopped at a motorway services and this guy spotted me. He said: 'I've just seen you on the telly. I don't envy you one bit.' He was referring to the transfer fee and the pressure that came with it. Looking back, it was a prophetic moment.
"I joined City at a transitional time for the club, when many experienced pros had left. Malcolm Allison was looking to me to help bring on the younger lads, but that was difficult when I hadn't even settled in myself. As the games went on, the fundamentals of my game started to go because the pressure of being a big-money signing started to affect me. When I was receiving a pass I was always thinking: 'I hope this doesn't bobble or go under my foot.'
"I can remember a game against Tottenham at Maine Road. Kevin Reeves whipped in the most perfect cross. I'm between the penalty spot and the six-yard box and all I need to do is make sure I head the ball firmly. Instead, I got only the slightest of touches on it and it went wide. The stick I got was unbelievable.
"The worst moment of all was at Brighton. We were losing 1-0 and I got sent off with about 15 minutes to go. We ended up winning 2-1. The referee came to me after the game and said he felt bad for sending me off. He had seen the look of dejection on my face. He added that the best thing I could do was go and play in the North American Soccer League, and that's what I did.
"I'm working harder now than I have done in my life. I do after-dinner speaking, and whenever I go back to Manchester City the reception I get from the fans there is incredible – in stark contrast with my football career!"
NEXT: "I had no real passion for winning matches with dull, defensive football..."
Juan Veron • Ade Akinbiyi • Bosko Balaban • Steve Daley • Luther Blissett
Luther Blissett (Watford to Milan, 1983)
Fee: £1m (in today's money: £28.4m)
"I was stunned that someone was prepared to pay that much for a footballer. Milan were basically paying £1 million for me to do something that I loved doing.
"Looking back, I don't think people remember my time there particularly fairly, to be completely honest. If you compare what I did there to what the likes of Ian Rush and David Beckham did in Italy, I think it's interesting that I'm the one portrayed as having had a negative experience.
"Over time, you come to realise that people recall what's put in front of them rather than what actually takes place – they don't bother to find out the reality for themselves most of the time. That's how it is – it's nothing for me to get annoyed about. Those who know me see my time in Milan as being exciting and positive.
"That's not just me being blinkered – it's what the facts bear out. Yes, I was a headline transfer and it obviously had a huge impact on Watford and their future, but the experience also added another dimension to my play.
"To say that something was going wrong at Milan would be inaccurate. It was different out there; the game wasn't played in the manner I had expected. I scored regularly in pre-season matches but once the league started, there was a real change in attitude. The style of football didn't promote the elements of my game that had brought me 33 goals – and the Golden Boot in Europe – the previous season.
"It was hugely frustrating. I had no real passion for winning matches with dull, defensive football. It was football without the entertainment value. A team such as Milan isn't going to adapt its style for one player – that should be the same no matter who you play for – and if a team isn't creating opportunities then you're simply not going to score goals.
"On a personal level, it had very little impact on me or my family. I didn't tend to read reports during my playing days; I always thought I, rather than journalists, was the best judge of whether I had performed badly or not. I was in Italy to do a job – the same job I'd done at any football club I've ever worked for.
"I've always been able to connect well with the community wherever I played or coached, and it was no different in Milan. The supporters out there are obviously some of the most passionate in the world, and it's fair to say I experienced the highs and the lows of that.
"What has really stuck with me is the amazing response I have received in the years since leaving Italy – not only the fact that my name eventually became adopted by The Luther Blissett Project [his name was adopted as a pseudonym by artists and activists], but also because I'm constantly asked to return.
"For me, what the move really re-enforced was that the Italians truly are the masters of defence. A season playing in Italy really hammered that home. I would love to have gone back four years later when the Italian game had evolved into a more attacking one, but would I change anything from my time there? Absolutely not. It was the experience of a lifetime and something I regard as an absolute honour to have achieved.
"It didn't change me as a person and I certainly didn't see it as a relief when I returned to Watford in 1984. I'm often asked whether the lack of Rice Krispies in Italian supermarkets was an issue for me after comments I made a long time ago. Come on! Sometimes as a footballer, a journalist will ask you a stupid question, so you give an appropriately ridiculous answer!"
Juan Veron • Ade Akinbiyi • Bosko Balaban • Steve Daley • Luther Blissett
Thank you for reading 5 articles this month* Join now for unlimited access
Enjoy your first month for just £1 / $1 / €1
*Read 5 free articles per month without a subscription
Join now for unlimited access
Try first month for just £1 / $1 / €1