Quiz! Can you name the last 50 scorers in Liverpool vs Chelsea matches?
​Ahead of the UEFA Super Cup final, we look back at past scorers in the fixture – going all the way back to April 2006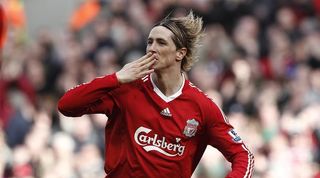 The Europeans take it seriously, apparently. They see the Super Cup as a Proper Trophy; the way people over 45 view the FA Cup here.
Perhaps Jurgen Klopp will instil that continental attitude into his team before tonight's fixture in Istanbul. More likely, though, is that the players will be fired up because of the two teams: Liverpool and Chelsea.
As we've covered before, Liverpool vs Chelsea has become something of a grudge match over the past few years. Familiarity has bred contempt, and the two sides have become very familiar indeed.
So how well do you remember these games over the past, oh, let's say 13 years?
We've got the last 50 players to score in this fixture for both sides. Mostly, it's not too hard – this is not a match used to seeing second-string sides, after all – but there are a few surprises in there (Kenny Dalglish's reign at Anfield got a bit weird).
Eight minutes on the clock, send us a screenshot of your score to us at @FourFourTwo to bask in the glory, and then challenge a mate you think will do worse than you. Afternoon sorted.
THEN TRY…
RETRO The last all-English Super Cup: remembering the country's most hated competition
GUIDE How to watch the Liverpool vs Chelsea UEFA Super Cup final
QUIZ! Can you name all 24 clubs to have won the UEFA Super Cup?
---
Quizzes, features and footballing fun
Get the best features, fun and footballing frolics straight to your inbox every week.
Thank you for signing up to Four Four Two. You will receive a verification email shortly.
There was a problem. Please refresh the page and try again.