Ranked! The 25 best World Cup players EVER
The finest players in the world sometimes don't quite manage to produce their best on the biggest stage of all. Others seem fired up by the global attention, playing in ways they never could for their club. Here are 25 of the tournament greats...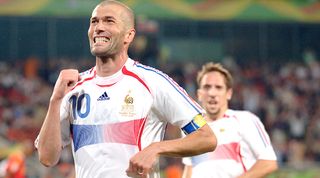 25. Gary Lineker
The England striker was perhaps not as technically gifted as many of the others on this list, but in the World Cup it's composure that counts. Lineker always seemed able to find space in the box to finish – no doubt aided by the blinding effect of that preposterous day-glo tan (making the most of his time at Barcelona).
He was the Golden Boot winner at Mexico 1986, and provided some of Italia 90's most memorable moments – including an equaliser against West Germany in the semi-final... and that glance to the bench after Paul Gascoigne's booking.
24. Roger Milla
According to his Wikipedia page, Milla holds the record for the longest penalty run-up, at 90 yards. Sadly that doesn't seem to be true, but there are plenty of ridiculous stories that are real about a true World Cup icon.
Milla was playing on the Pacific island of Reunion when he was called up to the Cameroon squad for the 1990 World Cup. He did help his side advance further than any other African team before them with four goals. He did return in 1994 and become the oldest goalscorer in World Cup history at the age of 42. He did, after retiring, imprison a team of pygmies in the basement of Cameroon's national stadium and force them to play in a novelty football tournament. Seriously. He should really be number one.
23. Rivaldo
It was hard to choose between Romario, Ronaldinho and Rivaldo. We've opted for the latter, because he played well in more than one tournament. Romario was the star of USA '94 but had been hampered by injury four years earlier. Ronaldinho was brilliant in 2002, as David Seaman will remember, but failed to impress four years later.
Rivaldo played a part in Brazil's run to the 1998 final, and then starred the show in 2002 by scoring five goals – including a memorable strike against Belgium as Brazil won their fifth World Cup. His performance was made all the more remarkable given the close shave with death he endured during the opening game against Turkey. So brave.
22. Paolo Maldini
The Maldini family are blessed with considerable defensive skill, but not much luck when it comes to the old Jules Rimet trophy. Cesare Maldini played in the 1962 World Cup for Italy, and was named in the team of the tournament, but his team crashed out in the first round.
His son Paolo fared a little better. Despite being one of the most elegant, composed defenders of his era and winning five European Cups, the World Cup eluded him – his first three tournaments ended in penalty shootout defeats, and the fourth to a golden goal. Perhaps one of his sons will have better luck.
21. Jairzinho
After Garrincha retired from football following the 1966 World Cup to concentrate on fathering illegitimate children, Jairzinho stepped into his right-wing berth for the 1970 World Cup – although positions didn't mean much in that free-flowing side. He was a formidable part of one of the greatest teams in World Cup history, combining speed, strength and skill.
Jairzinho scored in every single game of the tournament as Brazil romped to a famous victory.
20. Eusebio
The Mozambique-born striker only played in one World Cup, but it was a good one. He scored nine goals in 1966, including four against North Korea as Portugal famously came back from 3-0 down to win. That added to two goals in his first three games for the striker, whose acceleration and powerful strike made him difficult to play against.
He scored again as Portugal lost 2-1 to England in the semi-final. A total of nine goals won him the Golden Boot, and the adoration of English fans – to the extent that Madame Tussauds made a waxwork likeness of him immediately.
19. Lothar Matthaus
Maradona cites the German defender as the "best rival" he ever had; probably based on their clash in the 1986 World Cup Final, when Matthaus marked the Argentine out of the game – albeit not well enough to actually win the competition. The goalscoring midfielder played in five World Cups – a record for an outfield player, and captained his team to glory in 1990 when he was the driving force with dynamic, box-to-box runs.
18. Michel Platini
Platini joins the likes of Cruyff, Paolo Maldini and Roberto Baggio on the list of players who have shone at World Cups but have nothing to show for it. The future UEFA president made his World cup debut in 1978 but struggled to make an impact in a vital group game against Italy.
In 1982, he was part of France's Magic Square alongside Alain Giresse, Jean Tigana and Luis Fernandez – a quarter of talented midfielders who reached the later stages of two World Cups and won the European Championship.
17. Xavi
The pint-sized playmaker was the metronome to Spain's relentless tournament success, although the international brand of tiki-taka was, admittedly, a little less free-flowing than the Barcelona version. There were a lot of 1-0 wins, and long spells of possession, but Xavi was the man who helped make it all possible. He was expert at finding space in a packed midfield – setting up attacks with short, sharp passes.
In 2010, his third World Cup of four, Xavi completed more passes than any other player in the tournament and set up the winning goals in both the quarter-final and semi-final.
16. Ferenc Puskas
Before Wayne Rooney and David Beckham's metatarsals, there was Ferenc Puskas's ankle – a tabloid obsession way back in 1954, when an injury to the Galloping Major threatened the supremacy of Hungary's Magical Magyars. Puskas was their star – although he short and slow, he had a ferocious shot and scored 84 goals in 85 games.
Hungary lost just one game between 1950 and 1956 – unfortunately for them, the World Cup final, when Puskas played through the pain in a shock 3-2 defeat to Germany.
15. Fabio Cannavaro
Paolo Maldini's shoes are some pretty big ones to fill, but Fabio Cannavaro handled the role with aplomb after taking on the Italy captaincy after the 2002 World Cup. In fact, he outshone his former international team-mate in both caps and international honours.
The 2006 World Cup showed the centre-back at his composed and committed best. Along with Gianluigi Buffon, he was one of only two players to play every minute as Italy went through the whole tournament with only two goals conceded: one an own goal, and the other a penalty. A bewildering stint as a BBC pundit only enhanced his reputation in our eyes.
14. Carlos Alberto
He was the captain of the 1970 Brazil side often called the greatest team in history, but right-back Carlos Alberto is most fondly remembered for one thing, and one thing only. The goal. There's a tendency to romanticise footage of that era, and in a modern game, a wider camera angle would definitely lessen the impact of the Brazilian charging onto Pele's languid lay-off to thunder the ball home.
Yet, no matter how many modern screamers we see in glorious high-definition, Carlos Alberto will always be there – thundering down the right wing of our collective memories.
13. Paolo Rossi
There was a lot of weight on Rossi's shoulders going into the 1982 World Cup. He'd had his three-year ban for match-fixing cut to two years, thus returning conveniently in time to make the squad, but looked out of form and off the pace in the first group stage. Italy laboured through, and then when they faced Brazil in the second group stage, everything changed. Rossi scored after five minutes.
"I felt liberated," he wrote in his autobiography I Made Brazil Cry, "just like when one takes off soaking wet clothes." Rossi's eventual hat-trick helped Italy make the semi-finals, and he added two more against Poland, plus a goal in the final against West Germany. He won the Golden Ball, Golden Boot and the Ballon d'Or – not bad for a player who'd started the season with a ban.
12. Lev Yashin
The Russian goalkeeper was one of the stars of the 1958 World Cup; the first to be televised globally. Yashin's habit of dressing entirely in black earned him the nickname 'The Black Panther', and he certainly had a knack for pulling off heroic saves. His performance in a 2-0 defeat to eventual winners Brazil captured the world's attention, and in 1966 he helped the Soviet Union finish fourth – their best ever performance.
He was ahead of his time when it came to organising a defence, often barking out orders and rushing off his line to close down attacks. He's still the only goalkeeper to win the Ballon d'Or (in 1963).
11. Gerd Muller
Germany do a good line in goal-poaching forwards who come alive during tournaments. Before Miroslav Klose there was Gerd Muller, who scored 14 goals in 13 World Cup games and sits behind only Klose and Ronaldo in the all-time rankings. He was short and stocky, but possessed a prodigious leap and the instincts to finish from close range.
At the 1970 World Cup, he banged in two hat-tricks and 10 goals in total to win the Golden Boot. In 1974, he scored the winner to help an unfancied West German side overcome Johan Cruyff's Holland in a shock final result.
10. Johan Cruyff
One of the few players on this list without a World Cup winner's medal, but that hasn't tarnished Cruyff's legacy. The Netherlands had a formidable squad in the Total Football era, but it all seemed to flow through Cruyff - the side's beating heart. He was technically brilliant and full of imagination – as best evidenced by the eponymous turn with which he fooled Swedish defender Jan Olsson in the group stage (a 0-0 draw, in the end).
Holland romped to the final but got too cocky after going ahead in the second minute. According to football writer Brian Glanville, they were content to "roll the ball about in pretty patterns". That was Cruyff through and through. Although he captured the imagination with his playing style and outspokenness, he was unable to vindicate his brilliance with a World Cup medal – he didn't appear at another, missing out on 1978 due to a kidnapping attempt on his family.
9. Zinedine Zidane
There's a general rule of thumb with France in international tournaments: a promising performance where they fulfil their promise will, inevitably, be balanced out by an absolutely insane outing – usually culminating in Patrice Evra getting sent home for fighting. Zinedine Zidane is the living embodiment of that rule. They should name it after him.
In 1998 – after some early controversy and a red card against Saudi Arabia – he stayed cool under pressure and scored twice to help Les Bleus brush Brazil aside in the final. In 2006, he seemed set to repeat the feat: Zidane scored an ice-cold penalty to put the French 1-0 up against Italy, before instigating one of the most dramatic sporting moments of all time; that textbook headbutt on Marco Materazzi. Zizou really could do it all.
8. Just Fontaine
Unless Mo Salah carries his Liverpool form into this summer's World Cup – and assuming the injury gods are kind – Fontaine's record looks pretty safe for the time being. At the 1958 World Cup, the Morocco-born French forward scored 13 goals in six games, including four against defending champions West Germany.
That single tournament – at which he formed an effective partnership with Poland-born Stade de Reims colleague Raymond Kopa – is enough to put him fourth on the all-time scorers list. He scored in every game he played but, thanks to a strange voting system, still didn't make it into the team of the tournament.
7. Garrincha
When Pele limped off in the early stages of the 1962 World Cup, Garrincha – the 'Little Wren' stepped into the fold. They were polar opposites. While fans nicknamed Pele 'The King,' Garrincha was 'The Joy of the People' for the carefree way he played, twisting and tormenting defenders with the help of a genetic trait that left him with crooked legs.
At 25, the 1962 World Cup was the peak of his playing career – he scored four to help Brazil win the tournament, but burned out soon after due to alcoholism and a life of excess.
6. Cafu
With Dani Alves out for the 2018 World Cup, Brazil are facing their biggest dilemma at right-back since 1994. Back then, relatively untested right-back called Cafu came on as a substitute for the injured Jorginho early on in the World Cup final. He went on to become his country's most-capped player, steering them to two more World Cup finals over a 16-year international career that saw many shifts in Brazil's playing style.
Regardless of what he was asked to do by various managers, Cafu was energetic and dynamic going forward, and – unlike the free-kick-smashing lunatic on the other wing – he could actually defend a bit, too.
5. Franz Beckenbauer
Der Kaiser played in three World Cups, and never finished lower than third. A classy, cultured sweeper in an era when pitches and permissive refereeing made that a lot harder (John Stones would have been eaten alive) – Beckenbauer first came to prominence in 1966, scoring five times as West Germany reached the final.
He possessed a powerful strike from distance, which he demonstrated four years later when the Germans enacted a measure of revenge by sending England home early with a suitcase full of nicked jewellery. By 1974 he was captain, and finally got his hands on the trophy by keeping Johan Cruyff's Dutch side at bay in the final. Well deserved.
4. Ronaldo
If not for the strange happenings on the night before the final in 1998, Original Ronaldo could have three World Cup winner's medals. The striker went to the World Cup in 1994 without playing a single minute – his presence would certainly have improved a tournament that was light on goals. Four years later he was the best player in the world – pacey, powerful, frightening to play against.
He was brilliant – scoring four and making three as Brazil zoomed to the final, but they lost 3-0 to hosts France with the striker a shadow of his usual self. A serious cruciate injury kept him out of Brazil's entire qualification campaign for 2002, but he arrived in Asia with some wrongs to right, and a haircut you'd expect to wake up with after falling asleep drunk at a house party (earlier this year he said the haircut was a deliberate ploy to distract people from his injury – it worked so well we wonder if other players have been doing this). Only England managed to keep him out – Ronaldo scored in every other game, including two in the final against Germany.
3. Miroslav Klose
He'll be there. Sure, Klose may technically be 'retired', but FFT remains convinced that he'll find a way onto the pitch in Russia – probably when Germany are on the hunt for a late goal in the semi-final, to poke the ball home from two yards. They might call Ronaldo O Fenomeno, but it's Klose who is the real phenomenon – he's the World Cup's leading goalscorer, with 16 goals (from a combined distance of about 12 yards), and the only player in tournament history to appear in four consecutive semi-finals.
There was nothing particularly remarkable about the former Lazio and Bayern Munich striker's play, but the tournament stage seemed to make him come alive.
2. Pele
He scored eight million goals for Santos, but Pele's global reputation is built on his performances in the World Cup. His first was in 1958, as a 17-year-old, when he was the youngest player in the tournament. His exploits during that showpiece included a semi-final hat-trick and two goals in a romping victory against the hosts Sweden in the final. Injuries kept him from contributing fully to Brazil's next two World Cup outings, so it was 1970 – his fourth World Cup, where the Brazilian really cemented his status as one of the greatest players ever to grace football's premier competition.
He was powerful, clinical and imaginative – during the 1970 World Cup he almost scored from the halfway line, and produced a memorable moment of quick thinking against Uruguay when he allowed a through-ball to run past the onrushing goalkeeper to the left, as he ambled around to the right.
Unbefitting, for someone who scored 12 World Cup goals, his two most iconic moments are both misses – he dragged that chance against Uruguay wide after rounding the goalkeeper without touching the ball, and then saw that header famously saved by Gordon Banks. If you watch it back now, it doesn't seem that remarkable – but its enduring appeal shows how good Pele was – it was if Banks had performed a miracle by stopping him.
1. Diego Maradona
In 2000, FIFA conducted a public poll to determine the best player of the 20th century. Diego Maradona won more than 60 per cent of the votes, but someone in Geneva clearly thought crowning an overweight former cocaine addict with a penchant for trickery was a bit too on-brand for FIFA. So they cooked up another award, decided by journalists – and split the prize between Maradona and Pele.
They are difficult to split, but most polls seem to come to the same decision in the end. It's an old argument, but here it is again: Pele might have won more World Cups than Maradona, but he never single-handedly dragged, dribbled and punched a team all the way to glory like the little Argentine did in 1986. Sure, the Brazilian also never got sent home for failing a drugs test - although in 2008, Wada did consider adding Viagra to the list of banned substances, so maybe his timing was just better.
World Cup Wonderland: stories, interviews and more
Thank you for reading 5 articles this month* Join now for unlimited access
Enjoy your first month for just £1 / $1 / €1
*Read 5 free articles per month without a subscription
Join now for unlimited access
Try first month for just £1 / $1 / €1
Get FourFourTwo Newsletter
The best features, fun and footballing quizzes, straight to your inbox every week.