Ranked! Every football kit at the 2022 World Cup
Contributions from
published
We've gone through every 2022 World Cup football kit and ranked them from the bad to the beautiful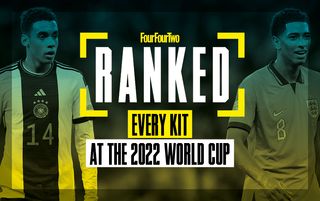 (Image credit: Future)
We asked our team at FourFourTwo to rank every football kit at the 2022 World Cup from one to 10 – and we had no idea what would come out on top.
Because while the likes of Pele and Maradona, Zidane and Cruyff are icons of World Cups of yore, so are the jerseys they donned – and everyone has a different favourite. What makes a football shirt great is so incredibly subjective that it's plainly impossible to pick a top we all agree on.
That won't stop us – it certainly didn't when we ranked the Premier League kits, either. We crunched our scores and came up with the definitive ranking of every top at the 2022 tournament – where's your favourite on our list? Here's the complete line-up for Qatar in alphabetical order, in case you wondered.
Every football kit at the 2022 World Cup ranked from worst to best:
62. Switzerland away
You're going to see a few of these. Puma have looked to revolutionise the away kit this year by adding embellishments that frame the shirt number on the front of their away shirts, in a bid to do something different that stands out from your average change strip.
Bottom of our particular pile comes the Swiss option, which looks a lot like one of those "Hello, my name is" sticks. Spoiler: none of these ones are highly rated.
61. Serbia away
Another of Puma's experimental away shirts, this time taking the regal gold from Serbia's home jersey and repurposing it as a Christmas decoration on the otherwise pristine white base. It's unlikely to stop Aleksandar Mitrovic in current form, however.
60. Belgium home
To people of a certain age in the United Kingdom, fire graphics on black material is most commonly associated with the shirts that boys wore to Year 5 discos.
Adidas has reappropriated that idea for the Belgium home kit. We've genuinely never seen it before at a World Cup – but at least it makes the players go faster.
59. Canada away
The only one of Nike's countries not to receive a new shirt for the World Cup – and Canada are making their first appearance since 1986. When Jonathan David scored wearing this one back in September, he celebrated by hiding the Nike logo (opens in new tab) in protest.
A plain white tee has no business at a World Cup of fire sleeves, Aztec patterns and whatever Puma are doing. This one was marked down for dullness.
58. USA away
Those pesky Americans, always trying to reinvent the beautiful game. Swooshes on the sleeves? What next? The team name branded across the front of the shirt? Oh wait, Puma has already done that before…
57. Morocco away
White, green and red, the traditional Moroccan colours – yet unfortunately, it's still got that strange new trend of framing the number. It looks doubly silly if you buy this shirt without a number on the front.
56. Costa Rica home
New Balance are only making the shirts for Costa Rica at the World Cup – and this tournament sees them simplify the formula for something a little more minimal than some of the CONCACAF minnows' previous efforts. It's sleek and plain, if nothing else.
55. Ghana away
The Black Stars' away shirt from 2020 was one of our favourite international shirts of all time – really – so the bar for this one was unbelievably high. This one is going to divide opinion with Ghanaians but at least it's not boring…
54. England home
It's divisive, we'll give it that. Nike have followed up the classic of Euro 2020 with something that's inspired (in colour, at least) by Euro 96, with giant gradients on the shoulders and a heavy metal-style typeface for the shirt numbers.
Suffice to say, it's not unanimously won over the FFT office just yet. Still, if football comes home just before Christmas, you can bet your bottom dollar that we'll all be rushing out to check there any of these left in stock.
53. Portugal home
Nike are often ahead of the curve, remixing icons that we know and love into something fresh and thrilling. Yet the Portugal home shirt for 2022 is one that we're not quite sold on yet.
Perhaps it's a grower… it just feels a little too Monaco right now.
52. Ghana home
A little like Canada's away shirt, there's nothing wrong with Ghana's home top. There's also nothing that particularly grabs the attention.
Puma have gone from one extreme to the other for the Black Stars this time, haven't they?
51. Iran away
That green gradient over the chest feels very noughties and isn't quite faded into the green of the top. Fair play on manufacturers, Majid, for doing something eye-catching, though.
Thank you for reading 5 articles this month* Join now for unlimited access
Enjoy your first month for just £1 / $1 / €1
*Read 5 free articles per month without a subscription
Join now for unlimited access
Try first month for just £1 / $1 / €1