Ranked! Every Premier League champion by their winning points margin
Sorting out the most convincing Premier League title wins to the closest, FourFourTwo uncovers which team amassed the most points over their closest rivals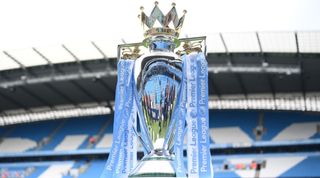 (Image credit: Getty Images)
Becoming Premier League champion is simply all that matters, but some teams have done it in more convincing fashion than others, while most have left it until the final weeks, game or even minutes to grasp the trophy.
But how does each champions compare to title winners since the Premier League's inception in 1992?
FourFourTwo takes a look, uncovering which side won the title by the largest margin...
30. Manchester City, 2011/12 (0 points, +8 GD)
Sergio Aguero's last-gasp strike against Queens Park Rangers was the most decisive goal in Premier League history, moving Manchester City level on points with Manchester United with just seconds of the 2011/12 campaign remaining.
Roberto Mancini's side had a superior goal difference to their arch-rivals, allowing them to triumph by the finest margin in Premier League history.
29. Arsenal, 1997/98 (1 point, -12 GD)
It could all have been very different for Arsene Wenger's Double winners of 1997/98: Arsenal were sixth in the Premier League table on Boxing Day and needed a penalty shoot-out to avoid a humbling defeat by Port Vale in the third round of the FA Cup a few weeks later.
A superb New Year run of 13 wins in 14 games saw the Gunners climb above Manchester United, although they only finished a point clear of Alex Ferguson's men following back-to-back losses at the end of the season.
28. Blackburn, 1994/95 (1 point, -8 GD)
Blackburn almost blew their Premier League title tilt at the death, losing 2-1 to Liverpool on the final weekend of 1994/95. But thankfully for Kenny Dalglish's side – and the masses at Anfield – Manchester United concurrently suffered defeat by West Ham, gifting Rovers their first ever championship.
In the end it came by just a solitary point, and with Blackburn possessing an inferior goal difference to the reigning champions.
27. Manchester United, 1998/99 (1 point, +1 GD)
Manchester United's 1998/99 vintage are widely regarded as among the best teams in Premier League history, but that may have more to do with their exploits in the Champions League than England's top flight.
Indeed, United pipped Arsenal to the crown by just a single point, profiting from the Gunners' 1-0 loss to Leeds on the penultimate weekend.
26= Manchester City, 2018/19 (1 point, +5 GD)
Manchester City amassed the second-highest points tally in English top flight history in the 2018/19 campaign, yet their margin of victory was slender thanks to a phenomenal effort from runners-up Liverpool.
City's 98 points ultimately won out, while Pep Guardiola's side also enjoyed a marginal advantage on goal difference. Liverpool's wait for a first title of the Premier League era would go on…
26= Manchester City, 2021/22 (1 point, +5 GD)
Once again, Manchester City were challenged all the way until the final whistle of the 2021/22 season by Liverpool, the Reds even having the trophy in their grasp at one moment on the last day of the campaign. With City 2-0 down at home to Aston Villa, they rallied to come behind, winning the game - and title - thanks to an Ilkay Gundogan strike.
City scored 99 goals that season, conceded just 26 and amassed 93 points - a sublime return considering their exploits in consistently churning out results.
24. Chelsea, 2009/10 (1 point, +13 GD)
Carlo Ancelotti's free-scoring entertainers broke the 100-goal barrier in 2009/10, but they only narrowly beat Manchester United to the title.
The Blues dropped to third following a draw with Blackburn in March, before collecting 21 points from the last 24 available – a run which included 5-0, 7-1, 7-0 and 8-0 victories – to overcome United's challenge.
23. Manchester City, 2013/14 (2 points, +14 GD)
Liverpool were in the ascendancy in the race for the 2013/14 crown, only for a 2-0 home defeat by Chelsea to hand Manchester City the advantage late on.
Manuel Pellegrini's men held their nerve, beating Aston Villa and West Ham in the final week of the season to finish on top of the pile. Liverpool's infamous collapse against Crystal Palace – the Reds shipped three second-half goals at Selhurst Park to draw 3-3 – helped City triumph by two points.
22. Manchester United, 2007/08 (2 points, +19 GD)
Arsenal, Chelsea and Manchester United finished within four points of each other in 2007/08, but it was the latter who scooped the prize.
Alex Ferguson's men reclaimed top spot after beating Derby in mid-March; from that point onwards no other side occupied first place. They sealed their success with a 2-0 defeat of Wigan on the final day, finishing two points clear of second-placed Chelsea.
21. Manchester United, 2008/09 (4 points, -6 GD)
Manchester United's third consecutive title was won by a four-point margin, despite the Red Devils being outscored by runners-up Liverpool. Rafael Benitez's side only lost two games all season – United were beaten four times – but 11 draws proved costly.
Liverpool's 4-1 victory at Old Trafford lives on in the memory, but United were magnificent in the second half of the campaign, winning 20 of their last 22 encounters to hold off their arch-rivals.
20. Manchester United, 1995/96 (4 points, +9 GD)
Newcastle famously threw away a 12-point advantage in 1995/96, with a run of five defeats in eight games proving costly. United took full advantage, winning 13 of their final 15 contests to leapfrog Kevin Keegan's side at the summit.
That Newcastle team are remembered as a gung-ho attacking force that didn't have sufficient balance to win a championship. In fact, the Magpies conceded only two more goals than Alex Ferguson's victors and scored seven fewer.
19. Manchester United, 2002/03 (5 points, -3 GD)
United started slowly in 2002/03, winning just two of their opening six fixtures and only climbing as high as fifth by the end of November. Alex Ferguson's side gradually took control of the division, though, and ultimately finished a reasonably comfortable five points clear of Arsenal.
The Gunners scored 11 more goals than United and finished the campaign with a better goal difference, but their failure to beat their closest challengers at Highbury in April proved fatal to their title chances.
18. Manchester United, 2006/07 (6 points, +16 GD)
A 2-0 victory over Newcastle at the beginning of October 2006 moved United top of the table, and that's where they remained until the conclusion of the campaign.
Chelsea chopped United's lead to three points in April, only to squander their chances of a third successive Premier League crown by drawing each of their final five fixtures. United lost to West Ham on the final day but still accumulated six more points than the defending champions.
17. Chelsea, 2016/17 (7 points, -8 GD)
No one could have known what lay ahead when Antonio Conte switched to a 3-4-2-1 formation during a defeat by Arsenal in September 2016. It proved to be the most decisive tactical move in Premier League history, as Chelsea went on to win 13 games in a row to storm to the top of the table.
And that's where they stayed. Conte's men were remarkably consistent from October onwards, and although they lost three times after Christmas, the destination of the title was never in doubt.
16. Manchester United, 1996/97 (7 points, -1 GD)
Having come close to their first league title since the 1920s the previous year, Newcastle also finished as runners-up to United in 1996/97. They never really came close to toppling Alex Ferguson's men, though – and neither did Arsenal nor Liverpool, who finished level on points with the Magpies.
United finished with seven more than the lot, despite conceding more goals than each member of the 68-point quartet.
15. Arsenal, 2001/02 (7 points, +6 GD)
Arsenal failed to win seven of their first 12 games in 2001/02, a stretch which appeared to extinguish their title chances early on. They were still fourth following victory over Everton in mid-February, before racing clear of Liverpool and Manchester United after winning their final dozen matches.
That was enough for Arsene Wenger's charges to finish seven points clear of Liverpool, who also finished the season strongly but had already given themselves too much to do.
14. Chelsea, 2014/15 (8 points, -4 GD)
Jose Mourinho's side were spoken of as champions-in-waiting ever since they beat Burnley on the opening weekend of the 2014/15 campaign. Chelsea played some excellent attacking football prior to Christmas, before tightening up in the second half of the season to hold the chasing pack at arm's length.
Manchester City came closest to denying the Blues the title, but even they couldn't muster a consistent challenge. A 3-1 final-day triumph over Sunderland ensured Chelsea finished eight points in advance of Manuel Pellegrini's men.
13. Chelsea, 2005/06 (8 points, +12 GD)
Chelsea successfully defended the Premier League title in 2005/06, collecting eight more points than second-placed Manchester United.
The Red Devils scored the same amount of goals as Jose Mourinho's title-winners, but it was the Blues' defence that got them over the line: Chelsea's backline was breached just 22 times, and they didn't concede their first goal of the campaign until matchday seven.
12. Manchester United, 1993/94 (8 points, +15 GD)
Having finished fourth in the inaugural Premier League campaign, Blackburn made progress by ending 1993/94 as runners-up. They never really got close to United, however, with Alex Ferguson's men taking eight more points than Rovers from their 42 encounters.
Indeed, United were the only club to occupy top spot from August 23 onwards. They may have lost at Ewood Park and drawn with Blackburn at Old Trafford, but the Red Devils were simply too strong for Kenny Dalglish's side.
11. Manchester United, 2010/11 (9 points, +5 GD)
The biggest battle towards the top of the Premier League in 2010/11 was fought between Chelsea and Manchester City for second, a contest ultimately won by the former on goal difference.
Neither side truly threatened Manchester United, who strolled to yet another league title. Alex Ferguson's men finished the year nine points better off than both Chelsea and City after winning the most games (23) and losing the fewest (four).
10. Leicester, 2015/16 (10 points, +3 GD)
This may have been the most extraordinary title triumph in English football history, but it was also one of the most comfortable of modern times. It didn't necessarily seem that way at the time, but Tottenham's late-season collapse allowed Leicester to finish 10 points clear in first place.
Claudio Ranieri's men were remarkably steely in the run-in, winning five consecutive games without conceding in March and April to steal a march on their more fancied rivals.
9. Manchester United, 1992/93 (10 points, +19 GD)
Manchester United were languishing in 10th place following defeat by Aston Villa in November, and their hopes of a first league title under Alex Ferguson appeared as good as over. Soon after they acquired Eric Cantona from Leeds and set off on a superb run that saw them lose just two of their remaining 27 matches.
Meanwhile Norwich and Aston Villa fell away – the latter lost their last three games – as United coasted home to finish on top of the pile in the Premier League's inaugural campaign.
8. Manchester United, 2000/01 (10 points, +23 GD)
Manchester United also finished 10 points clear in 2000/01, when they possessed the best attacking and defensive records in the division. Arsenal simply couldn't keep pace with Alex Ferguson's side, who would have finished even further ahead had they not lost their final three games to Derby, Southampton and Tottenham.
Ferguson would have been frustrated with the way his team took their foot off the gas, but United were vastly superior to the competition as they won their third title on the bounce.
7. Arsenal, 2003/04 (11 points, +10 GD)
While it's true that Arsenal's Invincibles drew almost a third of their games in 2003/04, they were still by far the best team in the division. That's reflected in the numbers, with Arsene Wenger's men racking up 11 more points than second-placed Chelsea.
The Gunners also scored the most goals and conceded the fewest on their way to making history, as Chelsea were left to lament avoidable slip-ups against bottom-half sides such as Everton, Blackburn and Leeds.
6. Manchester United, 2012/13 (11 points, +11 GD)
Manchester United's 2012/13 iteration has been described as one of the weakest of Alex Ferguson's tenure, but they nevertheless managed to finish further clear of their title rivals than 23 Premier League champions.
A Robin van Persie-inspired United scored a division-high 86 goals, which was sufficient for them to ease ahead of the chasing pack despite the fact that Manchester City, Chelsea and Arsenal each had better defensive records.
5. Chelsea, 2004/05 (12 points, +6 GD)
This Chelsea team are often spoken of as one of the best in Premier League history, yet they still seem a little underrated. After all, Jose Mourinho's side lost just one game and conceded only 15 goals, a preposterously good record that no one else has come close to matching (the current Liverpool side have let in the same amount with 12 games remaining).
Arsenal finished a distant second, 12 points adrift of the champions despite scoring 15 more goals.
4. Manchester City, 2020/21 (12 points, +22 GD)
Without any real competition, Manchester City won the league at a canter in 2020/21. Their neighbours Manchester United were the closest challengers, but never looked like taking the title to the red side of the city, despite topping the table in January.
With Liverpool suffering after an imperious season beforehand, and fans still not back in the stadium, Manchester City asserted their dominance on a poor league by scoring the most and conceding the fewest.
3. Liverpool, 2019/20 (18 points, -15 GD)
Liverpool's only Premier League title was one of the most dominant, their incredibly assembled team and Jurgen Klopp sweeping every side before them with ease and comfort. Of course, Jordan Henderson had to lift the trophy on the Kop, without any fans in attendance due to the Covid-19 pandemic, but that barely took away from the spectacle of witnessing Liverpool storm to 99 points.
Interestingly, Manchester City scored 102 goals, an incredible amount, but failed to deliver in every game across the season as they lost nine games, compared to Liverpool's three.
2. Manchester United, 1999/00 (18 points, +22 GD)
Given that they won the three biggest competitions they entered, it was nigh on impossible for United to beat their 1998/99 season the following year. They were certainly a better Premier League side in 1999/00, though, winning the title by a sizeable margin of 18 points.
Alex Ferguson's men were relentless, finding the net 97 times and scoring four goals or more on no fewer than 10 occasions. Second-placed Arsenal, the defending champions, couldn't get close.
1. Manchester City, 2017/18 (19 points, +39 GD)
Manchester City broke numerous records in 2017/18: most points (100), most wins (32), most goals (106), best goal difference (+79), most consecutive wins (18) and biggest margin of victory (19 points).
Pep Guardiola's charges were sensational throughout the Catalan's second season at the helm, dominating the division to an extent that had never been seen before. City won't win the title this term, but they will no doubt be attempting to protect as many of the above records from Liverpool as possible.
Thank you for reading 5 articles this month* Join now for unlimited access
Enjoy your first month for just £1 / $1 / €1
*Read 5 free articles per month without a subscription
Join now for unlimited access
Try first month for just £1 / $1 / €1
Get the FourFourTwo Newsletter
The best features, fun and footballing quizzes, straight to your inbox every week.
Greg Lea is a freelance football journalist who's filled in wherever FourFourTwo needs him since 2014. He became a Crystal Palace fan after watching a 1-0 loss to Port Vale in 1998, and once got on the scoresheet in a primary school game against Wilfried Zaha's Whitehorse Manor (an own goal in an 8-0 defeat).