Six French freebies for Premier League clubs this summer
Andrew Gibney picks out a sextet of stars available for nothing in the transfer window...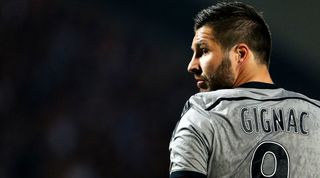 Everyone loves a bargain, and no one more so than a football chairman. And if they're free? Huzzah! This summer there are a number of players coming to the end of the their current contracts in Ligue 1 who could be excellent picks for Premier League clubs during the transfer window...
André Ayew (25, Marseille)
One of l'OM's longest-serving players who followed in the footsteps of his father Abedi Pele, Ayew has been a fantastic servant for the club.
On the last day of the season he played his final game against Bastia. All through the week it had been reported that a foot injury would rule him out of the game, taking away his well-earned goodbye.
But typically, Ayew fought off the pain and played the full 90 minutes – a perfect example of the passion and desire he's shown for his club.
Ayew is a versatile forward who can play all over the attack. He's very underrated in the air, while his pace and strength make him a nightmare to defend. His ability both off and on the ball would be perfectly suited to life in the Premier League.
Linked with: Liverpool, but they'd better get in quick – Ayew's agent claims he's off to Italy. "I know Ayew has an agreement with Roma which is linked to the team's achievement of a Champions League place," revealed the Ghanaian's representative.
Yoann Gourcuff (28, Lyon)
When historians look back on French football, Gourcuff will be remembered mostly for being a player who offered so much, but delivered very little.
His big-money move from Bordeaux to Lyon never quite worthwhile as the former France international was dogged by constant injury problems. The 28-year-old managed 24 appearances in his first season with Lyon, but never managed over 20 in any of the following seasons.
Gourcuff's contract is now up, and there is a majestically talented player just waiting for a final swansong.
For Lyon he would often string a few games together and conjure brilliance: those deft touches, the movement and graceful style that drew everyone in the first time around. Then another injury would deny fans the joy of watching him glide around the pitch for a few weeks.
If – and it's a big if – you can keep Gourcuff fit, he could make the most normal team a very good one.
Linked with: "At least 10 clubs" says his agent, with Arsenal and Liverpool thought to be among them.
Andre-Pierre Gignac (29, Marseille)
Under the guidance of hipster favourite Marcelo Bielsa, Gignac has had a fire lit beneath him this season. Scoring 10 goals in his first 10 games of the season helped Marseille fly to the top of Ligue 1.
The burly striker would finish the season on 21 – his best-ever return for Marseille – and it's fair to say he'd be an excellent free transfer for someone. Gignac's style is something akin to an old-fashioned English No.9, which he mixes with a touch of French stubbornness and panache.
He is a bulldozer with the ball at his feet, and once he picks up a head of steam it's difficult to put the brakes on. The 29-year-old likes to peel wide and come in off the touchline, but when the ball is loose inside the penalty area, Gignac is a predator and would easily score over 10 goals a season in the Premier League.
Linked with: (Deep breath) Tottenham, Liverpool (yes, them again), Newcastle, West Ham, Southampton, West Brom, Fiorentina, Dynamo Moscow, Montpellier.
Christophe Mandanne (30, Guingamp)
Back in 2013, Guingamp enjoyed success through the excellent duo of Didier Drogba and Florent Malouda.
This season, Claudio Beauvue's 17 goals have seen him linked with a move to England, but a lot of credit has to go his partner Mandanne. The 30-year-old Frenchman scored 11 goals and added three assists. He is an intelligent forward, makes well-timed runs and seems to have a knack of popping up in the right places at the right times.
Beauvue caught the headlines, but Mandanne's excellent season would make him a no-thrills, no-risk signing this summer – especially for clubs at the bottom end of the Premier League table that don't want to spend big this summer.
Linked with: Al-Fujairah in the UAE.
Dimitar Berbatov (34, Monaco)
Premier League fans know all about the abilities of Berbatov, but during his 18 months in Ligue 1 the Bulgarian has shown that he can still perform on the big stage. The 34-year-old picks and chooses the moments when he wants to make an impact, as Arsenal discovered in the Champions League when he decided to put in an outstanding performance at the Emirates Stadium earlier this season.
His seven goals in 18 starts for Monaco helped them finish third, but it was his presence and experience – which helped aid the development of Anthony Martial – that also played a huge role.
Linked with: Bournemouth, incredibly. FFT gives that a big thumbs-up.
Mouez Hassen (20, Nice)
Down in the south of France, they know a thing or two about developing goalkeepers. Tottenham's Hugo Lloris was replaced at Nice by Arsenal's David Ospina, and in turn the Colombian's position was taken up by young Mouez Hassen.
After just five appearances last season, the then-19-year-old was handed the No. 1 shirt at the Allianz Riviera. He played 30 games for Nice, and although there have been ropey moments, Hassen has shown promising signs that he can become a very good young goalkeeper.
"It makes you want to work more and to reach their level," he said of his predecessors. "I'll try to follow their path hoping 'why not do a little better?' Although it will be difficult, they are already at the max."
The chance to swoop for a France youth international who comes from the same stock as Lloris and Ospina, and who could become a talented shot-stopper in a few years, is one worth taking interest in.
Linked with: No one as of yet, it seems.
Thank you for reading 5 articles this month* Join now for unlimited access
Enjoy your first month for just £1 / $1 / €1
*Read 5 free articles per month without a subscription
Join now for unlimited access
Try first month for just £1 / $1 / €1
Get FourFourTwo Newsletter
The best features, fun and footballing quizzes, straight to your inbox every week.