Sorry Gareth, you're bang wrong – but who really would make a combined Madrid XI?
Real Madrid's Welshman claimed this week that no Atleti player would get in Zinedine Zidane's side, so David Cartlidge got his blackboard out and did the math...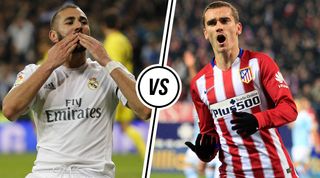 Jan Oblak vs Keylor Navas
Oblak's impeccable clean sheet record is not only a result of having an excellent defence in front of him, but also by virtue of his own merit. The Slovenian, who recorded an astonishing 24 shut-outs in La Liga this term, uses every inch of his frame superbly. This is largely down to his footwork, as he moves adeptly both as a shot-stopper and a cross-claimer. Navas is limited in this sense: he may be fantastic at keeping efforts out, but he's often uncertain when it comes to plucking the ball from the air.
Winner: Jan Oblak
Juanfran vs Dani Carvajal
Probably one of the toughest calls in the XI. Both are similar in style, using their motor to cover the flanks and contributing in both phases of play. Carvajal can deliver a mean cross from wide areas, while Juanfran is adept at linking well with his midfielders in combination play. The two are difficult to separate, but Juanfran edges it: he's the more experienced player and rarely makes an error these days. Carvajal's still learning, albeit while making great progress.
Winner: Juanfran
Diego Godin vs Pepe
Godin is the best centre-back in the world but still probably doesn't get the praise he merits. Maybe that's because of his style: combative and unrelenting in an era where many prefer smoother, more technical central defenders like Mats Hummels and Gerard Pique. Godin's undoubtedly more old school, clearing his lines without hesitation and willing to cross the line in order gain an advantage. He's a force in the tackle and a colossus in the air, too.
Winner: Diego Godin
Godin scores against Madrid in 2014
Sergio Ramos vs Jose Gimenez
Ramos is unbeatable on his day, but those days can be infrequent and he often looks more of a danger to himself and his team than the opposiiton. Few can get close to him when he's on form, though: the Spaniard is an assured presence in the backline, capable of assessing the game with uncanny levels of anticipation while playing with terrific energy. He's also emerged into a tremendous leader for his club, something that's hard to do at a demanding behemoth like Real Madrid. Gimenez, meanwhile, is coming off the back of an average season, where doubt has crept into his game.
Winner: Sergio Ramos
Filipe Luis vs Marcelo
Filipe Luis stuttered briefly upon his return to Atletico Madrid but has since recaptured the form that persuaded Chelsea to stump up for the Brazilian in 2014. Filipe, like his team-mate Juanfran, covers the whole flank superbly in all areas. He's positionally sound defensively, while physically he's tough to beat given his speed and powers of recovery. He contributes in attack, too, possessing the footwork of a creative midfielder and the pace of a winger. Marcelo, conversely, continues to make basic mistakes that would be expected of a full-back many years his junior.
Winner: Filipe Luis
Gabi vs Casemiro
Gabi remains Atleti's unheralded hero and Simeone's true soldier out on the pitch. Often written off as a thug – or, more politely, not very easy on the eye – his energy and drive is underrated, while he's also his side's first port of call when it comes to springing a quick attack.
Winner: Gabi
Luka Modric vs Augusto Fernandez
Augusto, as fantastic as his impact since signing in January has been, cannot match what Modric does for Real Madrid. The Croatian makes Zinedine Zidane's team tick, and his ability to control a game in such an elegant manager means he's the single most important player at the club.
Winner: Luka Modric
Saul vs Toni Kroos
Saul has been the breakout star of the La Liga season, emerging from the shadows of a loan spell at Rayo Vallecano to become a player at home on the big stage. His astonishing solo effort against Bayern Munich in the semi-final first leg was the exclamation point of a season in which he's demonstrated superb versatility and an incredible work ethic.
Winner: Saul
Gareth Bale vs Koke
2015/16 has been Bale's most consistent season since arriving in Spain: he's finally adapted his game to a different league and managed to maintain his form despite the change in manager. There's still work to be done in terms of his attitude to a team game, but Bale now looks every inch a Real Madrid forward. Koke, meanwhile, has only really shone in the latter stages of the campaign, and must improve considerably next term if he's to retain his healthy reputation.
Winner: Gareth Bale
Bale scores against Rayo Vallecano
Karim Benzema vs Antoine Griezmann
RECOMMENDED
Mourinho, by those who know him: what his former colleagues really think
Man United must decide what they are, and where they're going in the transfer market
Who is Jorge Mendes? The super-agent making football moves happen
It's often said that Atletico are a team without stars, but Griezmann has smashed that notion. The Frenchman is now a household name across Europe and the world, with his finishing much improved and his off-the-ball work outstanding.
Winner: Antoine Griezmann
Cristiano Ronaldo vs Fernando Torres
As admirable as Torres's renaissance has been, there's only one winner in this battle. Ronaldo has staged his own mini comeback this year, proving that rumours of his decline were greatly exaggerated. He responded to adversity with a vengeance, looking more lethal than ever inside the penalty area and redisovering his drive outside of it. He remains very much a leading member of the elite.
Winner: Cristiano Ronaldo
More features every day on FFT.com • More Champions League final
Thank you for reading 5 articles this month* Join now for unlimited access
Enjoy your first month for just £1 / $1 / €1
*Read 5 free articles per month without a subscription
Join now for unlimited access
Try first month for just £1 / $1 / €1
Get FourFourTwo Newsletter
The best features, fun and footballing quizzes, straight to your inbox every week.