Tears, shame and blame: The sorry fall of Thiago Silva – and who could gain from it
Gregor Vasconcelos reflects on another solemn tournament for the Seleção, encapsulated by the ex-skipper's struggles...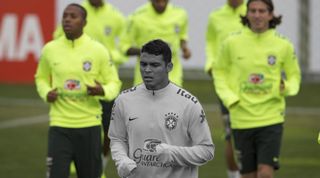 Thiago Silva's career should have been defined by the many trophies he's won after coming back from a serious bout of tuberculosis to become one of – if not for a while the – world's best centre-backs.
Yet the image that has come to define him over the last year is the one in which, overcome by tears, he falls in the arms of Luiz Felipe Scolari.
It was unprecedented show of fragility from a man thought by many as the ideal leader. But once the tears started flowing before the World Cup curtain-raiser against Croatia, they never stopped.
Monster tamed
The Monster, as he used to be known in his Fluminense days, was wounded. He kneeled, head buried in hands, facing the Mineirão grass as his much less experienced team-mates stepped up to the firing line in the last 16 penalty shootout against Chile. It was later revealed that Silva asked to be the last taker, behind even Julio Cesar. After that and the tears, trust in the captain started to wane.
The goal against Colombia in the quarter-finals could have gone a long way towards making amends. But a silly second-half yellow card meant he would have to sit out the semi-final. Then came Germany in Belo Horizonte, and though Silva wasn't even on the pitch, he shouldered some of the blame.
When Dunga – a notorious hardman from his playing days – took over as coach, his first course of action was to strip his centre-back of the captaincy and hand it over to Neymar. Not only that, Silva found himself sitting on the substitutes' bench, with David Luiz and Miranda preferred.
"I feel like something that belonged to me has been taken away, which is why I'm sad," the PSG defender said. "Neymar didn't come to me. No one's come to speak to me. That's what upsets me."
Dunga brushed off the comments: "I respect everyone's history, but I also expect the players to respect the hierarchy. My team and I are the ones who decide how the Seleção will play and who will play."
Internally, it's said that his statements had angered Dunga, who didn't want what should have been an internal issue laid bare to the public. It created some bad blood within the camp.
Performances against France and Chile might have gone some way to gaining back some of Dunga's trust. As soon as David Luiz made an error in Brazil's Copa America opener against Peru, Silva was reinstated to the side. Against Venezuela, he scored a vital volley and pointed to the suspended Neymar sitting in the stands, as if to say that all past woes were left behind.
"The past is never dead. It's not even past"
But in one single moment, it all came flooding back against Paraguay. Derlis Gonzales's cross had already sailed over Roque Santa Cruz's head, but Silva had leapt, arms first, resembling a volleyball player going for a block. It was a carbon copy of the penalty he had given away for PSG at Chelsea earlier last season.
The centre-back, like a year before, was nowhere to be seen in the list of five who would take part in the penalty shootout. He hasn't felt comfortable from the spot ever since being one of four who missed against Paraguay in the last Copa America. "Thiago Silva, yet again, was beaten by his own nerves in a decisive moment for the Seleção," was the assessment offered by SporTv pundit Lédio Carmona.
CBF president Marco Polo Del Nero, when asked if Brazil were lagging behind their competitors, responded: "All the teams are the same level. Only Argentina have a slight edge because of Messi. We were knocked out by the error of one our athletes." It's unfair to single Silva out for criticism when Brazil as a collective struggled, from back to front. But with the exception of 2013's Confederations Cup win, the PSG stopper's time in the national team has been one marked by embarrassing exits in major tournaments.
The feeling around the country is that regardless of his quality, Silva has more often than not been a liability in important moments, and his time with the Seleção may be up.
Waiting in the wings
It seems that neither Silva nor Luiz have the confidence of Dunga after the Copa America. The latter – having enjoyed plenty of goodwill from the Brazilian public due to his selfies, winning smiles and losing tears – appears to have finally fallen from Dunga's thoughts after the tournament opener against Peru.
But one man's bad news (or two men's, in this case) is often someone else's good. And one player who'll be looking favourably at this moment of instability will be the duo's PSG and Brazil team-mate, Marquinhos.
The former Corinthians centre-back only started a handful of games in the Brasileiro before joining Roma for less than £3 million in 2013. A season later, he moved to Paris for 10 times that amount at the tender age of 19. While he's been a regular since the move to France, making 30 starts in all competitions last season, many of those have come at right-back. Marquinhos expressed some concern at the beginning of 2014/15, as the arrival of Luiz threatened to limit his first-team action.
"Luiz is a great guy and great player," he said. "Now when you see players like him arrive it looks even more difficult for me, but I'm happy in my head and I will work more." But as Marquinhos looks to usurp his club captain in the national team, PSG may need to give their rising star a prominent role in his favoured position. They have shown their faith in the 21-year-old, tying him to a new deal until 2019, but if he's kept playing second fiddle, the youngster may be lured by some of his high-profile suitors.
Barcelona have continuously knocked on the door and Manchester United are said to be preparing a new bid after having a reported £35m offer rejected in February.
Haunted
Silva has had the chance to lead Brazil in a home World Cup, as well as an Olympic final at Wembley Stadium. He failed both times. His star back home has fallen, but at the Parc des Princes in the French capital he's still a highly regarded captain who is unlikely to be dropped. The 30-year-old remains rooted in the past by the ghosts that still haunt him, and it looks as though Brazil might just have to leave him there if they're to move forward. If PSG don't want to lose Marquinhos too, they may need to do the same.
Thank you for reading 5 articles this month* Join now for unlimited access
Enjoy your first month for just £1 / $1 / €1
*Read 5 free articles per month without a subscription
Join now for unlimited access
Try first month for just £1 / $1 / €1