Top 10: Magic moments from Lionel Messi since his Barcelona debut
Cronan Yu gives a rundown of the top 10 Lionel Messi moments since the Argentine whiz-kid made his debut 10 years ago...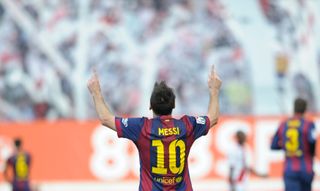 It's been 10 years since a fresh-faced Lionel Messi, aged 17 years and 114 days, first made his competitive debut.
At that stage largely unknown to the wider football fraternity, the long-haired starlet came off the bench to replace Deco against Espanyol wearing the No.30 shirt. It was October 16 2004, and he hasn't looked back since.
The 27-year-old has been touted as the 'best ever', let alone the best of his generation. His vast array of personal accolades clearly do justice to such claims.
Since his debut, Messi has made 434 appearances in Barcelona colours, scored 361 goals and been presented with dozens of personal accolades, most notably four consecutive Ballon d'Ors and three Pichichi trophies for finishing as top goalscorer in La Liga.
Messi's litany of individual achievements may be impressive, but it's the 21 honours he has helped his club collect - including six La Liga titles and three Champions League crowns - which will see him become a legend of the game.
The last 12 months may not have been his finest on or off the pitch, but with many years ahead of him, there will surely be plenty more magic and success to come.
And with that, FourFourTwo recalls the top 10 moments which have come to define Messi's illustrious career.
1st May 2005: First Barcelona goal
Despite making his debut back in October of 2004, it wasn't until May 2005 that Messi finally found the back of the net, in a match against Albacete. As fate would have it, Messi's mentor Ronaldinho would be the provider.
After controlling a lofted pass up the left flank, Messi fed the ball back to Ronaldinho, who coolly brought it under control before chipping it over the defence back to the Argentine who, in turn, chipped the goalkeeper.
Barca's new starlet later paid tribute to coach Frank Rijkaard: "I'll never forget the fact that he launched my career, that he had confidence in me while I was only 16 or 17." His first goal made Messi the youngest Barcelona player to score in a competitive match, a record later broken by Bojan Krkic.
Messi's 'Hand of God'
Lightning quick and fleet of foot, it's no wonder many were soon comparing Messi to the great Diego Maradona (the fact he wore the No.10 shirt for Argentina helped, too...). But it wasn't just the positive aspects of the World Cup winner's game that were reflected in the new Argentine prodigy's style.
Messi's 'goal' against Espanyol in 2007 was eerily reminiscent of Maradona's 'Hand of God' goal in the 1986 World Cup which infamously saw Argentina progress at the expense of England.
The goal is by no means one of his best, but it showed Messi's innate ability to replicate Maradona's on-field antics, and it wouldn't be the last time either...
"Messidona"
Speaking of replicating Maradona, if Messi's goal against Espanyol indicated his ability to copy Maradona's skullduggery, then this 2007 goal against Getafe showed his ability to ape Maradona's genius.
Having received the ball from the right-flank just behind the halfway mark, Messi somehow managed to nutmeg two defenders before making his way towards the box, evading challenges from another two defenders and rounding the goalkeeper to score from a tight angle - a goal almost identical to Maradona's second against England in 1986.
Truth be told, a great number of Messi's goals are remarkable. But if there was ever to be a list ranking his best ever goals, this one would be right at the top.
March 10 2007: First hat-trick
Messi was 19-years-old when he scored his first hat-trick. The occasion itself couldn't have been greater. Playing in a home Clasico against Real Madrid, Messi was forced - not for the first time - to carry the team on his shoulders. He showed he was up to the task in phenomenal fashion, scoring every time Barcelona fell behind to salvage a draw.
It was to be the first of many hat-tricks for the Barcelona ace.
Scoring in the Champions League final
With Manchester United meeting Barcelona in the 2009 Champions League final in Rome, the match had Lionel Messi vs Cristiano Ronaldo written all over it.
Both players were widely regarded as the best players of a generation, and both were vying for the Ballon d'Or. A Champions League crown would go a long way to settling the seemingly perennial debate (for a few months, at least).
On the day, though, it was all Messi. Not normally known for his prowess in the air, the diminutive attacker rose high to head home Xavi's perfect cross past Edwin Van der Sar. The manner of the goal itself was significant as Messi had often received criticism for his lack of headed goals. Barcelona were crowned European champions.
Messi puts four past Arsenal
Barcelona were a goal down against Arsenal in the last 16 of the Champions League 2009/10 and things were looking increasingly bleak by the minute.
True to form though, Messi stepped up when he was most needed. He pulled one back from a blistering strike from outside the box past Manuel Alumnia in the 21st minute before scoring a second in the 37th minute from a Pedro layoff.
By half-time, the match had well and truly turned in Barcelona's favour, with Messi chipping Alumnia in the 41st minute before netting a fourth goal in the dying moments of the match to seal a famous victory. A truly memorable performance.
Barcelona rout Real Madrid 5-0
Although Messi was not on the scoresheet in this November 2010 rout, in many respects this was one of his most memorable performances. His selflessness saw him set up David Villa for both the Spaniard's goals, and the Argentine played an integral part as Barcelona romped to a famous victory. He also managed to outshine Ronaldo yet again. Unfortunately for Messi, he didn't have a goal to show for it. But the manner of the win made it one of his most remarkable games.
Messi mauls Real Madrid again
A seminal moment in the history of this famous rivalry. In the April and May of 2011, Barcelona met Real Madrid four times in 17 days, facing off in La Liga, the Copa del Rey final and the Champions League semi-finals. Real Madrid had won the cup and looked as though they might be on their way to La Decima - a coveted 10th European title. Messi had other ideas.
Barcelona's main man scored twice in the first leg, played at the Bernabeu, to put the ball firmly in his side's court. His first goal came about when Ibrahim Afellay ran past Marcelo down the right flank and Messi scored from the cross from close range. The second goal, though, was a reflection of Messi at his peak. After taking the ball off Sergio Busquets, Messi proceeded on an astounding run past Madrid's centre-back pair before caressing the ball past Iker Casillas. Pure magic, and Real Madrid were effectively out.
86th goal in a calendar year
1972 was the year German legend Gerd Muller set the record for the most goals in a calendar year. December 9 2012 was the day that record was eclipsed.
After receiving the ball on the edge of the box, Messi proceeded to cut inside with his left foot and dribble wide to the left side of the box before firing a low-angled shot passed the helpless Real Betis custodian Casto. A record which had stood for 40 years was finally broken.
Muller later commented: "My record stood for 40 years – 85 goals in a year – and now the best player in the world has broken it, and I'm delighted for him. He is an incredible player, gigantic." Messi would end the year with 91 goals.
Fourth consecutive Ballon d'Or
As a result of his 91 goals in the calendar year, Messi broke another record, previously held by Johan Cruyff, Michel Platini, Zinedine Zidane and Ronaldo by claiming a fourth consecutive Ballon d'Or title.
He did so by gaining 41.6% of votes comprised of journalists and other football personalities, beating Cristiano Ronaldo (who else), who gained 23.68% of the vote.
"To tell the truth, this is really unbelievable to get the fourth award," said Messi after claiming the award. Legendary status achieved.
Quizzes, features and footballing fun
Get the best features, fun and footballing frolics straight to your inbox every week.
Thank you for signing up to Four Four Two. You will receive a verification email shortly.
There was a problem. Please refresh the page and try again.