The truth about Martin Odegaard's first season at Real Madrid
By Thore Haugstad published
Spanish media have painted a sorry picture of the 16-year-old Norwegian in his first season at the Bernabeu, but Thore Haugstad - who has followed the teenager's development closely, watching all but one of his appearances - says it's an unfair portrayal in a tough campaign...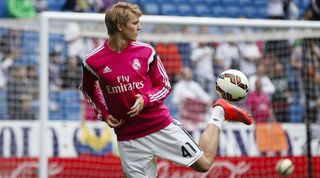 ALSO ON FFT.COM
You've probably read the reports. Martin Odegaard, the 16-year-old Norwegian prodigy lured to Real Madrid in January, has struggled to settle in the club's third-division reserve side Castilla. The squad were better off without him. After his debut in February, they went from promotion favourites to mid-table mediocrity. His reported £80,000-a-week salary and training sessions with the first team have triggered jealousy in the dressing room. His high-profile arrival has disturbed the harmony of the squad. He has rejected requests to train with Castilla more than his contract states, making it impossible for him to bond with his team-mates. The playmaker has become a burden. For Castilla, the season has been a disaster. But what has really happened? While the campaign has been disappointing for Castilla, several claims about Odegaard have warranted enough pinches of salt to worry a dietician. The integration process has not been as smooth as was hoped, but certain reports from Madrid have contributed to paint a harsh and misleading picture of his first four months in the capital.
Third time lucky
Things did look bright before his arrival. Castilla were targeting an immediate return to the Segunda division, in Zinedine Zidane's managerial debut season. After a rocky start that involved four defeats in five games and a distracting dispute surrounding Zidane's lack of required coaching badges, results improved. By the time Odegaard debuted, Castilla topped the table.
His start was stuttering. After a low-key 20-minute introduction in the 2-2 home draw against Athletic Club B, he was substituted at half-time in a farcical 1-1 draw away to Amorebieta, in the Basque mountains, where constant rain made the turf a mud bath. Tactically, a pattern had already emerged. At home, Zidane used Odegaard behind the striker; on the road, he played on the right wing.
Odegaard suits both positions. His physique remains undeveloped, but his spatial awareness, vision and the weight of his passing are exceptional. His technique is slick, his first touch refined. Decent pace makes him a good dribbler. The comparisons with Lionel Messi are based on his tendency to drift inside on his left foot, as well as his favoured moves: the curled finishes, the one-twos, the incisive killer passes.
Those qualities emerged in his third game. In the 4-0 win at home to Barakaldo, Odegaard struck the opener and delivered a man-of-the-match display packed with eye-catching touches and defence-splitting passes. His technical repertoire was on a different level. Celebrating his strike, the relief was evident. Here came a performance that reflected his reputation.
Yet dark days were close. Castilla lost to Leioa away (0-1), Socuellamos at home (0-2), Huesca away (0-2) and Rayo Vallecano B away (1-2). At Leioa, Odegaard shone once more, dominating the first half with finesse dribbles and combination play down the right. At Huesca, he only played the last 30 minutes.
But the other two displays were underwhelming. He seemed isolated, anonymous, and didn't receive many passes. Castilla were poor overall too. There were defensive errors, an early red card, a lack of ideas and rudimentary deliveries lumped towards mobile forwards. A clear identity was difficult to trace.
Backlash and benching
By now, sections of the Madrid press – namely sport newspaper Diario AS – had noted the swing in results since Odegaard's arrival. In reality he had played well in two games, been invisible in two others, and played 45 minutes or less in the rest. No matter.
As Odegaard travelled to Croatia for a Euro 2016 qualifier, the paper said his arrival had caused jealousy and upset the balance of the squad. A surprised Odegaard responded that he did not recognise that description at all, and described his team-mates as a lovely bunch.
In Odegaard's absence, Castilla beat Las Palmas B 5-1 at home. The next weekend, Odegaard was an unused substitute in a 2-0 win at Conquense. Days later, AS wrote that the teenager had rejected requests to train more often with Castilla, preferring to stay with the first team, and that this had led to a lack of understanding between him and his team-mates. Hence the benching.
The impression that Castilla played better without Odegaard was exaggerated. Collective problems regarding mentality, tactics and identity were more influential. Besides, Las Palmas B and Conquense were relegation strugglers whom Castilla might have beaten anyway.
Yet the lack of chemistry was an issue. Before the next game, at home to Tudelano, AS said Odegaard and his father Hans Erik had held positive talks with the club, and that their attitude had changed. It added that Odegaard would start the next match.
He did, and now his game was different. Earlier, he had often tried spectacular passes and ambitious moves. Here he played simpler, safer and shorter passes, often leaving the ball to his team-mates. If that made him less of a direct threat, it also made him look a more natural part of the side.
He was substituted in the second half with Castilla 1-0 down. The game finished 1-1. AS wasted little time in noting that the equaliser had materialised without him, and gave him a player rating of zero.
The mark was harsh – Odegaard had been unspectacular, but no worse than many others – and it made a story in several international media outlets.
Fall guy
ALSO ON FFT.COM
Bruised ribs forced Odegaard to miss the next two games. Castilla lost 3-2 at Real Union and drew 2-2 at home to Sestao River. Returning to action away to Real Sociedad B, he delivered a good performance, mixing his short passing with progressive deliveries to team-mates between the lines. The mutual trust seemed to be building. Yet Castilla still lost 1-0.
The next display was his finest in Spain. At home to Guadalajara, Odegaard put a team-mate through on goal, curled a free-kick into the post, and started a series of attacks. Yet squandered chances and a late defensive lapse led to a 1-1 draw and crushed promotion hopes. That meant the 1-0 win in their final game at Toledo, where Odegaard started well before fading, counted for nothing.
The press inquest had already started. After the Guadalajara fixture, Marca focused on Zidane, while AS directed the spotlight back on Odegaard. The numbers were on their side. In the 8 games before Odegaard's debut, Castilla had won 6 and drawn 2. After, they had played 14 games, won 4, drawn 4 and lost six6
However, such a reliance on results as an indicator of Odegaard's performances is facile at best. It ignores Zidane's leadership, the tactics, the team selection, the dressing-room mentality, and the performance levels of every other player. One would think such factors matter more than the integration of a shy 16-year-old. Zidane hasn't spoken to the press all season.
Indeed, the reverse argument would be equal to crediting David Ospina for Arsenal's late-season form and overlooking Arsene Wenger's new pragmatic nous, Alexis Sanchez's revival, Mesut Ozil's fine displays and the return of Francis Coquelin. It is a simplification. And if Odegaard's reported wages have in fact sparked jealousy, then that says more about the professionalism of the squad than it does about him.
Looking forward, it remains to be seen whether Odegaard stays with Castilla or joins a Segunda club on loan. Neither is ideal and, back in Norway, the debate about whether Real was the right choice is yet to die out. For now, the youngster can draw confidence from finishing a challenging season on a positive note.
More features like this every day at FFT.com (opens in new tab)
Thank you for reading 5 articles this month* Join now for unlimited access
Enjoy your first month for just £1 / $1 / €1
*Read 5 free articles per month without a subscription
Join now for unlimited access
Try first month for just £1 / $1 / €1
Quizzes, features and footballing fun
Get the best features, fun and footballing frolics straight to your inbox every week.
Thank you for signing up to Four Four Two. You will receive a verification email shortly.
There was a problem. Please refresh the page and try again.