What Chelsea must do to help Maurizio Sarri become their Guardiola
Roman Abramovich isn't exactly renowned for his patience, but Thore Haugstad explains why the Blues owner should finally take a longer-term view with his latest manager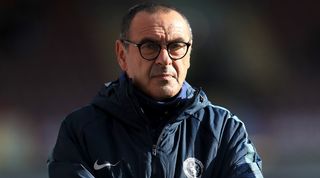 When the critics opened fire on Maurizio Sarri last weekend, the accusations centred on sterile passing, boring tactics and players being deployed out of position. Sarri, it was said, needs to change his style, be more pragmatic and play his key men in roles they're accustomed to.
All of which sounds similar to the advice another teacher of possession football received two years ago. Pep Guardiola was in the same position as Sarri is now, their teams practically out of the title race halfway through the season. A year later Guardiola had turned into a genius, not because he had changed his approach – but because he had stuck to it.
Sarri will surely intend to do the same, aware that he too will need time to pull it off. The question is whether Chelsea are smart enough to grant it.
If at first...
The answer will partly rest on whether Roman Abramovich can stomach another poor season. As Guardiola impresses in his third campaign at Manchester City, Sarri goes to work in the morning knowing that no Chelsea boss has survived three years at Stamford Bridge since Mourinho 2004-07.
There are reasons why Abramovich should try hard to make Sarri the next one. The Russian oligarch fell in love in football when he saw Manchester United beat Real Madrid 4-3 at Old Trafford in April 2003, but has never found a coach capable of delivering such thrilling football over a longer spell. The reason, in part, is that such coaches need what Abramovich lacks: patience.
Those top Premier League managers who favour attacking football rarely succeed in their first season in England. Antonio Conte did because his tactics relied on defensive positioning, which could be learned quickly. But those who build expansive teams need to forge a deep understanding of complex principles, a process which can take months or even years.
Mauricio Pochettino came fifth in his first term at Tottenham, amassing five fewer points than Spurs managed under Andre Villas-Boas and Tim Sherwood the previous campaign. Guardiola's City finished third. Jurgen Klopp's Liverpool finished eighth. But they all got time, and now their clubs are reaping the rewards.
The Pep plateau
Among these names, Sarri and Guardiola stand out because their styles appear particular hard to master. At Bayern Munich, Guardiola's staff likened the process of learning his approach to studying a new language. No wonder things took time at City.
During that first year at City, Pako Ayesteran, the ex-Liverpool assistant coach, said Guardiola's troubles were natural. "At the beginning you have a huge improvement, and a huge progression because of how teams first digest new ideas," he wrote in The Independent. "There then tends to be a plateau for an extended period, as the ideas must get more specific. Sometimes in this plateau, there are backward steps, and I think this is what we saw between November and January."
That season, City had won their first six league games before the team took a step backwards. Chelsea won their first five under Sarri, but are now doing the same. The situations are almost identical, apart from the fact that Sarri is one point better off than Guardiola was at this stage two years ago. And, of course, that the Italian is working under harder conditions.
Refurbishment required
For just as Guardiola did, Sarri also needs to refurbish parts of his squad. Where Guardiola had ageing full-backs – Pablo Zabaleta, Gael Clichy, Aleksandar Kolarov, Bacary Sagna – Sarri worries about his attack. That's why Chelsea have signed Gonzalo Higuain on loan from Juventus, with Eden Hazard now set to return to his preferred role on the left.
SEE ALSO The curious case of Alvaro Morata: a struggling striker yet to find his level
While City made regular errors at the back, Chelsea have got stuck in the final third. Some of the criticism levelled at Sarri reads as if he actually intends to play stale possession football outside the box, when the real problem is the quality of his attackers and their understanding of his principles. Willian and Pedro are decent players, but Lorenzo Insigne or Dries Mertens they are not.
For his part, Guardiola was allowed to sign several players in his first year: John Stones, Leroy Sané, Gabriel Jesus, Ilkay Gundogan, Nolito, Claudio Bravo. Sarri has been given Jorginho, plus Mateo Kovacic on loan. That's practically it. The signing of Kepa Arrizabalaga was less an improvement than a replacement for Thibaut Courtois. And while Sarri could have used Callum Hudson-Odoi more, nobody can expect an 18-year-old winger to solve all of Chelsea's problems.
Christian Pulisic, the young winger whom Chelsea signed from Borussia Dortmund this month without Sarri's knowledge, won't arrive until the summer, which is of little consolation to the manager right now. If things really turn sour, Sarri might not even be at the club when Pulisic turns up in west London.
Track record
Fortunately for Sarri, there are no indications yet that this will be the case. The pressure is mounting, though, and Abramovich isn't renowned for his patience. Just this week Gary Neville claimed that Sarri "knows" he'll be sacked within two years. "That's inevitable at Chelsea," Neville said.
If it is, then this situation is at least different to those of Mourinho and Conte. Both of those coaches designed their systems to succeed immediately. When they appeared to take the team backwards, it was defendable to sack them, because the club had seen the finished product. Under Sarri, the journey to the top is supposed to be slower, but the end result should be more spectacular.
All of which is why Sarri should be given at least another year to make it work, plus a sizeable transfer budget in the summer. It's been reported that Abramovich once chased Guardiola because he wanted Chelsea to play like Barcelona did. Guardiola turned him down, in part because he didn't believe he would get the working conditions he needed.
At City, however, Guardiola did, and so Abramovich should give the same backing to Sarri. Should he sack the Italian prematurely – before next season, say – he won't only have to start from scratch, he'll also have shown that Guardiola was right to reject him.
WIN! A pair of tickets to Malmo vs Chelsea + flights, hotel, meals and more
Quizzes, features and footballing fun
Get the best features, fun and footballing frolics straight to your inbox every week.
Thank you for signing up to Four Four Two. You will receive a verification email shortly.
There was a problem. Please refresh the page and try again.