What's the one law you'd change in football? FourFourTwo followers have their say
By Mark White
Tigers, pints, subs and throw-ins - the ultimate guide to what fans REALLY want to see in football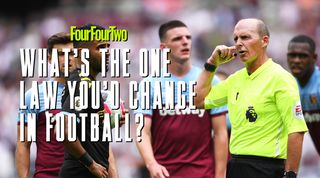 (Image credit: Getty)
Like the half-time pie and Deadline Day frenzy, raging against the machine has become part of our football-supporting ritual.
VAR has done many things for the sport but the jury is out on whether or not it's improved it. There has never been more debate over the rules and regulations in football - so perhaps we should just rewrite the laws of the game?
EURO 2020 REFEREES REVEALED Who are they, how were they selected and will VAR be in use?
This is an evolving art form. We thought we'd pose the questions to our loyal legion of Twitter followers what they'd change about the beautiful game. Some of you had some very sensible suggestions. Others didn't. All replies were as valued as each other.
Well that sounds like a reasonable case. Of course, it's harsh to relegate more teams from the Football League but at the very least, a play-off between the third from bottom and third from top in the National League would be interesting.
And just like that, Harry Kane would play the Next Goal Wins card next time he's fouled in the area during a North London Derby. Pure unfiltered carnage. Implement it now, FA.
In fact, there are many issues with the football pitch as we know it. Are the corner quadrants big enough? Is the centre-circle necessary? Is the six-yard box used for anything other than goal-kicks? Let's have a rethink.
The only problem with this is that if one country is going to implement a wage cap, another surely won't. Then the Premier League begins losing its talent to the unregulated leagues...
Fans screaming "Off, off, off" from the stands. Steve Bruce gingerly removing his socks. We can see it now.
Tie this into the nude manager rule and you've got yourself a whole new ball game. If you'll pardon the pun.
Even better if it's a new signing that has to go. Lionel Messi finally joins Manchester City, only to be drawn out of the hat to join Poole Town until May. Just City's luck.
"He's taking a shot" screams Martin Tyler. Sure, Jamie Vardy has the ball by the edge of the box - but more importantly, James Maddison is lining up the Jagerbombs for the lads.
While a good idea in theory, we fear this could lead to teams hacking each other to bits in order to gain an extra man advantage.
Try points deductions.
Kai Havertz on the sidelines warming up to The Final Countdown by Europe is perhaps the final jigsaw piece this game needs.
As soon as one team scores, they would stamp on the ball. The players wear studs, remember. This is never getting introduced.
Offside traps wouldn't work anymore. 4-4-2s and 4-3-3s would simply become... 11. And yet, we'd actually like to see this.
This would make a lot of sense, although it would encourage fouls on players who were terrible at penalties. Add glow in the dark penalties and you've got yourself an idea.
Just picture it: Mike Phelan takes the spot-kick, which is saved by Alisson. The ball stays in play but Phelan is there to block off Trent Alexander-Arnold from getting anywhere near it. It's so much more exciting than Bruno Fernandes taking a free shot at goal.
As far as set-piece suggestions go, this is our favourite. Anything that means that David Beckham and Roberto Carlos remain professional footballers long into their 50s.
Rory Delap disagrees.
Admit it. You pictured Adama Traore in one of those ostrich costumes, didn't you?
It does seem silly that we police euphoria in the beautiful game.
You know for fact that some revolutionary manager - probably Marcelo Bielsa - would use his tranquiliser dart to keep an opposition player quiet.
With concussion substitutions, this seems like a logical next step in football.
Finally, some skill involved in deciding who kicks towards the home end.
Wait - do you mean robots and artificial intelligence... or animals? Elephant linesmen could definitely work in the Premier League...
There's nothing we'd love to see more than a sea lion in goalkeeping gloves.
Imagine the Ghana vs Uruguay World Cup game, only Luis Suarez has to stay on and be visually impaired.
Out of all the replies that we received, this is the one that gets our vote. If only the Super League creators had thought of it.
Subscribe to FourFourTwo today and get your first five issues for just £5 for a limited time only - all the features, exclusive interviews, long reads and quizzes - for a cheaper price!
NOW READ
RICH JOLLY What kind of team are Carlo Ancelotti's Everton?
TOTTENHAM HOTSPUR 5 candidates who could replace Jose Mourinho as manager
SUPER LEAGUE SHAMBLES Why was the European Super League's launch so bad?
Quizzes, features and footballing fun
Get the best features, fun and footballing frolics straight to your inbox every week.
Thank you for signing up to Four Four Two. You will receive a verification email shortly.
There was a problem. Please refresh the page and try again.