Why Premier League sides are paying a fortune for Brazilians, while other clubs go direct to source
Clubs such as Shakhtar Donetsk have made handsome profits by buying Brazilian talent cheaply then selling players on – but it can be a risky strategy, explains Jon Cotterill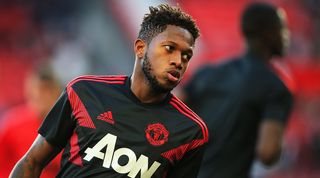 "He has nothing to do with the price, we have nothing to do with the price, it's the market, that's how it is and we will not think a lot about it."
The words of Jurgen Klopp after Liverpool stumped up a whopping £65m for Brazil goalkeeper Alisson this summer. The phrase "we will not think a lot about it" is striking – and that approach is probably for the best, considering that Roma paid Internacional just £6.6m for Alisson only two years ago.
The new Liverpool net-minder is one of a long list of Brazilians who have been signed by a European club, before moving to a Premier League side for a substantial profit. Fred moved from Internacional to Shakhtar Donetsk in 2013 for £13m. Earlier this year, Manchester United coughed up £52m for the midfielder.
Fabinho (below) went from Fluminense to Portugal's Rio Ave for around £400,000 in 2012. He was loaned out to Monaco and joined them for approximately £4.3m three years later. Liverpool paid £43.7m for the defensive midfielder in May.
Clearly, the price of a Brazilian player can skyrocket when he moves from Europe, then on to the Premier League. There are a record number of Brazilians in England but only four of the 20 players – Gabriel Jesus, Kenedy, Lucas Piazon and Richarlison – arrived directly from Brazil. So why don't English clubs buy direct from the source?
Hurdles and grey areas
The first stumbling block is getting a work permit. Since 2015, that has actually become easier, if not necessarily cheap. Up until 2015, non-EEA (European Economic Area) players such as Kleberson, Gilberto Silva and Juninho Paulista got permits because they were regular internationals. Others such as Lucas Leiva or Rafael and Fabio da Silva had EU passports.
The grey area was the FA's Exceptions Panel, where managers attempted to justify a signing as a 'special talent'. The panel made arbitrary decisions as there was no clear process for them to follow, and around 80% of appeals were successful. In an attempt to ensure only 'top-quality' players qualified, a stricter but less subjective points-based system was introduced.
While the new system took into consideration the level of competition that a player had appeared in, the overriding factors were the transfer fee and wages, which meant a player had to be among the top 30 earners at his new club. This is how Chelsea signed Kenedy from Fluminense for £6.3m when he was 19 years old. Richarlison (below) got his work permit on the same basis when he went from Fluminense to Watford for £11.5m last season.
However, this avenue isn't always that straightforward, as Manchester City have discovered after trying unsuccessfully to get a visa for Douglas Luiz, a player they bought from Vasco da Gama for £10m in 2017.
Visa issues aside, most clubs are unwilling to spend £9m or £10m on a player who might have huge potential and could turn out to be a fantastic investment, but perhaps needs another season to develop. Coaches want players who are first-team ready. And, while a young footballer from South America might be technically good enough for the Premier League, it's not easy to assess how he'll cope with the physical and mental rigours of the top flight in England.
Limits of video
Player recruitment departments are as thorough as they can be and do everything possible to minimise risk before making a signing. Statistical and video analysis are invaluable but have their limits. A lot of clubs aren't comfortable with signing a Brazilian unless he's got European experience. The rationale is that they can get a better picture of a player if he's performing in competitions such as the Champions League or Europa League, which are more comparable with the pace of English football.
Clubs assess how a player is coping physically, technically and tactically. They will also evaluate his personality: has he got mental strength? Is he combative? Does he have the desire to improve? Is he consistent? Just as importantly, they can also see how he's adapting to a different cultural environment: is he learning the language? Is he dealing with the challenges off the pitch?
A lot also depends on a club's manager (and how much input he has in transfers). There are those who will only go with what they know and who insist on seeing a player before they sanction a move. Many don't have the time to travel halfway around the world to Brazil. Some, like Portuguese speakers Jose Mourinho and Marco Silva, have a good understanding of the Brazilian market and culture, so are much more comfortable buying directly from South America.
With Europe acting as a halfway house, many Brazilian clubs miss out on the big money, but do get a chunk of the resale value. Internacional only earned 5% from Alisson's sale to Liverpool, and got just 1.7% from Fred's transfer to Manchester United – reflective of the fact that Brazilian sides rarely own 100% of a footballer's economic rights and have little control over player movement.
Agents are parking their clients at clubs like Shakhtar Donetsk, hoping that within a few years an English team will pay considerably more than a player's current value. This suits Shakhtar who have 11 Brazilians on their books, including four new faces who arrived this summer. Conditions are harsh, and if they can hack it in the Ukrainian winter, they can probably do it on a cold rainy night in Burnley.
Changing profile
Shakhtar have a fantastic record of developing and improving small, fast and skilful Brazilians before selling them on for huge profits. Conveniently, the Premier League is a growing market for this type of footballer. Quick and inventive players such as Philippe Coutinho have shown that you don't have to be big and powerful to thrive in England. Manchester United's defensive midfielder Fred is 5ft 7in. Everton new boy Bernard stands just 5ft 5in.
Unlike Shakhtar, most English clubs can't stockpile emerging talent from Brazil. But a targeted approach is possible, and any club with a clear long-term recruitment strategy should be able to identify young Brazilians with the characteristics they want.
There are pitfalls, though. In 2009, Arsenal bought a 16-year-old Wellington Silva from Fluminense for £3.5m. They'd watched him over and over again, done their homework, and were convinced he'd make it. Silva couldn't get a UK work permit initially but eventually got his EU passport after a spell in Spain. However, despite a five-year contract, he never played for Arsenal's first team.
The quandary for English clubs is this: do they take a calculated gamble and invest a relatively small amount in potential? Or do they wait until they can assess a player in Europe, buy what they perceive as a finished product, but pay a massively inflated price for him?
Despite all the technology and hard work that goes into it, player recruitment is far from being an exact science. A club can do all the due diligence possible, but even players with excellent track records can still turn out to be duds.
Psychological aspects are hardest to judge, and clubs can't know what a footballer is really like until he walks through the door. By then, of course, it's too late. Robinho, Jo, Afonso Alves and Gilberto were all bought from Europe and had all played for Brazil. There's no guarantee that paying big money will bring results.
Maybe Shakhtar have the right idea, but trying to copy their strategy is currently a tough task for a Premier League side.
Quizzes, features and footballing fun
Get the best features, fun and footballing frolics straight to your inbox every week.
Thank you for signing up to Four Four Two. You will receive a verification email shortly.
There was a problem. Please refresh the page and try again.