Why Tottenham need to sell Moussa Sissoko before it's too late
The Frenchman's miss against Liverpool may mask the improvements of a player who has, believe it or not, become a consistent performer – and whose value will never be higher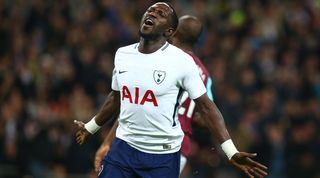 In his three year career at Tottenham to date, Moussa Sissoko has been better known for being the subject of more punchlines than a mother-in-law over any of his actual football.
Signed for £30 million from then-relegated Newcastle United on a five-year deal in 2016 – structured so that Spurs paid the Magpies £6 million per season – the transfer sparked scenes of jubilation in the North East unseen since Margaret Thatcher died. Although the Frenchman was widely believed to have bought into his own hype and given up on the club, he performed well for France at Euro 2016 to allay some of those fears – but it wasn't to last long.
While there had been a chorus of warning from Newcastle fans that the Sissoko who'd shone for Les Bleus wouldn't be the Sissoko that Tottenham were getting, the reality was, in truth, much worse. The midfielder seemed unable to properly trap a pass, never mind provide the energy and natural thrust that Mauricio Pochettino was supposedly hoping for by signing him. The former figure of fun had become a bona fide target for complete ridicule.
Spurs were laughed at for paying a large fee for him, the player was derided for seemingly lacking the basic skills you'd expect of a professional footballer, and what Richard Keys may once have been labelled 'banter' quickly became quite toxic.
Playing less and less – and showing absolutely zero sign of improvement when he did – Sissoko was an almost instantaneous lost cause. Regardless of where he played, he lacked confidence in his own ability – as did his team-mates. Sissoko was passed around rather than to, even when in space, and his position at the club seemed untenable. Links Turkish loan moves and sales to China seemed too good to be.
In a remarkable showing of unity, it was universally agreed - playing staff, fans, management and even the player himself - that if there was to be a Moussa Sissoko renaissance, Tottenham Hotspur wouldn't be the club to facilitate it.
The turnaround
And we couldn't have been more wrong.
In a story of redemption so unlikely that it sounds more like the subject of a Christian rock song then an actual professional footballer's career, Sissoko has made himself an almost indispensable member of Tottenham's core squad. An outlet going forward who has offered defensive relief in midfield and reliable cover in wide positions when others have advanced beyond him, this is a version of the Frenchman that hasn't been seen before.
And yet despite the complete reversal in form and fortune – and perhaps in some way increased by it – Tottenham would still be wise to move the Frenchman on this summer.
While most have pointed to a positional change and simply brushed off the newfound form as a good player reverting to type, this is about evolution rather than regression. There are fragments of truth in that more basic notion, of course: Sissoko has been playing more centrally during this period than out wide, and some old confidence does appear to have returned – just this time without the destructive lacing of nonchalance.
Mauricio's methods
You're a wizard, Poch. Looking at his transformation from a wider viewpoint, it's clear that he's yet another in an impressive list of players that Tottenham's manager has coached into the best version of themselves.
There's actually a pattern to look out for in these cases. While a player is initially given the opportunity to prove themselves off their own back, Pochettino doesn't tend to intervene until a certain degree of spirit has been broken. A player doesn't just have to need the guidance, he's going to have to want it, too – because those who don't are simply shown the door. Like a child with a new toy at Christmas wanting to know how it works, the Argentine is fond of breaking struggling players down to their constituent parts and rebuilding them in a more focused and simplified manner.
Whether Sissoko has been playing more out of necessity than want – Tottenham's year-long abstinence from the transfer market has been complemented with player sales and an injury list about as fun to reflect on as Brexit – the belief shown in him by his manager has shone through in his own performances. While there's still a split second of disbelief when a pass is played in his direction, mad panic has been replaced by quite confidence.
Of course, we shouldn't be getting too carried away – no Spurs fan was ever considering it a dead cert when Sissoko galloped upfield to wallop over that gilt-edged chance at Anfield on Sunday. While it's only fair to celebrate the unlikelihood of seeing Sissoko flourish at Spurs, this has been three years in the making. It's not unreasonable to question where this form was previously, and why it's taken such a drastic intervention to unlock it.
While it sounds simplistic, the negatives of the past – rushing in to challenges, unpredictability in possession, positional ill-discipline and misplaced enthusiasm – are rectified cornerstones of his new game. Pochettino might deserve his own Derren Brown-style Netflix special.
So long, Sissoko?
But surely it's been too good to be true. By letting Sissoko go this summer – and recouping more of a fee than Spurs would have done for a player who has long proven to be unreliable and overly-reliant on his physicality for someone knocking on the door of 30 – everybody wins.
Sissoko will get a better move than he's been previously offered, Tottenham will drink in some sweet business satisfaction, and the fan base will wave goodbye more fondly without the pitchforks.
The riches of China or Turkey would still offer Sissoko his most likely destinations, but at least he could move on now for one last big contract knowing that his time at Spurs wasn't a complete and utter disaster.
NOW READ…
REVEALED The Premier League table that shows this season's ludicrous discrepancies
QUIZ! Can you name the 50 French players with the most Premier League appearances?
Subscribe to FourFourTwo! 5 issues for £5 (opens in new tab)
Thank you for reading 5 articles this month* Join now for unlimited access
Enjoy your first month for just £1 / $1 / €1
*Read 5 free articles per month without a subscription
Join now for unlimited access
Try first month for just £1 / $1 / €1
Get the FourFourTwo Newsletter
The best features, fun and footballing quizzes, straight to your inbox every week.